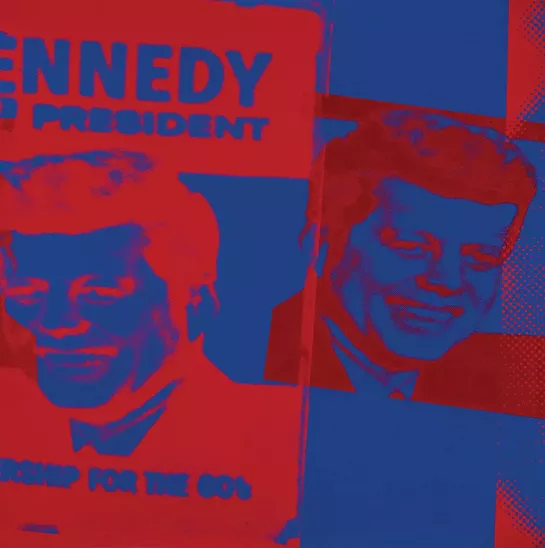 5 slides
"What is Art?" Andy Warhol once asked. "Isn't it a man's name?"
Rocketing to celebrity in 1962 with his daringly mundane paintings of Campbell's soup cans—32 of them in the first show—Warhol quickly became a "King of All Media," with films, books, silkscreens, a band (the Velvet Underground), a traveling multimedia show (The Exploding Plastic Inevitable) and his own magazine—Interview, which still exists. Andy's dictum, "In the future everyone will be world-famous for 15 minutes," entered the language.
The Andy Warhol Foundation has been gifting museums and universities with the artist's work since its inception after Warhol's death. In all, they have given way 52,000 works of art, to institutions in 11 countries. Five local colleges have pooled their works to create "Warhol x 5," five separate exhibitions in the Hudson Valley.
"I tried to bring out the dimension of Warhol that is unfamiliar," remarked Reva Wolf, curator at the Dorsky Museum at SUNY New Paltz. Her show, "Marking Time: Andy Warhol's Vision of Celebrations, Commemorations, and Anniversaries," reveals that Andy had a soft spot for yearly observances. Flash—November 22, 1963 was a series of 11 silkscreens honoring the fifth anniversary of John F. Kennedy's assassination. Untitled 12 was in a portfolio of prints honoring the art critic Meyer Schapiro's 70th birthday. Warhol designed the poster for the 100th anniversary of the Brooklyn Bridge in 1983.


Three black-on-black pieces steal the show. Untitled 12 (1974) combines several famous Warhol tropes: a Campbell's soup can, a Brillo box, a purple cow—all layered over each other. (In fact, the cow is poking her head into the spectral soup can.) Cologne Cathedral (1985) is a silkscreened image of the German church, celebrating the hundredth anniversary of its completion. The image is outlined in diamond dust, a stirring admixture of the vulgar and the spiritual. A silkscreen of John F. Kennedy from Flash is a square view of JFK's face, in tight close-up, smiling out of a velvety abyss.
Ten Polaroids of Bella Abzug document her historic campaign for mayor of New York in 1977—she was the first woman to run for this office. Rolling Stone commissioned a Warhol portrait of Bella for their cover; these photos were Warhol's "sketches." Abzug poses in her trademark hat, holding a rose in two pictures. She is playful, warm, flattered by the attention of a celebrated artist. One doesn't picture Warhol a feminist, but these Polaroids prove otherwise.

"My idea of a good picture is one that's in focus, and of a famous person doing something unfamous," Warhol said. "People Are Beautiful: Prints, Photographs, and Films by Andy Warhol" at the Loeb Center of Vassar College illustrates this thesis. There are 11 "screen tests"—an experiment in silent black and white film that Warhol conducted between 1964 and 1966. A volunteer would sit motionless while a camera ran for about three minutes. This collection includes Dennis Hopper, poet John Giorno, and socialite Edie Sedgwick.
The "Ladies and Gentlemen" series (1975) comprised 10 screenprints of African-American and Latino drag queens. A Polaroid study for that project shows Helen/Henry Morales with a brave expression, false eyelashes, and a massive wig. The centerpiece of "People Are Beautiful" is Marilyn (1967) a portrait of Marilyn Monroe with blue skin and fake-looking yellow hair. For Warhol, beauty is always combined with the grotesque.
With "Warhol: Unidentified" the Center for Curatorial Studies at Bard College will explore an unusual corner of the Warhol oeuvre: photographs of unknown people. The show, which opens April 8, includes over 80 pieces: some color Polaroids, others black and white 35mm prints. All the Polaroids are staged portraits, against a neutral background. In some cases, the subject is wearing white makeup, to increase the color contrast. One technical problem is how to title these pictures. The Andy Warhol Foundation came up with descriptive phrases like Unidentified Man (young blonde mole over lip) and Unidentified Woman (short curly hair).


One can imagine stories behind these faces. Unidentified Man (glasses, no glasses) looks like a suave insurance adjuster from Roslyn, Long Island, with two girlfriends who don't know about each other.
For the nameless individuals in these pictures, their 15 minutes have finally arrived—even if they don't know it. "Warhol: Unidentified" exemplifies that rare oxymoron: anonymous fame.
"The more I looked at the Polaroids, the more the images of the children stood out," explains Corinna Ripps Schaming, curator of the SUNY Albany Art Museum. "Younger Than Today: Photographs of Children (...and sometimes their mothers)" will open on June 30.
Some of the portraits are of famous children: Jade Jagger sadly clutching a teddy bear, Tracee Ross (Diana Ross's daughter) smiling hopefully, Sean Lennon with a secret gleam. But the unidentified kids are even more affecting. Warhol captures the loneliness, and distrust, in the eyes of an unguarded child.
"There's this conception that Warhol didn't really relate to children, that he was very cold and distant, and in reality, the more that I've explored the subject, the more it comes out that he had, for example, very close relationships with his nephews," Schaming reports.


"Younger Than Today" includes all three screen tests Warhol took of children, including two of Bibbe Hansen, who was 13 when she sat for her first one. Hansen was the daughter of Fluxist artist Al Hansen, and later the mother of Beck, the rock musician.
The Neuberger Museum at SUNY Purchase will present "Subject and Seriality" on July 22. One standout will be Portraits of the Artists (1967), a screenprint on 100 tiny colored polystyrene boxes, made for the 10th anniversary of the Leo Castelli Gallery. Ten artists participated in a celebratory art show, including Warhol, and all nine men—and one woman—are shown, with 10 images of each, making a perfect square. These are serious artists like Robert Rauschenberg, Jasper Johns, Frank Stella. Warhol's decision to reduce them to little portraits suggests that he really did see Art as a person's name. (This piece is currently on view at the Dorsky.)
"Warhol x 5" is at five colleges in the Hudson Valley until November 18. Currently, shows are open at the Dorsky Museum at SUNY New Paltz and the Loeb Art Center at Vassar College.
Discover more
art shows in the Hudson Valley
.