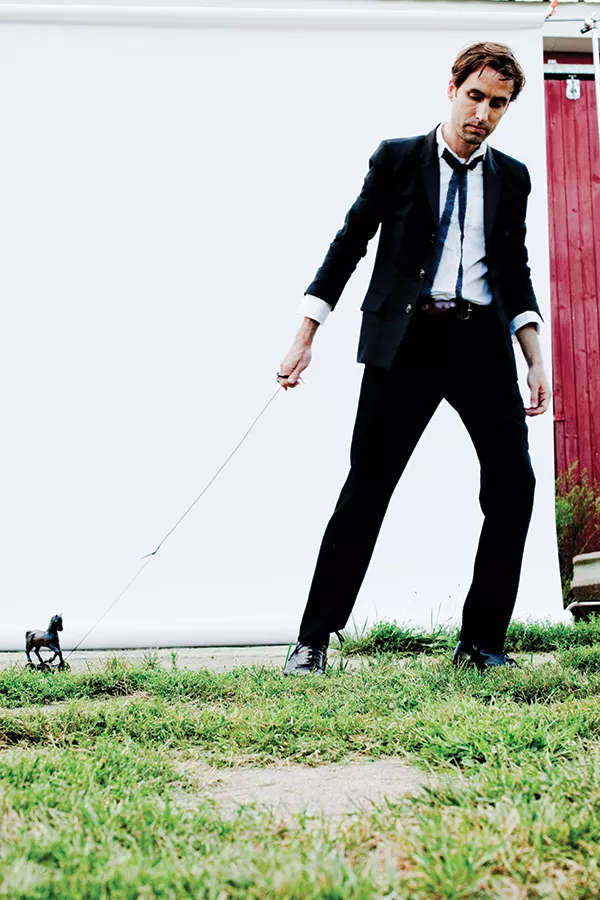 Cameron Wittig
The violinist, singer-songwriter, multi-instrumentalist, and virtuoso, Andrew Bird.
The trajectory of Andrew Bird's career path has been one of dramatic turns, in terms of artistic content. And somehow these arcs have always felt more like they're part of an unforced, gracefully unfolding evolution, rather than the kind of calculated and consciously expectation-defying quantum bounds exhibited by other so-called cult artists. The violinist, singer-songwriter, multi-instrumentalist, and virtuoso whistler's 16-year discography starts out in a quirky Brechtian/folk/retro-swing realm and, a few releases on, begins to bleed into eccentric experimentalism and modern indie pop. Each of Bird's two concerts this month at the Bearsville Theater, however, is being billed as "An 'OLD-TIME' Performance," which would seem to indicate a stripped-back return to his more traditional-leaning core. But whatever Bird has in store, it's bound to be brilliant.
Born in Chicago in 1973, Bird began learning via the Suzuki violin method at age four and went on to graduate from Northwestern University in 1996 with a bachelor's degree in violin performance. That same year, Bird's self-released solo debut album, Music of Hair, appeared, and he played on retro-swing kings the Squirrel Nut Zippers' smash album Hot (Bird also contributed to the "Hell" hit makers' next two efforts, 1997's Sold Out and 1998's Perennial Favorites). He worked for a time with jazz group Kevin O'Donnell's Quality Six as he got his own band, the Bowl of Fire, off the ground with a pair of folk/jazz/blues-infused sets, 1997's Thrills and 1998's Oh! The Grandeur. The Swimming Hour in 2001 marked a radical turn for Bird, and contains a startling mix of roots styles and newfound, more straightforward rock songwriting. Not long after its release, however, Bird dissolved the Bowl of Fire in favor of a completely solo direction that saw him increasingly integrating sample loops and treated sounds into his performances.
The change brought with it mounting critical acclaim and a growing, dedicated following as he signed to Ani DiFranco's Righteous Babe label for 2003's sparse Weather Systems and 2005's loop-layered The Mysterious Production of Eggs.
After a trio of self-released live albums, Bird landed at indie powerhouse Fat Possum Records, the home of his 2007 breakthrough, Armchair Apocrypha, a collaboration with electronic musician Martin Dosh, and 2009's similarly well-received Noble Beast. Since then he's recorded with the Preservation Hall Jazz Band; performed in PBS's recent Woody Guthrie tribute, the "This Land Is Your Land Project"; headlined at Carnegie Hall; appeared in last month's "Sinatra in the Park" concert in Manhattan's Central Park; and provided instrumental music for the audiobook version of David Sedaris's Let's Explore Diabetes with Owls. Bird's newest album, 2011's Break It Yourself, is on the Mom+Pop label.
"I sound more and more like myself every year, I think," says the iconoclastic Bird in an interview for the website Storyboard. "But I think there are still things to master."
Andrew Bird will perform with special guest Tift Merritt at the Bearsville Theater on July 25 and 26 at 8pm. Tickets are $40.