Courtesy of Crandell Theatre

A still from C'mon, C'mon, starring Joaquin Phoenix. The film will be screened at the FilmColumbia Festival.
For over 20 years, the yearly FilmColumbia festival has brought some of the finest independent films to Chatham's Crandell Theatre. Showing local and international films, the nationally recognized event gives film lovers a chance to see Academy Award-winning movies before the awards circuit begins. Throughout the festival's lifetime, 22 of the screened films have been nominated for Best Picture, and five have won, hinting at the thoughtful curation that underpins this local event.
Back after a pandemic pause last year, the festival will run for its 22nd year from October 22-31. Nearly 40 feature films, documentaries, and children's shorts from over 35 countries will be screened. The international films this year are particularly of note. "We already have seven films that have been submitted by their countries for Oscar consideration, so it's a very strong year," says Laurence Kardish, co-artistic director of the festival.
Kardish and Peter Biskind, FilmColumbia's executive director and co-artistic director, curate the film lineup. Kardish attends some of the most prestigious international film festivals, working with distributors to secure the films that he's interested in. This year's program features winning selections from Sundance and Cannes film festivals. Biskind and Kardish also have connections to local filmmakers, and show their work as well. "We do have this desire to support and recognize the people in the field who live in the area," says Kardish.
Courtesy of Crandell Theatre

A still from Madres Paralelas.
There is no central theme to the festival, but Kardish said that many of the selected films reflect on the past year. "A lot of the films are exceedingly intense, which is not surprising as we're dealing with a pandemic. A lot of the films have to deal with loss as well," says Kardish. "It hasn't been a very comic year. But it has been a year in which films examine personal relationships and relationships between people and the society in which they live."
Headlining the festival on Friday, October 22 is
Madres Paralelas (Parallel Mothers)
, a Spanish-language drama directed by Pedro Almodóvar, known for his films' humor and complex narratives. The foreign film, starring Penelope Cruz, chronicles the lives of two women who meet in a Madrid maternity ward and simultaneously become single mothers. Also screening that day is
Compartment No. 6
, which shared the Grand Prix at the Cannes Film Festival. Directed by Juho Kuosmanen, this off-beat "love story" shows the interaction between a tough, drunk Russian man and a heartbroken gay Finnish student while they share a train car.

One of the festival's most anticipated films is C'mon, C'mon, directed and written by Academy Award nominee Mike Mills. C'mon, C'mon stars Joaquin Phoenix in his first film since The Joker, which won him the 2020 Academy Award for Best Actor. Featured at this year's Telluride Film Festival, Phoenix plays a man who must learn how to connect with the nephew he's taken in as they embark on a transcontinental journey. The film plays at the Crandell on Saturday, October 23.
In addition, there are several post-screening Q&As with local filmmakers, including Columbia County resident Bob Eisenhardt, editor of the documentary The Rescue. Using news footage and interviews from people who were part of the rescue mission, the film recounts the operation to save the Wild Boars, a boys' soccer team that got trapped in a flooded cave in Thailand in 2018. "Even though everybody knows the outcome–you can tell it from the title—it is still heart-throbbingly suspenseful," says Kardish.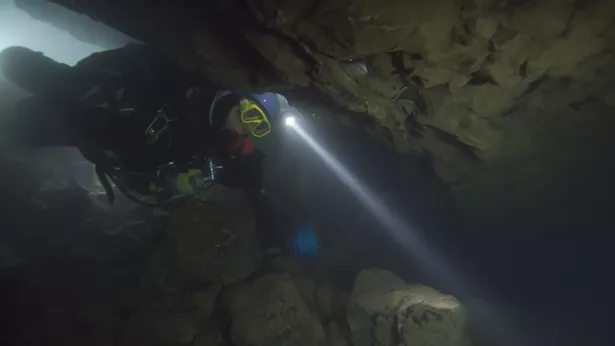 Courtesy of Crandell Theatre
There's another opportunity to meet local filmmakers at the screening of The Land of Abaza. Greta Schiller and Andrea Weiss, both Columbia County residents, travelled to Western Europe's last tract of wild nature in Spain and recorded the area's ecological reforestation experiments and nature cycles. "It sounds dry, but it's extraordinarily beautiful," says Kardish.



While Kardish is excited for the films themselves, he's most looking forward to seeing live audiences attend FilmColumbia again. "I'm excited that we're able to do the festival at all, and that we are able to do it in the theater that we love," says Kardish.
However, some things about this year's festival will be different. Tickets must be purchased individually for each screening, masks must be worn at all times, and proof of vaccination is required for all theatergoers over 12. Seating is also reduced to 50 percent capacity, allowing for space between viewers. Tickets for all of the screenings can be purchased online. Any remaining tickets will be available at the box office 30 minutes prior to each screening.
Despite the changes, Kardish hopes that attendees continue enjoying the festival's selections, and that the films leave them with something to think about. "A lot of the films are provocative, in a positive sense, and they get the mind whirling," says Kardish. "I hope that we give our audiences a lot to chew on."
FilmColumbia 2021 runs from October 22-31. Download the
full program here
.
5 Films Not to Miss at FilmColumbia 2021
Chronogram editor Brian K Mahoney shares his top 5 movie picks for the 2021 FilmColumbia festival.
The Werewolf of Washington
Monday, October 25, 12pm
This bloody satire of the Nixon administration was made in 1973 but has just been released in its original version. It stars Dean Stockwell as the White House press secretary, who happens to get bitten by a "Communist" (read: werewolf) on a trip to Hungary. When he arrives back in Washington, DC, presidential staffers start getting killed—all during the full moon.
The French Dispatch
Monday, October 25, 8pm
Did someone say "winsome"? Wes Anderson's latest comic fantasia concerns an English-language magazine published in France that looks suspiciously like The New Yorker. Anderson vets Bill Murray, Adrien Brody, and Owen Wilson are on hand, as are Anderson newcomers Timothee Chalamet and Benicio Del Toro in this affectionate homage to print journalism (and eccentricity).
Bad Luck Banging or Loony Porn
Thursday, October 28, 5:15pm
Our favorite movie title since Sister Act 2: Back in the Habit. Director Radu Jude won the Golden Bear in Berlin this year for this unconventional, absurdist comedy. A schoolteacher's sexual encounter with her husband (shown in its explicit entirety) accidentally goes viral, and it kicks off encounters with the pervasive sexist, consumerist, nationalist, and anti-semitic attitudes within the society. The kind of film Hal Ashby might have made if he lived in Romania.
The Worst Person in the World
Friday, October 29, 2:30pm
Joachim Trier's final installment of his trilogy about life in Oslo, Norway, follows Julie, who's approaching 30—and all the personal crossroads and doubts that brings. Julie veers between lovers in this deeply romantic film that bends the tender relationship comedy into some unexpected (and tear-jerking) positions. Renate Reinsve won the Best Actress award for her performance as Julie at Cannes this year.
The Humans
Friday, October 29, 8pm
Stephen Karam has adapted and directed his 2016 Tony Award winning play of the same, about a family gathering in Manhattan over Thanksgiving and struggling to connect. Into the familiar dinner-table-drama genre Karam has mixed the unexpected element of terror as a troubled working class family under fight over religion, politics, and everything else. Featuring Amy Schumer and Oscar nominees Richard Jenkins and Steven Yeun.