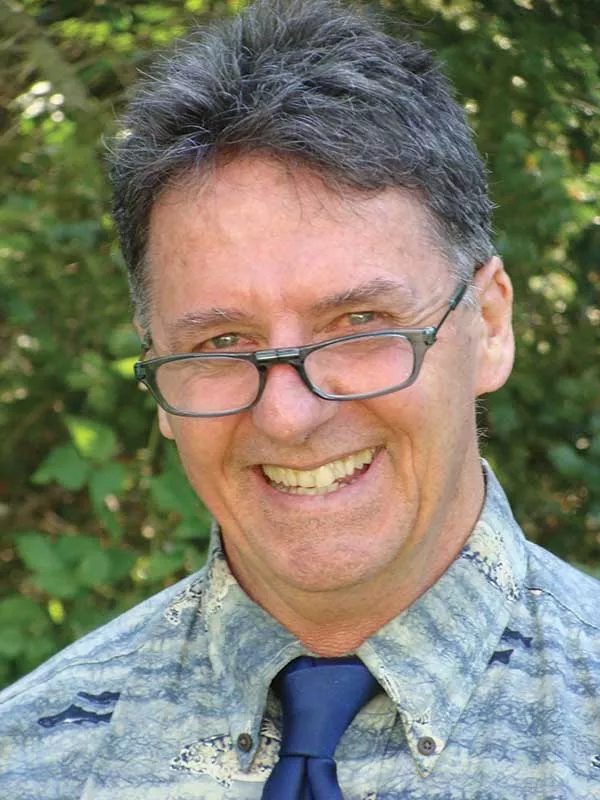 Educator Lawrence Carroll
As a young teacher in New South Wales in the 1980s, Lawrence Carroll threw his extracurricular energies into helping people master the Tasman Sea, co-founding the Australian School Surfing Association, teaching lifesaving along with mathematics. That was before he went through the hell of losing a first love and thence to India, Bali, and Europe. Twenty years of study brought him to long sessions of stillness, to hundred-mile runs, and then to the Berkshires, where he found his path bringing him back again to teaching high school math.
Coming back into the third-millennium classroom in 2006 was a shock, like returning to one's once-bucolic hometown and finding it choked and bustling. Pressure on teachers and kids had increased exponentially. Everybody was plugged in, wired for sound, and pulled in a million directions at once: top-down initiatives like No Child Left Behind, adversarial policies like zero tolerance, and warp-speed social lives buzzing in their brains. Not the ideal setting for sharing the joys of higher mathematics.
Bringing meditation to school, Carroll found that many kids dove into the silence like happy otters and the whole room changed. Since 2009, he's been teaching other teachers at the Pittsfield, Massachusetts, and Averill Park, New York, school districts, life coaching teachers and teens, and refining his Silence to Greatness and Sink and Think programs. In 2011 he was nominated for a Distinctive Educator of the Berkshires award.
"It began as a desperate and selfish need to help myself deal with my students' lack of respect and motivation," he writes in the abstract of "The Phenomenology of Silence," the presentation he'll be making to an Oxford Round Table. "Was my vision to make a valuable contribution to the lives of teenagers a pipe dream?"
Turned out he just needed to entice them into surfing another ocean. Now, Carroll is convinced that widespread introduction of meditation techniques can have as transformative an effect on education as technology, and it looks like the man may have caught quite a wave.
What was it like coming back to the classroom after two decades away?
When I first returned to education in 2006, I naively thought that what I had learned in my two decades of world travel and spiritual search would be readily transferable to the kids. I assumed they'd be polite, tolerant, interested, and diligent. I was shocked at how these standards and values were missing.
I spent the first two years of teaching reflecting and experimenting with pedagogical strategies. The classroom became my laboratory. When I introduced stress management through silence and reflection, everything changed. Stress started to dissolve, creating a happier and more productive classroom. The responses I was getting from teachers, parents, and students proved that I was on the right track.
The effects were so significant that I'm now devoting myself entirely to consulting, trying to go to the heart of the problem. Safety and stress mitigation in the classroom is the foundation for successful learning; the more teachers, parents, and students I can reach the better.
The first in your series of workshops for educators is about creating safe classrooms by lessening stress. What are some of the stress factors for students and teachers, in Australia and in the US? How did it get this bad?
Stress is part of any group where competitiveness, survival, and hierarchy exist, and many aren't conscious of how predominant stress is and the toll it takes on our health, effectiveness, and happiness. In this day and age, stress comes from a wide range of sources: poor diet, lack of sleep, overstimulation from cell phones and computers, relationships, pressures to do well at school/work, lack of downtime, financial worry, and more. These pressures are in both countries, although kids and teachers in Australia identify with an easygoing image.
Teachers and students here in the United States are under enormous stress. Primary indicators reveal that the educational system in the United States is failing in its mission. Academic performance in the US has fallen from second place in the world in the 1950s to 17th place in 2012. The attrition rate of new teachers within the first five years is nearly 50 percent and growing, resulting in an acute shortage of experienced educators. I believe this is in great part attributable to stress.
The introduction of standardized rubrics and nationwide initiatives like No Child Left Behind and Race to the Top hasn't touched root causes. They often exacerbate the problems they seek to remedy. Many people—administrators, teachers, parents, students—feel disempowered to meaningfully reform their individual and collective lives.
Meanwhile, one of the current evaluation standards by which a teacher's performance is measured here in the US is to create an environment of safety where students are willing to take academic risks. This is a true art form. And unless a teacher can manage his or her own stress, it's unlikely that teacher will enable students to feel safe in their presence.
How do you get a room full of adolescents to invest themselves fully in meditating?
At the beginning of the year, my priority is for them to think, "This guy's different; I want to know more." For any teacher, the first four days with the students are critical. If you rush into the curriculum, they'll tune out on day one and it takes a lot to get them back. So I ask students if they'd like to come into my class and simply do nothing. Rarely does anyone object! Then I qualify what "nothing" means and what it does for their brains, their thinking, their experience of stress, and more. After that, they are very curious.
There's a negative stigma around daydreaming or "spacing out." But, unless a student can turn inward, the teacher cannot educe their natural curiosity, intelligence, and creative capacities. "Educe" means to bring out from within, and it is actually the root of the word "educate." Real learning happens when we reflect inwardly and use metacognition. Students see that effort can replace ability. This inward-to-outward process goes against the conventional understanding of teaching, but it works.
We might have become more willing to ask, "Okay, how do we reach students and build a relationship where they buy into the learning process? What's in it for them?" than teachers were in earlier eras. But the teacher is still assumed to have all the knowledge, and that's usually unchallenged. It's a powerful authoritarian position. And if there's any attention deficit, no matter how well you teach, they can't readily absorb the information you do have.
When you allow a person's innate intelligence to unfold and assess what you're offering, the interaction becomes very satisfying to the teacher and infinitely more interesting to the students. Even if a student is confused, he or she has control over the fear. This gives them the sense of ease and space to learn. And when you create that intentional space, kids who are slow to answer and need more time feel safe to take the time needed to respond. When the class holds still for just 30 to 40 seconds, academic risk taking improves. Confidence builds in each student because he or she realizes, "It's in there, it just takes me time to get it out!"
Real thinking is a slow-time process, not an assembly line. And higher-order thinking and learning are impossible if students and teachers don't feel safe. When survival mode kicks in, the blood flows from the brain into the larger muscles. I tell the kids that when they're constantly plugged in, agitated, and worked up—some of them sleep with their cell phones on—they're soaking their organs in adrenalin.
The process itself is a powerful ally. It develops the awareness of one's own thinking process, enables students to identify what they are thinking, the fears and challenges blocking them, and how to move forward. Teens love that feeling. Some say it's as refreshing as waking up in the morning.
So I begin every class with a meditation. I guide the meditations for about one month, and we discuss their experiences. Soon, 90 to 100 percent of the class looks forward to that experience as the best part of their lesson—for some, it's the best part of their day. The fact that they look forward to it means something. They like that it's happening. I have interviewed my students over the past three years and recorded what happens for them. What they say is often beautiful and nuanced.
Such as?
"When I come in to the classroom, I can relax; I know kids aren't going to be nasty." And, "I can't remember anyone swearing in this class." There's a natural morality that arises when kids are given space to be alone, quiet, unpressured. When they know they won't be interfered with, something magic happens. They know managing stress is real and not just intellectual. It changes their attitude and behavior.
I've had kids come up to me and say meditation stopped them getting into a fight. They relax, breath deep, regroup, and make an unexpected choice—walk away! Teens are told, "No," "Don't, "You shouldn't..." somewhere around 400 to 500 times a day. When they're not being admonished and limited, it's a serious breath of fresh air. Meditation is kind of like zero in the number system, completely neutral. It creates a natural updraft toward positivity. Negativity and aggression are rendered impotent.
When did you realize you were onto something that could be replicated by other teachers and implemented on a broader scale?
Over the past four years, I've introduced hundreds of both new and experienced teachers to my work in workshops and presentations. It began with teachers wanting to implement my techniques in their classes. I was delighted to be able to observe them teach, offer them guided meditation audios and instructions, demonstrate my approach in their own classes, and coach them one on one. I'm thrilled by their response and willingness to try the techniques in their schools.
People are ready to experiment with meditation and other stress-relieving techniques, even though they may have little experience. I've become confident that the way I'm introducing it to people is effective. I also make myself available to support teachers who need more coaching for themselves or their classes. In 2009, I also became a Professional Certified Life Coach.
Has there been any resistance from people who felt you were pushing religion?
Many meditation processes are attached to philosophies that have their roots in religion. At first I wondered if what I was teaching would threaten some people's religious sentiments, so I was braced for that kind of push-back, but it never came. The reason you meditate is very personal. It's also universal—everyone can do it. Silence and stillness are natural, and in mastering the basic technique, you gain a wonderful self-management tool that can be applied in every aspect of your life.