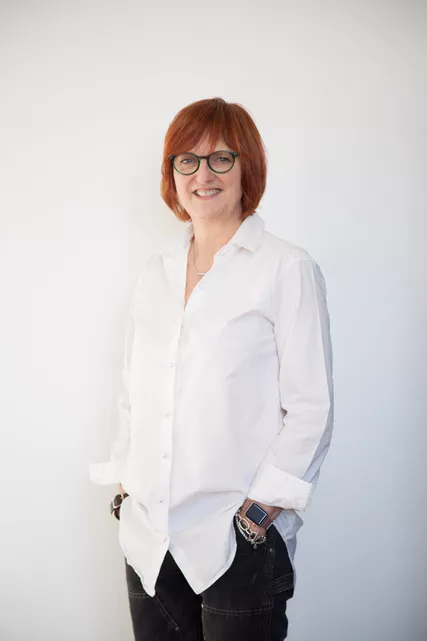 Lynn Herring, Founder of CharlieDog Advertising
"I absolutely love the Hudson Valley. My heart sings here," says Lynn Herring, a visual artist and founder of CharlieDog Advertising, a creative agency that has been based in the Hudson Valley since 2009. Prior to her move upstate, Herring had spent her career working for top ad agencies in New York City and broke out on her own to found CharlieDog in 2000. After successfully running the business remotely from New Jersey for almost 10 years, she realized there was nothing stopping her from moving anywhere she wanted.
So Herring relocated two hours north to Woodstock, a town that better suited her creative personality. In 2016, after seven years in Woodstock, Herring moved to Kingston to be closer to her studio and office space in one of Midtown's artist work/live loft buildings, the Brush Factory.
As CharlieDog's founder and creative director, Herring has always placed great emphasis on developing long-term relationships with clients. "We tend to have clients for seven or more years," she says. It's this dedicated approach to helping clients achieve beautifully designed and strategically smart multi-media marketing that has earned the agency creative work for numerous national brands.
In the early 2000s, CharlieDog designed the branding campaign that helped introduce Illy coffee to the North American consumer market. In the years following the 2008 recession, CharlieDog's small size and agility attracted Kraft Foods, which needed help redesigning the ecommerce and online marketing experience for two of its brands, Gevalia and Tassimo. "We do a really wide range of things," says Herring. "Branding is our sweet spot, but that means a really good ad, a really smart, beautiful website, or a great idea for print campaigns or sales brochures as well."

Herring's brand of loyal, ready-for-anything creative service is the inspiration behind the agency's own branding, which features a friendly Airedale terrier and canine word plays. "We actually started out with the name LuckyDog because we felt fortunate to have the kind of clients we have and to work for ourselves in New Jersey," says Herring.

Since the name was already trademarked by AT&T, Herring and her team pivoted to CharlieDog in homage to Herring's own Airedale terrier, Charlie. "The dog symbolizes how we're loyal, dedicated, and friendly," says Herring. "We're very down to earth to work with."


Though Herring continues to work with major brands, she's looking to develop more business relationships closer to home, where her industry experience can help boost the visibility of local businesses and nonprofits. "We can really help anyone bring their personality forward and talk directly to their audience in a way that connects and gets them results," she says. "We think through what we're doing and we're very collaborative. That's why people stay with us for such a long time. We become an essential part of their team and their creative toolbox."
Contact Lynn at (201) 606-3810 and get a complimentary 30-minute consultation with CharlieDog Advertising today. Charliedogadvertising.com