Photo: Deborah DeGraffenreid
Jean Feinberg rescued a forsaken summer cottage near Lake Taghkanic and transformed it into her 400-square-foot, year-round art studio. Lining the walls, various iterations of her oil paintings explore an abstract motif inspired in part by her experience rejuvenating her property. "For years I've been playing with very intense, flat and uninflected color against either raw wood or found wood," explains the former teacher. "I found my path to working thisway from the delight of having so many color chips around me as I was painting the house. Color can shift so much in intensity, value or hue, and each of these shifts influences feeling as well."
Jean Feinberg doesn't know who really saved whom. The painter, who explores geometry and minimalism in her work, had been searching for 15 years when she found the complex of gardens and digs she would eventually transform into her own homestead. "I loved being outside of the city and had spent quite a bit of time in the area while teaching in the summer program at Bard," Feinberg says.

She wanted an upstate retreat with a studio to balance her busy life in Manhattan, where she was an assistant professor of fine arts at the Fashion Institute of Technology. "However, I was hesitant—it was a big leap for me to buy something on my own, as a single woman." Then, in 1995, she struck on a place with potential: A one-acre property, with a hodgepodge of buildings—including a dilapidated cottage, a workshop-garage with an apartment above, outhouses, and a chicken coop. "It was truly an overlooked, kind of forlorn place," she remembers. "But it had a really nice sense of place." Built by one family in the early part of the 20th century, it had sat empty for years. "I loved the tall white pines lining the driveway, the old lilac trees and the energies that abounded here. The fact that the place was a bit eccentric appealed to me—I wanted to transform it into something special."
Another appealing aspect was the garage apartment: It was immediately livable and still completely furnished. "It was full things left by the original owners—furniture, tools in the basement, wine kegs, and even Mason jars of tomatoes and pears grown from the property," Feinberg remembers. She could move in right away and begin rehabilitating the small cottage into her studio space. So, she took the leap and bought it. She didn't realize that, over the years, embracing the challenge of bringing the place back to life would transform her and her art practice as much as she transformed it. "I needed to do something big and challenging—to stretch myself. I was transformed by being able to express my creativity in other ways beyond my studio practice."
Photo: Deborah DeGraffenreid
Feinberg's one-acre property backs into a wooded hillside and was surrounded by slightlywild but well-planted gardens, which, along withthe buildings, she eventually brought back to life."I'd never gardened until I got here—that was arevelation," she says. In the foreground, her lattice-covered house looks out onto a private courtyard.and an exterior staircase with a playful bannisterof twisted branches that Feinberg collected fromthe property.
Cottage Life
In the beginning, Feinberg's priority was salvaging the one-story, wood-sided cottage sitting at the entrance of the lot. Originally built in the 1930s, probably as a summer home for the owners to enjoy nearby Lake Taconic, it is one of a string of similar cottages built along Old Route 82. The interior had been divided into four bedrooms situated around a center chimney and wood burning cook stove, but there was no water or bathroom. (Feinberg eventually tore down the nearby outhouse.) The once idyllic space had fallen into complete disrepair: The low ceiling was caving in and the floor needed to be totally replaced. "Everyone said, 'tear it down, just tear it down, build something new,'" says Feinberg. She chose a different path, however.
Photo: Deborah DeGraffenreid
Feinberg in the corner of the apartment's original living room. The geometric sky blue painting above her is by Eric Erickson. The other art, as well as the furniture, was collected from flea markets, antique stores, auctions, and yard sales. "My decorating style is eclectic to the max," she says. "I went crazy with color, color decisions, and paint chips."
Working with local carpenter Raeph Sanderson, Feinberg began by ripping out the interior dividing walls and cutting away the majority of the low-hanging ceilings. After "jacking up the foundation a bit," they installed new floors and cut three skylights in the now exposed wood-beamed roof. At one end of the studio, the remaining original ceiling boards were repurposed to create an open storage loft for Feinberg to store her larger paintings. She replaced the wood stove but left the exposed brick chimney as a central focal point in the now open, airy studio space.
Adopt-A-Home
Meanwhile, Feinberg had taken over the property's second structure—a two-story winterized building—keeping most of the furniture, living ware, appliances, and even tools, left by the previous owners. "I never got a Dumpster to get rid of everything. I felt something about the spirits here, and I liked the idea of honoring them," she explains. "And I found myself reusing a lot of what I found, especially the tools." Set back into the wooded hillside, the 900-square-foot apartment with a covered wraparound porch was built above a ground-floor workshop and garage. "It's truly a quirky kind of space," explains Feinberg, who thinks it was hand-built by the owners sometime in the late `40s and `50s for year-round living. She added a few creative touches to the two spaces—painting the kitchen floor red, the sitting area floor with green and cream stripes, and setting off the arched door frames with slate blue paint. She also added two closets—with bright red doors—to the bedroom.
Photo: Deborah DeGraffenreid
In the kitchen, Feinberg removed a woodburning cook stove but kept the stove pipe, reappropriating it as a hanging pot rack. Inspired by paint swatches, she repainted the cabinets with random, geometric splashes of color. The experiment in kitchen redecorating then worked its way into her creative work, with similar geometric squares of varied color showingup in her oil paintings. "It really diverged from the type of work I had been doing years before," she explains.
The exterior required some updating. "For a long time, I was trying to figure out what to do with the asphalt shingles," explains Feinberg. "Should I put in new ones or take them out?" When a contractor pointed out that they had insulation value she decided to keep them, and then a road trip to Great Barrington inspired an idea for beautification. "Right outside town, there's a barn covered with lattice; as soon as I saw that I knew what I wanted to do." In 2001, she hired a former art teacher, John Burkhart, to individually paint pine beams hunter green and then install them into a square patterned lattice frame around the exterior of the building. "It ended up being a great solution," she concluded.
Totally Transformed
Photo: Deborah DeGraffenreid
After restoring her studio, Feinberg finally turned her attention to the garage apartment she'd been living in. She fully winterized a wrap-around covered porch to exponentially expand the apartment's living space. In one corner, what was once used for storage is now a sunny sitting nook, decorated with her art as well as second-hand finds. "My work falls somewhere between painting and object," she says.
In 2005, with her studio finally a creative haven, Feinberg was able to turn her attention to majorly revamping the apartment's interior. Within the home's original layout, there was no interior passage between the upstairs apartment and downstairs workshop and garage. "You had to exit from the kitchen door and then re-enter another door to go downstairs to the garage," she explains. By shifting the home's bathroom to an adjacent closet space, Feinberg created a light-filled landing and mudroom area connecting the kitchen and stairwell. Now, the home's main entrance is through a cherry red door at the first-floor level and the original kitchen entrance serves as a backdoor, leading to the back patio.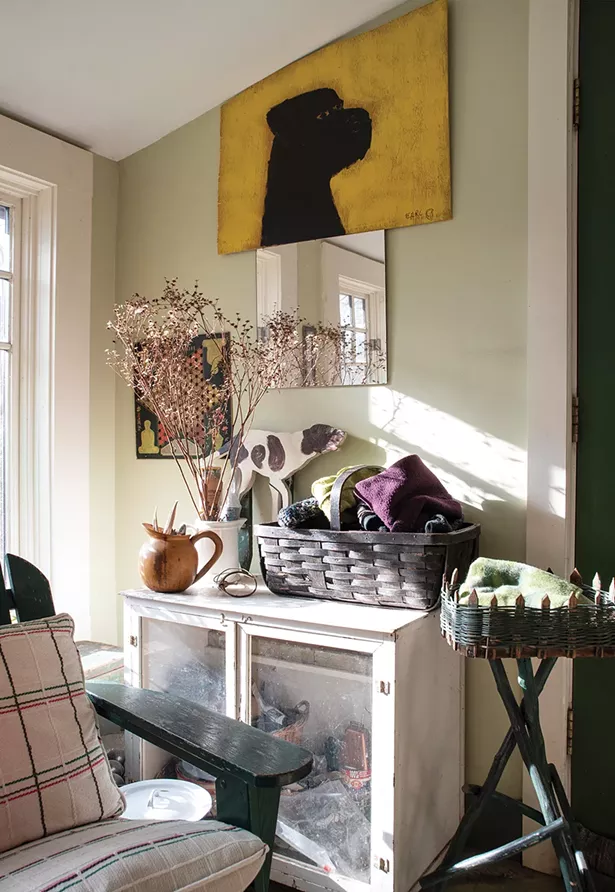 Photo: Deborah DeGraffenreid
At the entrance of Feinberg's apartment, she created a sunny landing and mudroom area by shifting the bathroom to an adjacent closet. Feinberg bought the bright yellow painting of a dog by outsider artist and local legend EarlSwanigan on the street in Hudson.
The large eat-in kitchen, running along the back of the house, sported the original cabinetry and farmhouse sink as well as `40s-era appliances and a wood burning cook stove. Feinberg sold the vintage appliances and the cook stove to collectors, and replaced them with modern versions. She kept the original horizontal stovepipe however, repurposing it as a hanging pot rack. Feinberg also kept the original cabinets and countertops, but updated them with a creative twist. "I was going through a major paint swatch thing at the time," she says. She painted multicolored "paint swatch" squares intermittently all over the doors and counter tops. The creative impulse unleashed in her kitchen, then turned back around and unleashed itself in her work. "I ended up using the swatches in my paintings, along with wood salvaged during the renovation process," she explains. "I loved the vestiges of color and history the formerly painted wood had, and I combined them with my own oil paint interventions.
Summer All Year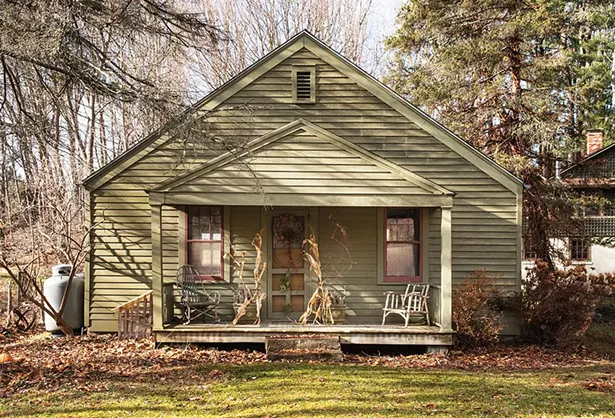 Photo: Deborah DeGraffenreid
The front porch of the property's original structure, once a summer cottage, looks across the road to preserved wetlands. "The amount oftime I've been up here has just flown by," Feinberg says. "When I think about it, I've really accomplished a lot up here."
Until then, Feinberg had occupied the interior sitting room and bedroom and only used the wraparound porch in the warmer months. "It had these funky old storm windows that could be hooked to the ceiling," she says. But in 2005, Feinberg decided to expand outward. To make the wraparound porch livable year-round, she worked with contractor Eddie Centroski, insulating the walls and replacing every window. She also added heat and kismet delivered the perfectly sized wood stove, now installed at the space's center. "I bought it at an auction," she says. "For seven bucks."
Now, her bedroom lies at one end of the former porch, overlooking the property's front yard. In the opposite corner, there is both work and living space. Running along the south-facing wall of the house, a sun drenched sitting room looks out over Feinberg's garden and the former chicken coop—now converted into additional guest and work space. What was once the bedroom has been converted into a formal dining room with a curio cabinet.
Photo: Deborah DeGraffenreid
Feinberg's dog Ceci, a Bluetick Coonhound, sits on her bed in the corner of what was once the covered porch. "The house may be going through another renovation," says Feinberg."Even though it is far from a historic house, I feel it has a particular character that I enjoy being in conversation with. I'm waiting for it to tell me what to do."
Feinberg recently retired from teaching. The home that she made totally and completely her own, and that, in turn, transformed her, is now her full-time residence. "I don't think I ever realized how satisfying this would end up being," she says. "I can say without hesitation that it was the best thing I ever did."