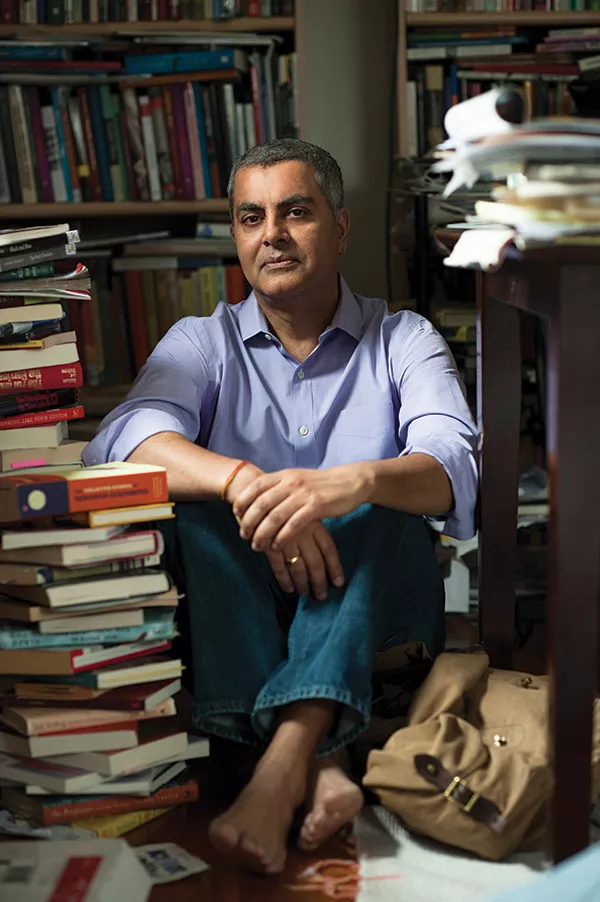 A young woman with blond dreadlocks skateboards past Twisted Soul Food Concepts, a gleefully international eatery near Vassar College. Inside, Amitava Kumar is ordering Asian dumplings and French fries for his daughter Ila and a Badass Rice Bowl for himself. He recommends the Ethiopian BBQ arepas and insists on picking up the check. Already, the world feels a little bit wider.
Crossing cultural boundaries, large and small, is a Kumar specialty. The Vassar professor's books defy pigeonholing: he's published nonfiction (A Foreigner Carrying in the Crook of His Arm a Tiny Bomb, Duke University Press, 2010, winner of the Asian American Literary Award); fiction (Nobody Does the Right Thing, Duke, 2010); and hybrid literary memoir (Husband of a Fanatic, New Press, 2005; Bombay-London-New York, Routledge, 2002; Passport Photos, University of California, 2000). His just-released A Matter of Rats: A Short Biography of Patna also blends genres.
Biographers generally choose human subjects, but Kumar tells the life story of his hometown in the much-maligned state of Bihar, which seems to be India's version of a New Jersey joke. "When you go to college in Delhi and say you're from Bihar, people laugh at you," he says, helping Ila adjust her earbuds; her mother, an economics professor at SUNY New Paltz, is picking her up after class. Kumar multitasks gracefully. His conversational style has a hummingbird brilliance, swooping from subject to subject with free-associative zest and high-octane intelligence. He gives the impression that everything interests him; it seems physically hard for him not to ask questions.
Kumar wears all these hats—journalist, intellectual, family man—in his study of Patna. It's an insider's view from outside: The author is both native son and expatriate, revisiting his former home with an eye for the telling detail. A foreign journalist might note the city's vast rat population; an intrepid one might follow a Musahar construction worker into a muddy field to catch rats for dinner ("It is better than chicken," the man asserts). But only a native of Patna could add that nurses at the hospital where his sister works play the radio at night to keep rats from nibbling their toes, or that rats had carried off his mother's dentures. And perhaps only Amitava Kumar could spin this delightful description of two departing rats spotted by his young son: "They looked like stout ladies on tiny heels, on their way to the market. I wouldn't have been surprised to see them carrying small, elegant handbags."
There's much more to Patna than rats, of course, and Kumar touches on its ancient glory and later role in the East India Company's opium trade. He also writes eloquently about writing itself, and the meaning of place. But what interests him most is everyday life. A Matter of Rats was inspired by E. B. White's 1949 essay Here Is New York, for which White traveled to Manhattan during a heat wave, staying at the Algonquin Hotel and going on daily foraging trips.
Kumar followed his lead, visiting Patna in August and going out every day to interview residents and observe such phenomena as gleeful crowds massing around the city's first escalator, inside a five-story mall. Their eagerness to experience the new struck a chord.