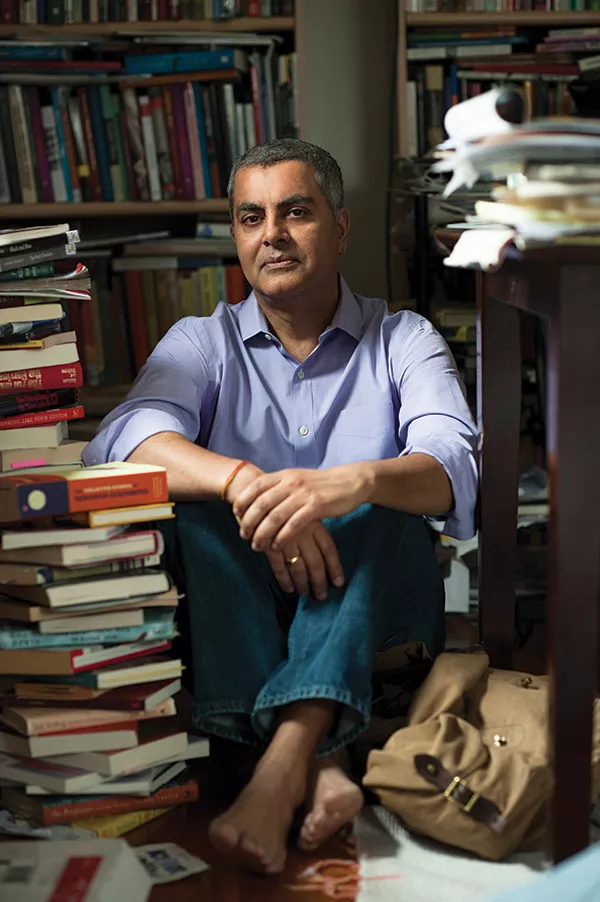 A young woman with blond dreadlocks skateboards past Twisted Soul Food Concepts, a gleefully international eatery near Vassar College. Inside, Amitava Kumar is ordering Asian dumplings and French fries for his daughter Ila and a Badass Rice Bowl for himself. He recommends the Ethiopian BBQ arepas and insists on picking up the check. Already, the world feels a little bit wider.
Crossing cultural boundaries, large and small, is a Kumar specialty. The Vassar professor's books defy pigeonholing: he's published nonfiction (A Foreigner Carrying in the Crook of His Arm a Tiny Bomb, Duke University Press, 2010, winner of the Asian American Literary Award); fiction (Nobody Does the Right Thing, Duke, 2010); and hybrid literary memoir (Husband of a Fanatic, New Press, 2005; Bombay-London-New York, Routledge, 2002; Passport Photos, University of California, 2000). His just-released A Matter of Rats: A Short Biography of Patna also blends genres.
Biographers generally choose human subjects, but Kumar tells the life story of his hometown in the much-maligned state of Bihar, which seems to be India's version of a New Jersey joke. "When you go to college in Delhi and say you're from Bihar, people laugh at you," he says, helping Ila adjust her earbuds; her mother, an economics professor at SUNY New Paltz, is picking her up after class. Kumar multitasks gracefully. His conversational style has a hummingbird brilliance, swooping from subject to subject with free-associative zest and high-octane intelligence. He gives the impression that everything interests him; it seems physically hard for him not to ask questions.
Kumar wears all these hats—journalist, intellectual, family man—in his study of Patna. It's an insider's view from outside: The author is both native son and expatriate, revisiting his former home with an eye for the telling detail. A foreign journalist might note the city's vast rat population; an intrepid one might follow a Musahar construction worker into a muddy field to catch rats for dinner ("It is better than chicken," the man asserts). But only a native of Patna could add that nurses at the hospital where his sister works play the radio at night to keep rats from nibbling their toes, or that rats had carried off his mother's dentures. And perhaps only Amitava Kumar could spin this delightful description of two departing rats spotted by his young son: "They looked like stout ladies on tiny heels, on their way to the market. I wouldn't have been surprised to see them carrying small, elegant handbags."
There's much more to Patna than rats, of course, and Kumar touches on its ancient glory and later role in the East India Company's opium trade. He also writes eloquently about writing itself, and the meaning of place. But what interests him most is everyday life. A Matter of Rats was inspired by E. B. White's 1949 essay Here Is New York, for which White traveled to Manhattan during a heat wave, staying at the Algonquin Hotel and going on daily foraging trips.
Kumar followed his lead, visiting Patna in August and going out every day to interview residents and observe such phenomena as gleeful crowds massing around the city's first escalator, inside a five-story mall. Their eagerness to experience the new struck a chord.
"I remember the excitement of my first time on a plane, leaving India to go to grad school in Syracuse in 1986," he says. His prologue to Bombay-London-New York sets the scene: As the young scholar peers out the plane's window, watching his family wave solemn good-byes, "a cousin took off her long dupatta and held it up with both hands so that an elegant span of bright orange unfurled in the strong breeze. Then we were in the air. I removed from my hair the marigold leaves and grains of rice that my mother had sprinkled on me for good luck." A few sentences later, he contemplates how this departure scene echoes V. S. Naipaul's Miguel Street. "There is no beginning that is a blank page," Kumar writes.
He took a taxi from the Syracuse airport, marveling, "I'd never been on a road that smooth." That night he ate beef for the first time and ordered a Heineken, a brand he'd seen advertised in Newsweek and Time.
He also met a relative who'd come to America two decades before and had never returned. "He took me to Sears and bought me a jacket," Kumar reports. Later, the man's aging mother made the trip from her village to Patna to use a long-distance telephone, hearing her son's voice for the first time in 20 years.
Kumar's face lights up. "A beautiful woman just walked in," he says, greeting his wife. He and Mona Ali met in New York, at a 1997 event celebrating 50 years of Indian and Pakistani independence. They married two years later. "I often told myself that my marriage was unusually symbolic: I was doing my bit to help bring peace to more than a billion people living in the subcontinent because I am an Indian Hindu and the woman I was about to marry, Mona, is a Pakistani Muslim," Kumar writes in Husband of a Fanatic. If this sounds hyperbolic, consider that one of his interviewees, a Hindu ultranationalist, called Kumar a dog and a bastard, an enemy of India. "I went to meet him at his apartment in Queens because I wanted a dialogue with him. I also wanted to see his face. I found the idea of a faceless enemy unbearable. That wasn't a psychological problem so much as a writer's problem. I wanted detail and voice."
A Foreigner Carrying in the Crook of His Arm a Tiny Bomb also gives detail and voice to those labeled "enemy": people caught in the crossfire of the Global War on Terror in post-9/11 America, London, and India. Kumar's subjects include two bunglers lured into elaborate government stings and a man who was tortured for owning what looked like a missile part but proved to be a bobbin from an industrial loom. Nothing about this is simple, their stories assert.
Neither is being your hometown's biographer. "The changes that had come to my town seemed more monumental than changes here," Kumar says. "Here, the rest of the world comes in as a new ethnic restaurant, or a new beat in, say, a Madonna song"—he nods toward Twisted Soul's speaker, which is playing one as he speaks. But in India, "the shift is momentous. In 1986, an old woman travels from her village to place a telephone call via long-distance trunk lines. Now that old woman can call from her hut. Conceivably she can see the Oscars. Mickey Mouse is selling her toothpaste."
American culture and capitalism may have infiltrated Patna, but returning diasporics, Kumar writes, often treat their hometowns "like a leftover." In earlier books, he admits, "I told stories about Patna because they were a part of my shame at having come from nowhere." Still, he returned every year to visit his family. At the end of A Matter of Rats, he writes, "When I step on Patna's soil, I only want to see how much older my parents look. ... Each time I leave, I wonder about the circumstances under which I will need to return."
This January, his mother fell ill. Since the author planned to return for a February literary festival and faced multiple deadlines, he hesitated. The morning after he booked a flight, he awoke to a distant relative's condolences on Facebook. In a moving essay for the Indian Express, Kumar describes returning to India to cremate his mother, concluding with aching restraint: "I realized that I had missed a very important deadline."
Several people he'd profiled in A Matter of Rats attended his mother's funeral, including a renegade poet and a bureaucrat lobbying to serve rat meat in restaurants. The night before, Amitava Kumar had slept in his mother's house, waking when a rat bit his hand in the dark. Later he wrote to his agent, "I suspect this is a form of literary criticism."