Six people stroll on stage. Dressed in black, scripts bundled in their fists, they stand in front of individual microphones. There's a girl stage right. You're waiting for her to hold up your cue card. And when you see it you'll manipulate the prop you've been given. After all, you drove to Sugar Loaf to watch the Air Pirates Radio Theater perform a staged old-time radio broadcast. Just like Grandma and Grandpop used to do in their living rooms before the glory of the TV—but now with a tad more edge.
Paul Ellis, producer, founder, director, writer, and jack-of-all-trades for the Air Pirates Radio Theater, created the company nearly six years ago. His motto—"comedy, comedy, comedy"—is showcased through six seemingly schizophrenic cast members. Since some play multiple roles in one script, you watch them virtually argue with themselves, changing only their voices but inhabiting completely different personas.
One play, "Herb Marks, Freelancer" is based on 1940's noir. Through the crass vernacular of a sleazy bar and a whiskey drenched voice is born Herb Marks—midget. He's also a freelance detective. And he just happens to be played by a 22-year-old girl. With your eyes closed, the possibilities are endless.
Ellis's scripts follow traditional radio show genres: detective, science fiction, and western. But these scripts are dependent upon their audience. At Air Pirates, you don't just watch a show, you help create it. "The audience gets to clank the chains and creak the doors—without their participation the show can't move forward," explains Ellis. By scouring flea markets, dollar stores, and construction warehouses, Ellis discovers sound props amidst mundanity. "If you see a guy in Home Depot clinking and clicking things, playing with a cheese grater and banging a rubber spatula, that's probably me," says Ellis. At the beginning of every performance, each audience member is given a prop (from a glass of milk and a straw to coconuts to the zipper on your pants) and a sound cue (blow, suck, clap, zip). When the cue-card girl holds up the card, you blow into your glass of milk , clank your coconuts, or unzip your pants into the microphone. Half the hilarity, Ellis says, is in the mystery of what your prop is going to do—the bubbles in your milk morphing to a bong rip, for instance.
Ellis sees Air Pirates as a way to palpably interact in this digital age of Facebook and MySpace. There's a lack of human connection that Ellis sees people desperate for. He jokes about people "going out for tomatoes. How it's urgent that [they] Twitter about it." Air Pirates gets the audience and actors involved, and if you make a mistake that's fine, say Ellis. "That's better! If people aren't laughing something's not working."
The Air Pirates Radio Theater will start their season off on March 20 at 8pm with "Space Cadet: Is This the Beginning?" at the Lycian Center in Sugar Loaf. $15. A live broadcast can be heard on WTBQ 99.1 FM or www.wtbq.com. (845) 469-7563. For free downloads of past Air Pirates shows, go to www.airpiratesradiotheater.com.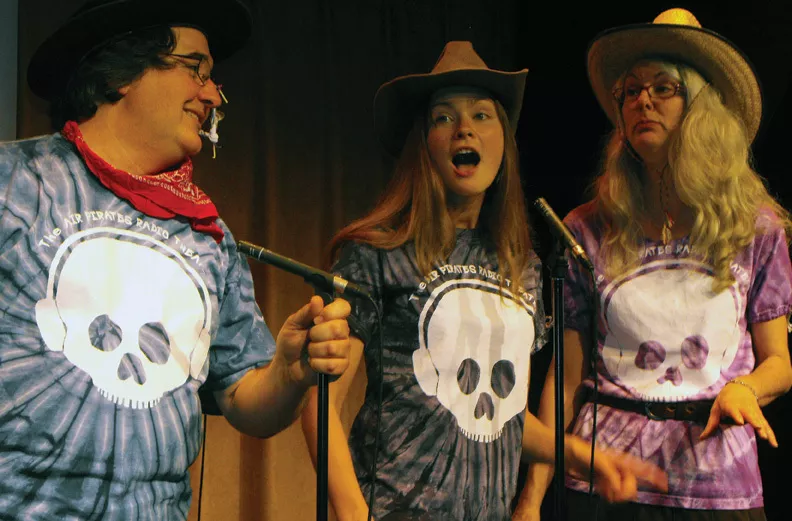 Alan Andrews, Holly Gobelez, and Kate Brannan, of Air Pirates Radio Theater. Air Pirates kicks off their season in Sugar Loaf on March 20.