Zipping away at Big Bear Ziplines for the first time!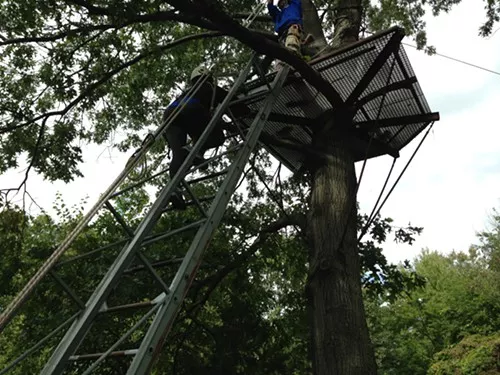 The 2nd Fire Truck Ladder leads to the Grand Finale—Zipline #8
Last Sunday my husband Tom and I went on a Canopy Tour at Big Bear Ziplines in Hyde Park for the first time. We booked ourselves on the 2pm tour, and arrived there very early around 1pm. (You must get there 30 minutes prior to your tour to receive the safety demo otherwise you must pay a $20 fee and have to reschedule). The Big Bear Ziplines Office is right on 9G North as you drive through Hyde Park so it is easy to get to. (If you are coming from the NYC, they will even pick you up from the Poughkeepsie train station). After we checked-in, and the zip pilots helped us put the gear on and showed us a safety demo, we hopped into the shuttle van that took us to the 50-acre zipline course. (It was about 10 minute ride). I have a bit of fear of heights, but I was most nervous about climbing the 2 fire-truck ladder.
Tours are limited to 8 people, but we had a group of 6. Tom and I were joined by two young women from NYC, and a couple from Pearl River. When we got there we went on a short, but steep hike for 10 minutes to our first Zip. We were about 10 feet above the ground, but it was tough stepping off the platform. It's the whole fear of falling phobia, and here you are virtually falling on purpose! I got stuck in the moment right before jumping off. Then I heard one of the NYC girls say,"It's okay. You got this!" The instant camaraderie in the group of 6 helped me during the tour. To get to the second zipline, we had to climb up a fire-truck ladder, but since we were hooked up to a rope the whole time, I wasn't nervous about falling. It's a good leg workout though! I really had to catch my breath when I got up to the platform.
I couldn't help but shriek every single time I zipped though! I zipped over to the other side, and Mike, the zip pilot caught me, and set me up for zipline #3 , which was connected to Zipline #4. The canopy tour includes 2 Tarzan descents to the ground when you have to walk on the ground to the next zipline. Again, you are always attached to the rope, gear, and everything is done with great safety! The Zip Pilots, Mike and Bre were very patient, professional, supportive, and had a great sense of humor. There are 8 Ziplines on this tour, and the last one, we called the Grand Finale was my favorite. By the end, I was feeling comfortable in the air, even though I couldn't master the handle twist you need to make if you want to straighten yourself out when you are spinning. The last Zipline is a quarter mile long, and 60 feet above ground. It's really the most exhilarating feeling to fly through a valley like that. You know when you have those dreams when you can just remove yourself from a bad situation by flying away? That's what it felt like! We were all superheroes for the 2 hours. (A group of 8 would typically take 3 hours).
We hopped back into the van, and returned to the Big Bear Ziplines Office where we got to dip our hands with Crayola paint and stamp our handprint on the Survivor wall. We were all giddy by this time! I told the group to check Hudson Valley Good Stuff for a blog post about the experience and Joe, from our group said, "Oh, that's you? That's how I heard about Big Bear Ziplines!" Well, that made my day! Check the Big Bear Ziplines website for more info. Tickets for the tour are $99, which does not include the gratuity for your awesome instructors. I will post more photos on the Hudson Valley Good Stuff Facebook Page.
HVGS Tips:
If it's your first time, you will probably be anxious. Try to relax, let the instructors guide you through each step. Don't rush the process because you are silently freaking out!
There are no restrooms along the course so make sure use the restroom at the Big Bear Office before you put your gear on.
There is a water a stop on the course so don't worry about lugging a big bottle of water. Besides there are no restrooms.
Bring an energy bar and put it in your pocket. Wear a sweater with zipped pockets if you want to take a small camera or smartphone along.
You must be between 80-250 pounds to go on this tour. Everyone gets weighed at check-in. The numbers on the scale are blacked out though so your actual weight stays private as long as you are within the requirements.
For the really adventurous, Big Bear Zip Lines has Zombie Tours at night in time for Halloween season.
For more adventures and good stuff in the Hudson Valley, visit Vanessa Ahern's blog Hudson Valley Good Stuff, and follow the HV GoodStuff Facebook Page.