Deborah DeGraffenreid
Covelli and Truscott's 17-foot 1982 Wilderness Camper is tucked away on a corner of their five-and-a-half-acre property. Bought secondhand in New Jersey, they drove it Upstate during a tornado and fully renovated it last year. Now it includes a sleeping area, kitchenette, and lounge.
Adrienne Truscott, known for her one-woman performances at Bard Spiegeltent, shows off her bold, quirky nook in the Hudson Valley.

Adrienne Truscott didn't ask for this. The performance artist who juxtaposes burlesque, off-color humor, and feminism to create theater that is at once hilarious and provocative to the point of cringing uncomfortability has built a career on forgoing any need for permission. Her partner, Carmine Covelli, a drummer for Kathleen Hanna's band the Julie Ruin and a backup musician and dancer for comedienne Bridget Everett's cabaret show Bridget Everett and the Tender Moments, operates under a similar ethos: Get an idea, look around for readily available supplies, figure out how to do it, and get started. Over the course of their 17-year collaboration as partners and artists, the two have, according to Truscott, "gathered, jimmied, repurposed, constructed, and reconstructed" whatever struck them as interesting, relevant, or recyclable into theater sets, art pieces, and musical performances. A little bit of scavenging and a lot of going with the flow has taken them through the realms of low art and high, around the world (Truscott has spent the past 10 winters touring the Australian fringe festival circuit; Covelli regularly travels with his bands) and now to their five-and-a-half-acre property in Tivoli.


Deborah DeGraffenreid
The exterior of the studio shed with Covelli at the BBQ. "I would like someone to monetize the sweat equity we›ve put out into the world, over the past 20 years," he says.
Deborah DeGraffenreid
The couple's trailer bedroom. The interior of both structures was restored with scavenged and recycled materials, including metal and wood from the property's razed house.
"It's our kooky little respite from the city and possible end-of-the-world bunker," explains Truscott. The freshly mown lawn is dotted with an eclectic mix of outbuildings and borders a pond brimming with wildlife. At one end, a remodeled trailer provides year-round sleeping quarters. Overlooking the pond, a prefab converted garage-shed, provides a four-season incubator for their creative hatchlings. A fire pit, outdoor dining table, open-air shower, wood-heated clawfoot soaking tub, hand-built dock, and island large enough to hold "one person or four turtles" says Truscott, are all evidence that Truscott and Covelli have adapted to, and are now fully integrated with, the pond's thriving ecosystem. Further afield, a storage shed guards the scavenged raw materials and equipment for ongoing and possible creative projects. And a wagon converted to a food truck is the basis for Covelli's latest brainchild: the Vinyl Donut, a food truck/roving record store, which Covelli plans to take live in the Hudson Valley this month. Like their art, their slowly evolving habitat is very much a work in progress that could take a turn towards the delightedly unexpected at any moment. It is also the physical manifestation of their creative process. Or, as Truscott puts it, "What we are doing up here is a real-life cumulation of how we collaborate artistically and how we survive."
Sufficiently Odd, Possibly Alive
Deborah DeGraffenreid
"We can just sit and watch this pond for ages," says Truscott. "There is a great blue heron, a green heron, a beaver, and a muskrat. It feels like a free menagerie. Two geese landed—they think it's their land, we think it's ours." They also had six goslings, but all six were eaten in one day. "It's nature," shrugs Truscott. "Nature can be horrible and unpredictable."
In 2008, Truscott had been performing as one part of the Wau Wau Sisters at Bard's Speigeltent for three years when Covelli and Truscott began to see the area as more than a tour stop. (In August, Truscott performed her show "Asking for It," a "one-lady rape comedy," as part of this year's Spiegeltent lineup.) More and more friends were moving to the area, and they liked the abundance of art and fellow artists. "The combination of those two things was like an anchor, and we started to look around," remembers Truscott. "But we began to look around like fakers." The idea of owning something seemed far-fetched for two constantly touring performance artists. They contacted a local real estate agent and asked to see any property "that was odd, but seemed like it could be turned into something living, even if it didn't seem that way," says Covelli. He took them to a former roadhouse, a brothel, a guitar shop, a one-room schoolhouse, a farmhouse, and then a house the agent swears was haunted. "He had some weird, blurry orb pictures that he still seemed shaken by," recalls Covelli.
Deborah DeGraffenreid
"It's ironic," says Truscott. "I've become known for doing a show about rape—which is all about consent—when the bulk of my artistic career has been based on the premise that it's easier to ask for forgiveness than permission. As an artist, it's the only way I've survived in the world, but as a woman, I certainly don't feel that way."
It was a patron of their shows, and now a neighbor, who told them about the parcel for sale on a back road in Tivoli. "We got here, and there was a wretched old house—the foundation was cracked, siding was missing, tar paper was on a few sides. It wasn't like we drove up and fell in love with it," remembers Truscott. The land was overgrown with grass and weeds up to their chests, completely obscuring the property's details. However, they noticed a giant willow tree and waded through the weeds to see it, finding a pond hidden by the overgrown bush.
They realized the property had plenty of potential. ("That's one thing we're really good at," notes Covelli, "seeing potential.") They had never owned anything before and knew the sweat equity required to make something livable out of the ramshackle, neglected lot would be great, but they also saw an opportunity to create something they could really love. Family members pitched in to help them buy the property, but asked the question: "But then what?"
Deborah DeGraffenreid
An interior wall of Truscott and Covelli's garage turned studio/ shed. Covelli built the wood-scrap-insulated walls from pieces he salvaged from the property and donations from friends.
Covelli and Truscott didn't quite know the answer. However, years of collaborating on countless shows had taught them the possibility of creating beauty out of remnants and cast-offs. The couple's partnership began with a first date that turned into an impromptu Dumpster dive. ("It was a clean Dumpster," Covelli is quick to clarify, "and it was a really great chair.") "People don't understand, unless they are in the theater, how you can just get stuff for free," explains Truscott. "After events, people often throw everything away. I'm always asking things like, 'You're just using all that lumber tonight?' 'All those curtains, you're just putting them in the Dumpster?'" The couple knew if they looked around they would probably find what they needed, or something they could adapt, as they had always done in their work. "Bit by bit, we've been doing the same thing—using our skills and our artmaking brains to make this beautiful, weird thing out of nothing."
Adapt, Recycle, Renew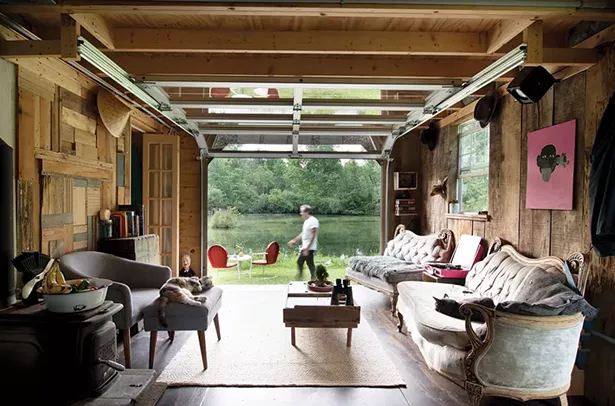 Deborah DeGraffenreid
The interior of the couple's studio looks out over the pond. Covelli built the island at the center out of construction netting, leftover wood, and 107 one-gallon containers left behind by the property's previous owners.
They began by doing "everything backward," says Truscott. Their first push mower resulted in only a hand full of blisters for Covelli and made very little headway clearing the overgrown land. However, a hundred-dollar riding mower—"literally just a seat over an engine"—scored from a junk collector in Hudson, allowed them to cut back the weeds around the willow tree and along the pond until they found grass. The first few summers, the couple were frequently touring, so they just camped out in the cleared space, working on the property the days they could be in town, and then hopping into the pond to cool off at sundown. A neighbor offered to raze the eyesore of a house for free, and Covelli saved the wood scraps, using a few to build his first structure on the property: An eight-foot-square dock at the edge of the pond. A few years later, they found an $800-dollar camper in New Jersey and began to extend their time upstate through the autumn months, eventually adding solar panels to the roof.
With the house gone, they knew they wanted to build a more substantial structure but weren't sure what. When Covelli found a free-standing garage that came as a kit, a more permanent structure felt doable. "It became just like putting on a show," explains Truscott, lapsing into theater jargon. "It seemed like we were getting ready for tech week." They adapted the two-story, 12-by-20-foot structure into a shed with the entrance facing the pond, swapping out the original garage door with a glass one they found. The kit came with two windows and stairs leading to an ample second-story storage area, which now doubles as extra sleeping space. Covelli added a kitchen area at the back of the structure, as well as a bluestone-lined composting toilet and shower off to the opposite side of the building. With a wood stove and added insulation, the studio is comfortable in all four seasons, allowing them to warm over and hatch new ideas throughout the year.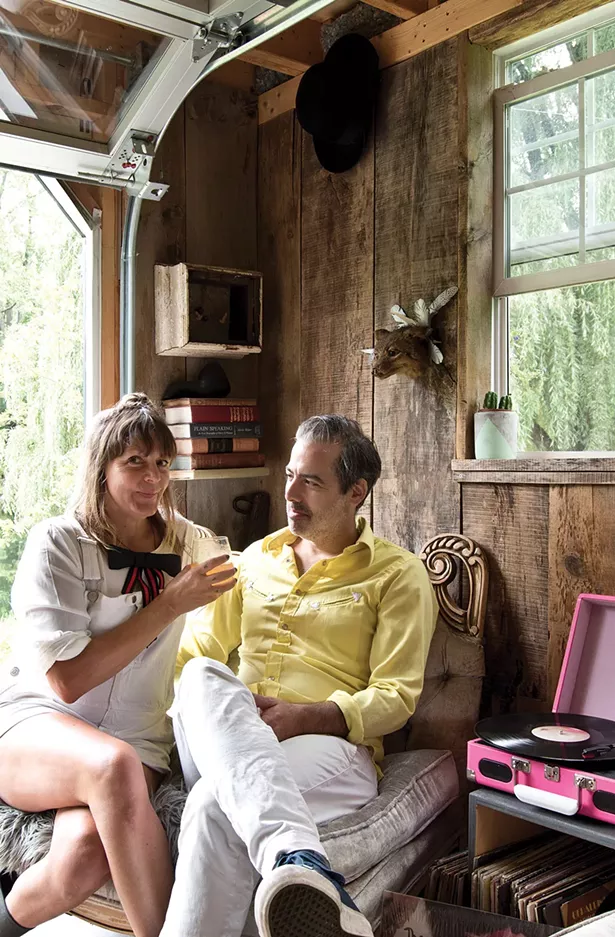 Deborah DeGraffenreid
Truscott and Covelli in their open studio space. Truscott began as a hockey player, became a dancer, and then studied circus arts. She now combines her varied skills into provocative, comedic theater. A musician, actor, and dancer, Covelli's latest venture—a food truck/ record shop called the Vinyl Donut—sells donuts, LPs, and turntables
After being taken over by mice, their camper had to be gutted last summer. True to their talents as recyclers, Covelli and Truscott utilized the opportunity to turn the space into an elegant bedroom, with kitchenette and sitting area. Covelli added new supports to the trailer, and installed a bar top and wood floor gleaned from a theater being demolished in New York City. A metal closet was gifted from friends and cinder blocks from the original house foundation are now used as steps.
This summer, Covelli finally used the last remnants of wood from the razed house. An outdoor shower hidden in a grove of trees utilizes a tankless water heater to run hot water—a far cry from their days of jumping in the pond. The wood was used to build a privacy screen around the shower, which is open to the canopy of beech trees above. As their structures have become more permanent, both Truscott and Covelli have become more rooted in the Hudson Valley. Covelli has been invited to bring the Vinyl Donut to multiple outdoor events this fall at Bard, where Truscott will be teaching a course this semester. "Everything seems to have been leading us here," says Truscott.

Read a transcript of a conversation between Adrienne Truscott and Chronogram editor Brian K. Mahoney about her one-woman show "Asking For It."
Deborah DeGraffenreid
Built by Covelli, the outdoor shower features a tankless water heater and wood-and-metal privacy screen.