In the latter decades of the 20th century, river cities in the Hudson Valley were writhing in economic pain. Poughkeepsie shut down its main drag to create a pedestrian mall that was promptly mocked. Newburgh famously made its way onto a national list of 10 Tough Towns. The main reason anybody went to Beacon was to take advantage of the short lines at the DMV.
It was a sorry state of affairs for an area that had been such a humming center of industry, agriculture, and wealth since the days of European settlement. But limited-access freeways and suburban sprawl had formed a slow-moving storm system, sucking the life from the cities that had once bustled with hope. Residents mourned the prosperous past and cast about for answers, going about their inner-city business in the shadow buildings that had, in living memory, pumped useful goods out into the world and cash into local pockets.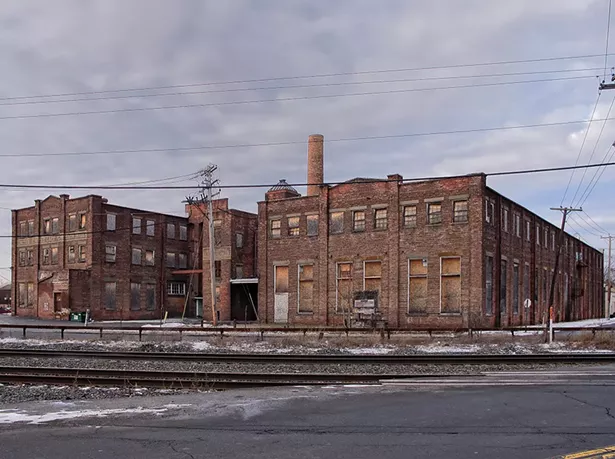 Photo: David Miller
The Lace Mill in Midtown Kingston sat vacant for years before RUPCO transformed it into a complex of affordable artist housing and gallery space.
"It's a shame," said many as they looked up at vast, boarded-up windows bearing hastily scribbled graffiti tags. "Look at that brickwork! Nobody builds like that anymore." Nobody was sure just what to do, but most agreed that it tore at their hearts when yet another venerable edifice met its date with the wrecking ball, usually replaced by mass-produced box store selling cheap sundries.
Historic preservation efforts had to beg for funding, and the ones that existed often focused on saving a particular iconic building. Historic residential properties and Depression-era municipal buildings got some love, but former factories were white elephants. Those jobs were never coming back. What on earth would anyone do with that big old hulk?
But time can heal communities, just as it can individuals, and you can't keep a great town down. As the generation that had toiled in those factories passed the torch to those who'd grown up in their boarded-up shadows, people began to dream up answers to the questions their ancestors would never have imagined.
Take Two
The venerable stone buildings that house offices and apartments in Kingston's Stockade weren't built to accommodate lawyers and insurance brokers. But it would take a visionary new breed of adaptive re-users to recognize the treasure lying carelessly in plain sight in the Hudson Valley's river cities, and a ton of hard work and collaboration to bring fresh vibrance to downtowns that the cynics had long ago assumed were out for the count.
Photo: David Miller
The Lace Mill at dusk.
Adaptive reuse—the process of adapting an existing structure for a purpose other than what it was originally built—has gained traction over the past two decades. "There is a tremendous amount of building stock for our generation to work with—mills, factories, churches, even homes," says architect and adaptive reuse specialist Scott Dutton.
In Newburgh, the Ritz Theatre and Hotel Newburgh, two of the most imposing structures on the east end of Broadway, were built as late 19th-century factory and retail spaces and had their first brush with adaptive reuse in 1913, when they were transformed into the Cohen Opera House and Hotel. Names and ownership would change, but the landmarks at Liberty and Broadway remained a theater and hotel throughout the 20th century. By its end, the theater that had helped launch Lucille Ball and Frank Sinatra's careers had become a defunct moviehouse and the once-proud Hotel Newburgh a truly scary place.
Photo: Chris Kendall
The Fuller Building partway through the restoration and adaption process.
Enter Tricia Haggerty-Wenz, a social work student doing fieldwork, whose sister-in-law had helped to create Common Ground (now Breaking Ground) in Times Square, turning the dilapidated and dangerous Times Square Hotel into supportive housing, based on a model she'd witnessed in Northern Ireland.
Her sister-in-law wasn't in the market, but she acknowledged the potential of the building. Dogged, Haggerty-Wenz kept going back, even after a rat fell from the ceiling onto the head of a man standing beside her, and eventually dropping out of college to form a dedicated nonprofit to buy and refurbish the property. "I just had this idea, and it didn't occur to me that I couldn't do it," Haggerty-Wenz told Chronogram in 2008. By that time, Safe Harbors of the Hudson, as she christened her nonprofit, had transformed the 13,000-square-foot-hotel into The Cornerstone, a 128-unit supportive housing residence with artists' lofts and a gallery. The neighboring theater, still a work in progress, has already hosted performances by Grammy and Emmy winners in its handsomely refurbished lobby.
Safe Harbors has since partnered with the Rural Ulster Preservation Coalition (RUPCO) to create the 45-unit East End Apartments, a scattered-site project with income restrictions and units set aside for homeless youth, veterans, and artists, built to the same exacting standards of quality, livability, and convenience as the Cornerstone.
And adaptive reuse has taken serious hold across Newburgh, arguably the city that needed it most of all. Atlas Industries, Regal Bag Studios, The Wherehouse, and the West Shore Station are but a few examples that come to mind. The Newburgh Armory Unity Center, created after visionary philanthropist Bill Kaplan convinced New York State to sell him the defunct government property for $1, offers an eclectic and robust menu of free athletic, educational, and civic programming for all ages, and is used by hundreds of people a week, helping to build confidence and job skills for the next generation. Thornwillow Press founder and CEO Luke Ives Pontifell is in the process of adapting and reusing an entire industrial block of the city into Thornwillow Makers' Village.
Artists and makers are a key element in adaptive reuse projects all over the Hudson Valley. It turns out that the high ceilings, open floor plans, and generous windows of old factories are ideal for making and displaying art, while the solid construction and architectural detail preserved from bygone days make creative hearts beat faster on general principal. "Culturally, we are craving some connection to something that is more tangible, to history. Everything else in our society seems so fleeting," says Dutton. "We are craving longevity, permanence, and quality, and that is what you find with older buildings—they feel real and solid."
Neighborhood Catalyst
One of the groundbreaking conversions of this type is still one of the highest-profile: the creation of Beacon's world class museum, Dia from a former Nabisco box-printing factory, which established Beacon as an up-and-coming arts destination and rescued the city from economic oblivion. Project architect Aryeh Siegel has gone on to reimagine much of Beacon's Main Street, including the Roundhouse at Beacon Falls (a former mill building) and a slew of other places.
Some analysts see a connection between an influx of artists and gentrification. It's a question that Guy Kempe, RUPCO's Vice President of Community Development, confronts on a regular basis; in Kingston, RUPCO has transformed the 1903 US Lace Curtain Mill into dedicated moderate-income artists' apartments and gallery spaces.

Photo: B Wolfe Photography
The one-time Ritz Theater and Hotel in Newburgh has been transformed into The Cornerstone, a 128-unit supportive housing residence.
Adaptive reuse, Kempe points out, may make neighborhoods more desirable but by definition doesn't displace residents. "That building had been vacant for 30 years," he points out. "We think that it's the right thing to put it back into service and invest in the cultural economy and help build the community. One of the first things we do on any project is what we call 'asset mapping': The Lace Mill project started with walking around that neighborhood looking at vacant commercial spaces and at other investments, and within a block, a group of arts-related businesses, several with international reputations, all with considerable investment in the cultural economy. So Kingston had already been identified as great for artists, who are often underserved in terms of housing. We saw the Lace Mill as an opportunity to preserve affordability for artists 50 years into the future."
Dutton, who was the lead architect on the Lace Mill project, recalls, "A very short time after that project finished, the character of the neighborhood changed and attitudes about Midtown Kingston changed with it. The Lace Mill is now a thriving cultural center and a strong bookend to transformational change that is taking place throughout the neighborhood. What was once a signal to keep driving, is now a destination and a beacon for the community."
Besides the Lace Mill, developer Mike Piazza has converted the Shirt Factory, Brush Factory, and Pajama Factory, along with several other properties, into mixed-use live/work spaces marketed to artists. The sleek website, Artistworkspace.com, is clearly marketing to those who can rent at market rate. Yet digging a little deeper uncovers the close connection between Piazza's Crossfield Management and the creation of the Midtown Arts District (MAD) organization, a nonprofit that, in turn, partners with the Kingston Library and the YMCA to provide arts education and employment opportunities for local youth.
The Ann Gallery at The Cornerstone offers an exhibit space for local artists.
The upside for artists is obvious. "We needed more fabrication space than we could afford in Brooklyn," says Matt Dilling, who has established an outpost for his internationally known Lite Brite Neon fabrication enterprise in a 15,000-square-foot repurposed furniture factory on Downs Street in Kingston. "Being up here creates a level of affordability not just for the shop space but for the 20 artists in the collective. They can buy homes here; we can afford to do more artists' editions as fundraisers for nonprofits. We stay aware of being integrative, rather than displacing anyone."
Mid-Hudson Pattern for Progress has been promoting adaptive reuse for years, as uniquely suited to Hudson Valley downtowns, and issued an eight-page white paper on the subject in 2012, which included a case study of Middletown's Railroad Avenue project and a flow chart intended to help prospective developers figure out whether a project was a good adaptive reuse prospect. It's a complex flowchart; potential downsides of undertaking adaptive reuse include "delays generated by labyrinthine processes" and the possibility of high design and construction costs, especially when facing concerns like asbestos abatement. Kempe says that just getting the funding put together for adaptive reuse projects can take anywhere from three to seven years.
New Year, New Use
The challenges may be major, but so are the benefits—both culturally and environmentally. "When you tear down a building, you're taking all of that material and putting it in a landfill then building from the ground up again, which involves all the raw materials and transportation that go back into making the same shell that you just tore down," points out Dutton, who recently revamped the 67,000-square-foot Fuller Shirt Factory into studio and office spaces that rent for $1 a square foot per month. "Adaptive reuse should be done wherever possible," he says. "If you can salvage the core and shell of a building, you are halfway to a new use."
RUPCO is currently under contract in a half-million-dollar deal to purchase the First United Methodist Church on Newburgh's Liberty Street, an ornate, iconic structure that will be transformed into a music and dance venue, in partnership with the Blacc Vanilla Foundation. The Center for Creative Education sees program opportunities in the property's gym, kitchen, and schoolhouse.

Adaptive reuse means thinking outside the box. It's not just brick factories becoming artist's lofts, it's an old school becoming resource-sharing, multi-town municipal buildings, like the former Rosendale Elementary; or a defunct railroad trestle transforming from a massive liability into the Walkway Over the Hudson, an economy-boosting tourist attraction that has welcomed five million visitors to the area since 2009.
"Adaptive reuse is like rubbing a genie bottle," Dutton says. So buckle up, Hudson Valley, and dream big.