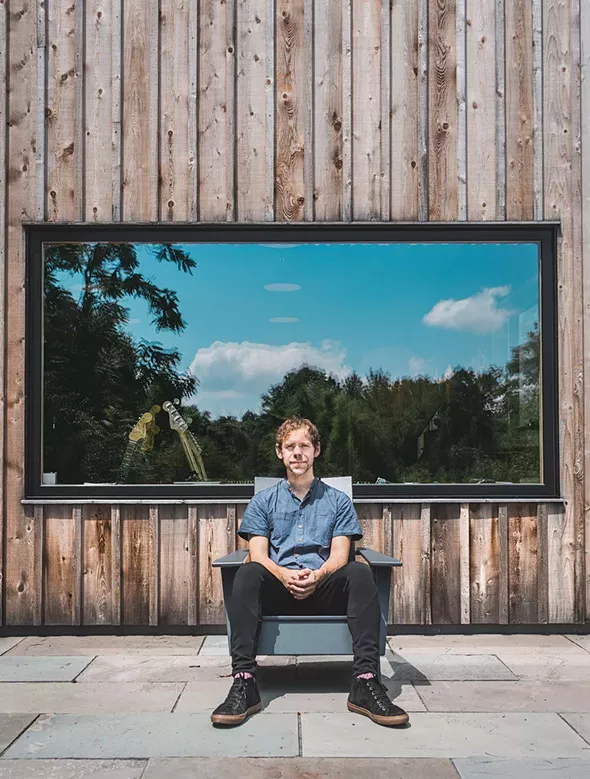 If you know where to look and listen, Cincinnati, Ohio's psychogeography is obvious in the sounds that have originated there. Take the honky-tonkin' country singers on WLW's "Midwestern Hayride," who evoked the hills and stills of nearby Northern Kentucky. Or the gritty urban blues, R&B, funk, and soul bred in African American neighborhoods like Lincoln Heights (the Isely Brothers), the West End (Mamie Smith, Bootsy Collins), and Avondale (Midnight Star). Or, in more recent times, alternative acts like the Afghan Whigs, Over the Rhine, and Wussy, all of whom have roots in the beer-soaked clubs of Clifton, the area around the University of Cincinnati campus, and blend glimpses of the city's soul and country heritage with college rock. A far less expected local musical incubator, though, is Indian Hill, a highly affluent suburb almost 15 miles from downtown Cincinnati. Known for its country clubs and sprawling estates, it was named "The Best Place to Raise a Family" by the Robb Report and seems wholly devoid of the elements that would shape the sound of a rock band in any kind of vital way. And yet this outlying village has given us the National, one of today's most acclaimed indie outfits. So can you hear any Indian Hill in the National's music?
Yes, says this Cincinnati native. There's an air of mannered quietude in the quintet's brooding chamber pop that hints at drawing rooms and verandas. And as guitarist Aaron Dessner confirms, classical music is, indeed, a formative essence of the National's sound. "There's some folk influence there as well, but, yeah, baroque and orchestral music was important," says the guitarist. "When we were really young, I studied upright bass and my brother [Bryce Dessner, Aaron's twin, bandmate, and fellow composer] studied classical guitar. Experiencing classical music from a young age definitely affected our perceptions. Our dad was a jazz drummer who also loved classical music, so we would listen to his classical and jazz records." And yet the rock took root early on as well. "We also got into the Grateful Dead through our dad, and they're really the biggest influence, which I guess might be a surprise to a lot of people. After the Dead, it's New Order and the Smiths, who we discovered in high school."
The band's other brothers, Scott (bass) and Bryan Devendorf (drums; he took lessons from Afghan Whigs drummer Steve Earle), were raised in nearby Anderson Township, while vocalist Matt Berninger grew up on a farm near the West Side. Although all of the National's members are originally from Cincinnati, the group actually came together in New York after they'd all ended up there in 1999. At the dawn of the decade, Matt and Scott had formed a band called Nancy, which relocated to Brooklyn in 1994 and released one record before splitting up in 1998. That year, Aaron and Bryan, who'd played together in bands since their teens (the last being the enigmatically named Project Nim), joined the singer and bassist in Brooklyn and the foursome began making and home-recording music. "I don't think any of us ever really expected to become a professional band," Aaron says. "I was going to Columbia and the other guys were working at dot-coms, mostly. But when we first started playing, we listened back to the recordings we'd made and we were, like, 'Well, this actually sounds pretty good. I guess we should go out and play these songs in front of people.' So that's really how it started."
Aaron and Bryce co-launched Brassland Records in 2001 to release the National's eponymous debut, although during its recording Bryce had yet to join the band—in the studio, Aaron and Scott switched off on guitar and bass—and they didn't play out until after it was made. Once they did, however, they were in the right place at the right time. In the early 2000s, the New York rock scene, especially in Brooklyn, was blowing up like a brick of firecrackers. The postpunk-revival wave that included Gotham bands like the Walkmen, the Strokes, Interpol, and Yeah Yeah Yeahs was building in force, and with their moody, broody Joy Division-esque approach the National fit right in. Kind of. "Most of the New York bands then were heavier on [visual] style," Aaron recalls. "But we had this the sort of unassuming Ohio thing that was, and still is, a huge part of who we are."
Befitting the band's approach, The National began quietly winning cachet among the cognoscenti, and Bryce was welcomed into the fold as they began working the New York clubs. Sad Songs for Dirty Lovers arrived in 2003 and was named album of the year by the Chicago Tribune and other publications, and the group got down to business and got on the road, grinding it out on van tours that took them around the US, England, and Europe. The 2004 EP Cherry Tree was the pick of many a critic's poll and snagged them a sweet tour opening for the Walkmen, as well as a plum deal with Beggars Banquet. They made their major-label debut with 2005's Alligator, which, along with its successor, 2006's Boxer, solidified their standing as the new young lions of literate melancholia. TV appearances, a tour with R.E.M., The Virginia EP (2008), headline slots at Coachella and other festivals, and a documentary about the band, A Night, A Skin, came next, followed by a switch to the 4AD label for 2010's High Violet (with the bittersweet standout "Bloodbuzz Ohio"). Trouble Will Find Me, which was nominated for a 2013 Grammy, followed, along with a second documentary, Mistaken for Strangers (2015) and A Lot of Sorrow, a nine-LP box set of the group and Icelandic artist Ragnar Kjartansson performing the High Violet track "Sorrow" live (105 times!) at MoMA PS21. Next month, after taking time off for family life and a raft of side projects, the National at long last returns to the record racks with Sleep Well Beast.
Although several of the group's earlier releases were fully or partially recorded at DIY spaces or Aaron's garage studio in Brooklyn, Sleep Well Beast is the first of their albums to be cut at the guitarist's recently completed Long Pond Studio, a sustainable, clean-lined, barn-like structure next to, yes, a shimmering pond on the musician's Columbia County property (the group debuted material from the forthcoming album last month during a two-night stand at Basilica Hudson). He and his wife became besotted with the region during visits while the group was recording in 2013. "[The band] worked on Trouble Will Find Me at [studios] the Clubhouse, in Rhinebeck, and Dreamland, in Woodstock, and we just loved it here," says Aaron, who with his Danish wife and their two young children (now two and six), found a restored farmhouse not far from Hudson soon after the Trouble sessions (Bryce has a house across the Hudson in Olivebridge; the other members live outside the Hudson Valley). "The studio was designed and built by Erland Neuman, a local architect. My daughter Ingrid goes to Hawthorne Valley School, and, coincidentally, everyone who worked on the construction was associated with the school in some way." Perhaps returning the favor, the National played a Hawthorne Valley benefit concert at Mass MoCA in North Adams, Massachusetts, last year.
Assisting charitable and progressive causes has long been a staple activity for the National. Among other projects, the Dessner brothers curated the 2009 compilation Dark Was the Night, a benefit album for AIDS awareness group the Red Hot Organization, and 2016's Day of the Dead, a six-hour, 59-track Grateful Dead tribute album featuring over 60 artists that has raised over $3 million for the same group (as part of the latter project they even got to perform with the Dead's Bob Weir); currently, $1 from every ticket sold at their concerts goes to the Plus One Foundation, which helps people affected by neurological disorders, and global medical relief organization Partners in Health. And in addition to performing at Democratic rallies and fundraising events during Barrack Obama's 2008 election and 2012 reelection, the band enthusiastically lent their music to both campaigns.
"To us, it's impossible to separate our art from what's going on the world," says Aaron, who also maintains an active career as a producer, directing recording sessions not only by his own band but also by such acts as Frightened Rabbit, Sharon Von Etten, the Lone Bellow, and Lisa Hannigan. "We do get hate mail, people saying, you know, 'Just shut up and play your music!' Someone on Breitbart called me a 'pro-abortion snowflake,' or something like that, because we did a 7-inch for this Planned Parenthood benefit series. If someone doesn't want to like our music because they don't like it when we do things like that, well, that's up to them. It's too important for us to keep doing these things, especially now, when people suddenly think it's okay to act like a douchebag and persecute minorities and women. The way we see it, we're lucky to be in a band that's in a position to be able to do things that help people. Like Matt Berninger said, 'If we're just gonna be another group doing boy-misses-girl or girl-misses-boy pop songs, we may as well be making French fries.'"
Sleep Well Beast is out September 8 on 4AD Records. Americanmary.com.