Peaking at the Finish Line
September is my favorite month in the garden, in part because of the subtle, undulating spectacle of the ornamental grasses. In designing a garden for maximum fall interest, they are the first group of plants that come to my mind. In the autumn, they fully inhabit their mature shape; they have peak movement; their tassels (flower stalks) are showy white, rose-pink, red, or copper—even black in the case of Moudry fountain grass—and some of the grasses, like red switchgrass and little bluestem, have blades that turn interesting colors in fall.
In my autumn-interest garden, I would also include many hydrangeas, especially the "paniculata" type hydrangeas. Those have persistent, large, cone-shaped flowers whose colors morph in lovely ways in the fall. Many of them have attractive fall foliage color as well—yellow, red, or apricot-orange. The paniculata type hydrangeas are visually interesting through autumn and well into winter. (You can read more about them in the August 2016 issue of Chronogram.)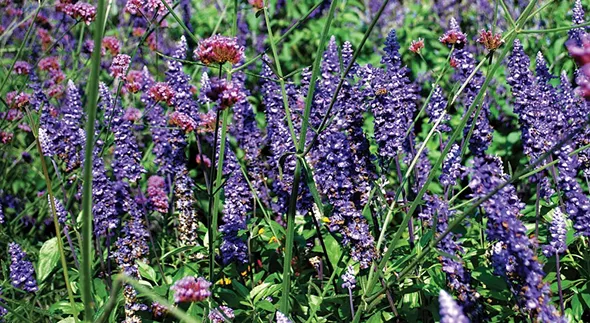 Larry Decker
Japanese anemones
In terms of perennials that bloom in the fall, I love the elegant Japanese anemones, also called windflowers because their flowers are borne atop wiry two-to-three-feet-tall stems that move freely in the breeze. Japanese anemone flowers come in white to pink to rose and depending on the variety, bloom from July through October with single, semi-double, or double flowered forms. Most varieties prefer part shade, with protection from the wind. In those conditions, I find them to be truly rugged beauties.
Fall Stars at Mohonk
Last September, we walked around the Mohonk Mountain House grounds with Garden Manager Andrew Koehn to talk about some of his favorite "fall superstar" plants. Because Koehn and crew do such an ambitiously elaborate annuals display every year, we started there, with the dahlias, including an outrageous rose-pink one called 'Emory Paul' that, at 12-14 inches across, is among the largest available in the trade.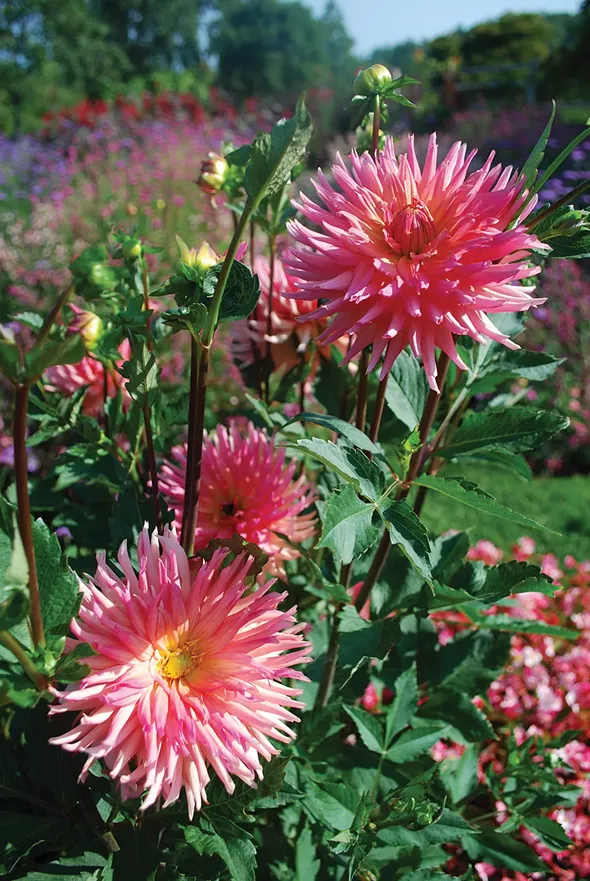 Larry Decker
Dahlias
"Dahlias really sing in September and October," Koehn says. "They don't perform well in the summer; it's too hot and the flowers bleach out in a matter of days. They're mountainous plants from Mexico from high elevations; they like it cool and sunny, not hot and sunny. Don't buy dahlias in pots in bloom in May—you're not doing yourself any favors." Instead, he recommends planting dahlia tubers (underground storage structures in the same vein as potatoes) in early summer—and waiting for them to bloom in due course, when the cooler days of fall make dahlias happiest.
Larry Decker
More dahlias
Koehn's favorite dahlia is a cactus-type called Brookside Cherie. "It's our sexiest dahlia—salmon with a rose flush and yellow in the center," he says. "It produces tons of flowers, beginning in August, but it truly peaks in October."
Larry Decker
Tuberous begonias
Another annual that grows from a tuber and can really shine in the fall is tuberous begonia. The collection of potted tuberous begonias featured near the koi pond at Mohonk are stunning in the fall. Whereas when most people think of begonias, they think of houseplants with interesting foliage but not especially showy flowers, tuberous begonias have large, incandescent flowers in a wide range of bright colors; you may feel an irrational urge to eat these flowers like candy.
"Most begonias are extremely shade tolerant," Koehn says, "but the tuberous ones like some sun—not all day, but at least half a day. Commonly, people make the mistake of putting them in too deep a shade, and as a result, they don't bloom well and they get foliar diseases." Koehn says one key thing with tuberous begonias is not to put them in too big a pot. "You have to inch them up to slightly bigger pots as they progress over the seasons," he says. "They need to completely dry out between watering and if you have too big a pot/too much soil, they can't do that."
In last year's "The Planets" themed garden, Koehn explored plants that evoked common associations with each of the planets. So for instance, for the planet Neptune, Koehn focused on greens and blues and purples, evoking the seas. He also included a mass of colorful, rigid-leaved succulents that evoked a coral reef. In the Neptune section, he planted several varieties of annual blue to purple salvias that really crank it up in the fall. "They really don't even get started until early August," he says, "and they look amazing in the fall until we finally pull them in early November."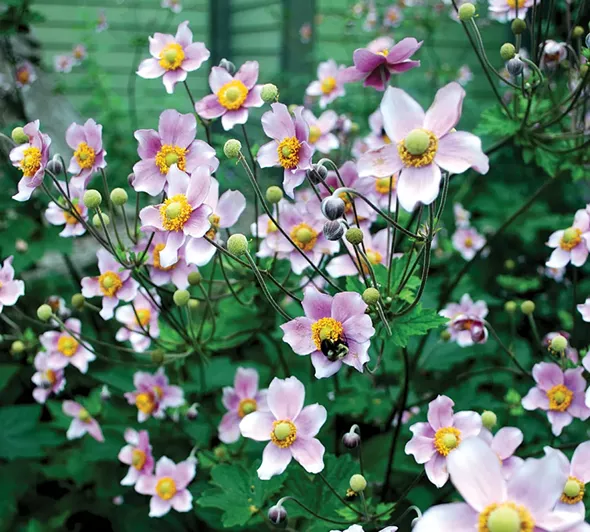 Larry Decker
Salvias
The first and perhaps most unusual type of salvia he uses is bog sage, which can grow 3 to 4 feet tall and get very bushy, even in containers; the bees love its periwinkle blue spires. Because of where it evolved (bogs), this plant is a great one for wet spots in your yard; Koehn found it worked well in the lower, wetter tiers of the Neptune section of The Planets. Another salvia he likes to use is called mealycup sage; he likes two varieties especially. The first, Mystic Spires, gets 3 feet tall with deep blue spikes and, like the other salvias, blooms right through the first frosts. The second, Mannequin Blue Mountain, is a more compact variety (12 to 18 inches). Then there's Mexican bush sage, which Koehn says peaks really late, in October, with abundant velvety purple flowers. "It goes really well with a screaming orange annual called lion's tail, which also blooms very late and is fuzzy in appearance," Koehn says. "The flowers look like little lion faces; it's one of our signature plants here."
More Stars to Contemplate
In terms of perennials that wow you in the fall, asters are Koehn's go-to, especially the freely available cultivar called Purple Dome. "We have bodacious ones, covered in daisy-like flowers with rich deep purple color," Koehn says. "We also have native asters that come up, like the native calico asters, which are beautiful in their more subtle way—white with a purple center—and we embrace those when they volunteer." Most asters and daisy-family plants in general need full sun to bloom best, but there are some shade-tolerant ones as well. Many varieties can grow in wet situations (think of the native New England asters you see in wet ditches along the highway).
Koehn is a big fan of the underutilized, bushy, and prolifically white-blooming perennial called Hungarian daisy. "It starts blooming like clockwork in the first week of September," he says. "That plant is such a winner to me in how dramatic its display is and how easy it is to maintain and spread around." He says it can be difficult to find but is available online from specialty growers.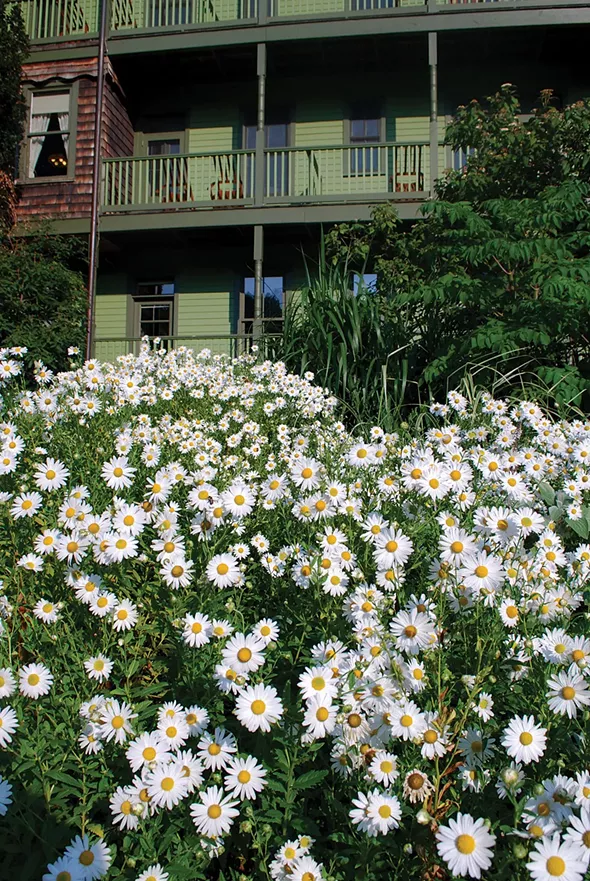 Larry Decker
Hungarian Daisies
Koehn also speaks highly of the perennial called toad lily, which has a small but very striking orchid-like white flower with purple blotches and blooms in the fall, with maximum beauty in October at Mohonk. It gets 2 feet tall and wide and needs partial to full shade. Plant them where you can see the flowers up close to best appreciate them.
Lastly, Koehn recommends the sweet autumn clematis vine for its profusion of fragrant white blooms in autumn, after the other clematises are done. Sweet autumn can be invasive south of here, but at Mohonk the winters kill it back to the ground and keep it in check. Koehn says, "It's such a great plant to throw over things—onto trellises or pergolas, or let it grow up into trees or drape across shrubs."