The home of innumerable social idealists and a welcoming setting for artist colonies and utopian communities since colonial times, the Hudson Valley-Western New England area has long been a bastion of progressive thought. And in keeping with the region's tradition of non-traditional notions, this pattern has naturally carried over into the realm of education, with several of its maverick academic institutions dating back to the 18th century. In today's climate of slashed public school budgets and an increasingly competitive, constantly evolving global job market, many parents are understandably concerned about making sure their children are adequately equipped for the future.
But luckily for families in the region, when it comes to private college preparatory education, there are dozens of acclaimed, proven schools with widely varying curriculums to choose from. Whether parents are considering a highly creative, arts-oriented approach, or even the firm guidance of a military-style program, there's a private school to fit their needs nearby. For this month's Education Supplement, we focus below on seven of the region's most exceptionally innovative college preparatory facilities.
The Importance of Being Individual: Oakwood Friends School
The oldest co-educational boarding and prep school in New York, Oakwood Friends School emphasizes the importance of the individuality of its students. Chartered by Quakers in 1796, the school had two other homes before opening its present Poughkeepsie location in 1920. A co-educational school, Oakwood Friends enrolls students in grades six through twelve and offers "a challenging curriculum within a diverse community, dedicated to nurturing the spirit, the scholar, the artist, and the athlete in each person."
"There's so much versatility in the program here," says Vince Vincent, a professional Manhattan opera singer who teaches music at the school. "The courses are very unique in that they cross over into and work together with other areas of study. For example, I teach a ninth-grade course called 'Music, Culture, and Society,' which covers issues of censorship in music, the place of music within popular culture, and the relationship between music and politics." With its small classes, committed, accessible teachers (most of whom live on campus), and comfortable facilities, Oakwood Friends focuses on fostering a strong sense of community as its students prepare for the demands of college.
In the Heart of the Arts: Buxton School
Located in Williamstown, Massachusetts, Buxton School enjoys the cultural advantages of its close proximity to Williams College and three of the area's leading temples to the visual and performing arts: the Francine & Sterling Clark Arts Institute (also known as the Clark), the Williams College Museum of Art, and Mass MoCA in nearby North Adams. Established in 1928, the boarding school has a campus encompassing 150 acres of meadow and forest and a student body that averages 90 students, with an equal number of boys and girls. The highly experiential curriculum at Buxton is broad and demanding, offering a combination of traditional subjects, courses in the arts, and some studies rarely encountered before college.
"Here, we view academia and the arts as being equally important," says Torie Nichols, an anthropology teacher as well as the school's assistant director of admissions. "Throughout the course of a day a student might go from a class in drama to one in math, and then to one in video production or English. Our goal is to make students' intellectual lives stimulating and eye-opening." At Buxton, classes tend to be small and discussion-oriented, with the students being encouraged to be engaged, curious about the subjects, and excited by the world of ideas.
Early and Inspiring: Bard College at Simon's Rock
Bard College at Simon's Rock is the nation's first early college. It's an institution catering to 10th-and-11th-grade-level high school students and offering a small, selective, supportive, and intensive liberal arts and sciences program since 1966. With its campus in the bucolic Western Massachusetts town of Great Barrington, Simon's Rock became part of Annandale-on-Hudson, New York's Bard College in 1979 and is linked with Bard High School Early College in New York City. In addition to many other leading figures in business, social reform, politics, science, and the arts, the college counts filmmakers Joel and Ethan Coen among its more prominent alumni.
With an average class size of 10 and a student-teacher ratio of 9:1, Simon's Rock boasts a 275-acre campus with a strikingly diverse and intellectually advanced student body. "Our students come to us mainly because they weren't being personally challenged enough in high school," says Karen Anderson, the school's associate director of admissions. "We're a resident campus offering a college atmosphere to advanced high school-age students, and have both two- and four-year degree programs." Social consciousness is also a major aspect of the climate at Simon's Rock, and students are encouraged to take responsibility for the world they're poised to enter by working with various advocacy groups.
Girl Power: Miss Hall's School
Founded by educator Mira Hinsdale Hall in 1898, Miss Hall's School is one of the foremost college-preparatory schools for girls in the country. Its 80-acre campus is situated in the Berkshires city of Pittsfield, Massachusetts, which in recent times has enjoyed a cultural renaissance, thanks to its Lichtenstein Center for the Arts, Berkshire Museum, frequent arts festivals, and neighboring state parks. The school is also recognized nationally for two highly innovative programs: Horizons, a weekly off-campus, experiential learning series, and the Girls' Leadership Project, which transforms the institution into a "leadership laboratory."
In today's more gender-equal era, an all-girls school might seem like an anomaly to some. But, as Jeannie Norris, the head of school, points out, Miss Hall's gives its young women a sharper, more self-assured edge than they may get elsewhere. "In an all-girls school students are able to reclaim their authentic selves," she explains. "As girls approach the teen years, they pick up the message loud and clear in the environment that in order to be accepted and fit in they need to be thin, beautiful, nice, and agreeable. 'Don't confront, don't speak out, don't disagree, don't call attention to yourself,' the culture says to them. [At Miss Hall's] we say, 'Who you are is what we're interested in. You have value, what you think has value, the world needs what you will bring to it.' Here, students learn to take charge of their lives."
Upright Citizenship: Poughkeepsie Day School
Poughkeepsie Day School was set up in 1934 by a group of local parents and faculty members from Vassar College as "a place where students are valued as individuals, learning is active and hands-on, and the curriculum reflects the best thinking and research in education." Since then, the school has grown to become the premier prekindergarten-through-grade-12 independent day school of the mid Hudson Valley. For its high school-level students, the institution offers a demanding college preparatory curriculum similar to one found in a small liberal arts college, and includes an individualized advisory program and exceptional college counseling.
"Children are born digital and are growing up global," says PDS's head of school, Josie Holford, an active member of the New York State Association of Independent Schools' board of directors. "The adult task is to help them be ready to thrive in a future that we cannot predict."  To this end, the school was recently awarded a $50,000 grant to develop its new Digital Citizen Project, which centers on teaching, learning, and ethical conduct in the digital era to ensure that every student graduates as a skilled and ethically aware digital citizen.
Steady Structure: New York Military Academy
Cornwall-on-Hudson is the home of the venerated New York Military Academy, founded in 1889 by Charles Jefferson Wright, a Civil War veteran and former school teacher from New Hampshire who believed that a military structure provided the best environment for academic achievement. Although NYMA proudly adheres to this tradition, it's foremost an academically focused college preparatory boarding school with top-level athletic teams and an exceptional leadership program that challenges its cadets to be good citizens. At the co-ed academy, cadets attend tightly scheduled, grade-specific classes and participate in organized or intramural sports, activities, and study hall; they also take part in additional leadership training, drill, and ceremony, and maintain the appearance of their respective barracks.
"In the classroom, our cadets pursue a cutting-edge and relevant 21st-century curriculum alongside a structured, leadership-and-life-skills-focused military program, guided by our school's long affiliation with the United States Army JROTC," says Superintendent and retired US Army Maj. Jeffrey E. Coverdale. "Our distinguished list of graduate scholars, businessmen and businesswomen, male and female career military officers, and world-renowned musicians, energize the campus and provide our cadets with a distinguished networking and mentoring base to help them as they step into the future."
Accent on Art: Hotchkiss School
With 810 acres that include academic and residential buildings, playing fields and green lawns, a working farm, the deepest freshwater lake in the state, and lovely vistas of the Berkshire Mountains, Lakefield, Connecticut's Hotchkiss School opened as an all-male school in 1891. Since then, it has become coeducational, grown in size and scope, and established itself as one of the premier secondary schools in the country. The arts are an integral part of life at Hotchkiss, where students are encouraged to venture into the school's many and varied arts programs to see what they can discover about themselves and others.
"In addition to fostering creative expression, the arts (and the humanities, another strong focus at Hotchkiss) also help students to become creative problem solvers," says Terri Moore, a fine-arts instructor and gallery director. "We strive to help students become risk-takers while maintaining an environment in which they feel safe to be themselves and respect each others' ideas in salonlike exchanges. Regular self-assessment is also key, to encourage students to take responsibility for their actions and futures." Hotchkiss's interdisciplinary curriculum is further populated with studies in classical and modern languages, mathematics, English, science, human development, and the social sciences.
RESOURCES
Oakwood Friends School
www.oakwoodfriends.org
Buxton School
www.buxtonschool.org
Bard College at Simon's Rock
www.simons-rock.edu
Miss Hall's School
www.misshalls.org
Poughkeepsie Day School
www.poughkeepsieday.org
New York Military Academy
www.nyma.org
Hotchkiss School
www.hotchkiss.org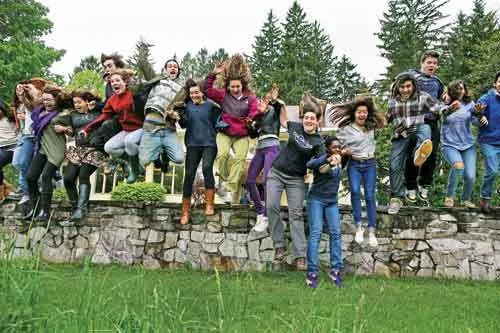 Students in front of the main building at Buxton School in Williamstown, Massachusetts.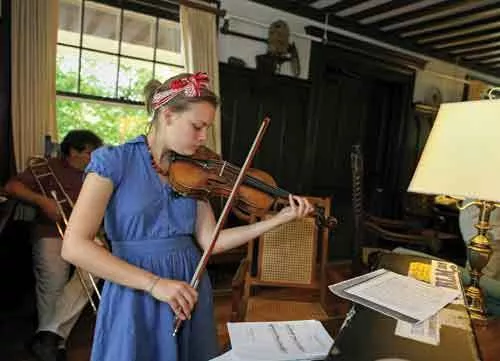 Iona Gitt-Henderson rehearsing for the Fall Arts orchestra performance at buxton school.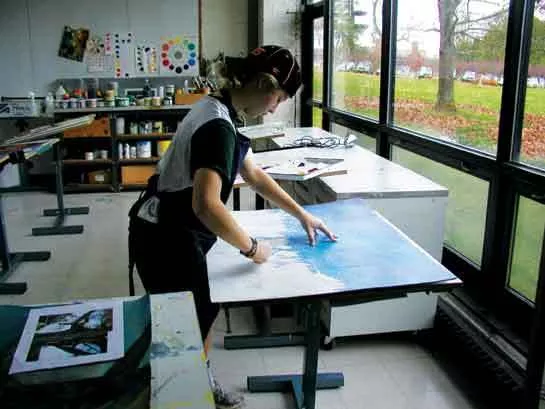 Martha Ashe in the Advanced Art Studio at Hotchkiss School in Lakefield, CT.
Joe Wichitchu in the printmaking studio at Hotchkiss School in Lakefield, CT.