On a recent chilly evening, I headed to Feast & Floret in Hudson. Not only to try something new, but to understand how the restaurant is setting itself apart at the same location where until last March, Fish & Game and its award-winning chef Zak Pelaccio reigned over the region's dining scene.
The trio of Jason Denton and husband-and-wife Patrick Milling-Smith and Lavinia Milling-Smith opened Feast & Floret in October, and the menu and overall dining experience is confident and assured—less a response to Fish & Game than a new direction entirely. Feast & Floret's Italian-inspired menu is fresh, savory, presented with warmth, yet still exciting and full of interesting touches that keep you engaged in each complex bite. You're well-taken care of when you're eating there, the experience comfortable and lovely, whether you're dining inside in the gorgeously reimagined space that long ago housed a blacksmith shop or outside on the open-air patio, even in 36-degree weather.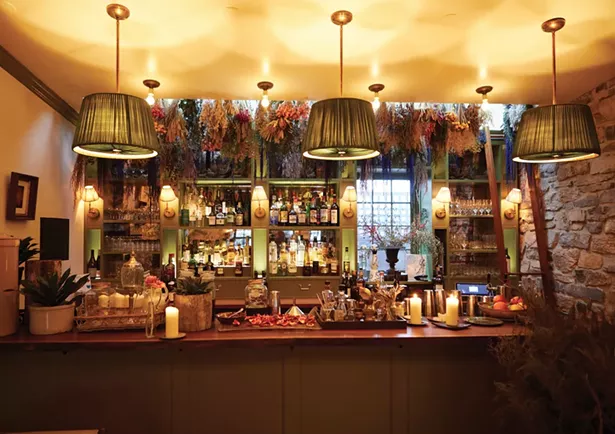 Feast & Floret's cocktail program includes takeson the classics like From Hudson to Manhattan,with rye, rose petal syrup, and bitters.
The direction of the menu falls within Denton's purview. The restaurateur started his career working for his uncle, San Francisco nightlife impresario Harry Denton, then he spent years building his own Italian food mini-empire in New York, helping launch well-known restaurants like 'ino, Bar Milano, and 'Inoteca. Denton and his family made their move to Hudson permanent this past year. He was introduced to the Milling-Smiths, owners of the Feast & Floret building, by a mutual friend a few years ago.
A Collaborative Approach
While preparing gnocchi for a new menu item, he says that the kitchen's goal is to let the ingredients speak for themselves by keeping dishes to a three-ingredient profile. That less-is-more approach toward meats and fish entrees, for example, means they're typically served simply and unadorned so diners can focus on the quality of the protein. There's no head chef at Feast & Floret, and Denton stresses what goes on in the kitchen is a collaboration.
The menu is streamlined, with a solid range of starters, from a simple green salad ($10) and shaved fennel salad ($10) to a cured meat plate ($24). There's an enticing lineup of grains and pasta, like the rich, savory truffled egg toast ($16), which tasted like the greatest hangover cure ever devised—Fontina melted over fresh bread, with shaved truffle, egg, and asparagus. An inviting squid ink soprese ($19), with squid ink noodles and squid, spinach, spicy pork sausage, and a flavorful garlic and butter sauce, is salty and textured in all the best ways.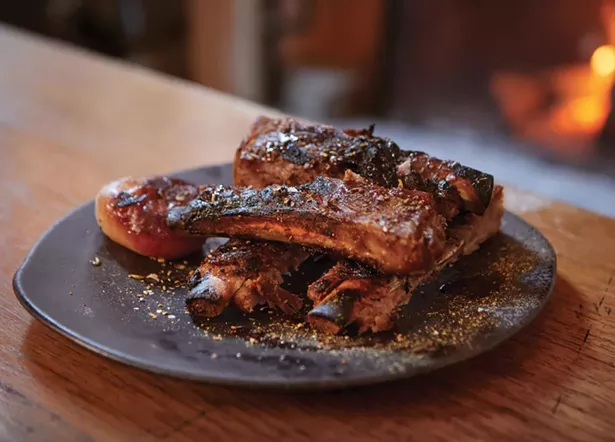 Pork ribs with cippolini onion, walnut-amaro reduction.
Meat and fish main courses include a small plate of stacked pork ribs ($24), are dry rubbed with spices and served with a walnut amaro reduction. The restaurant also offers locally raised steelhead trout ($24), a grilled half chicken ($26), octopus ($22), and a 14-ounce ribeye ($46). Add a vegetable side, too—they're as thoughtfully prepared as the rest of the menu, like my roasted sweet potatoes with anchovy vinaigrette and currants ($9), which felt substantial and satisfying. None of the portions are massive, so do keep that in mind when ordering.
About 60 percent of the menu will remain consistent year-round, Denton says, with some tweaks to the sauces depending on the season. The other 40 percent will change four or five times a year. The flexibility in the menu also allows the team working in the kitchen to flex their creative muscles. Denton speaks with the affection of aiming for an experience similar to what someone might have in Italy, where "you pop off the side of the road and wind up in somebody's home, and suddenly the food arrives."
For dessert, our good-natured, total pro of a server Antoine steered us toward the buttery and light olive oil cake ($10), served with mascarpone and satsuma, and we also tried chocolate budino, an airy pudding topped with pumpkin seeds ($10) and affogato ($8), vanilla ice cream with espresso poured on top.
Tempting Tipples
I love a good cocktail when someone else is mixing them, and besides, leaving the house these days feels like a celebratory occasion, so I ordered the Tainted Lady, made with vodka, ginger, pink peppercorns, and hibiscus ($12), which managed that tricky balance of being fruity but not sugary or cloying, while my dining companion had the From Hudson to Manhattan, a subtle take on the classic with rye, rose petal syrup, and bitters ($17).
Roasted sweet potatoes with anchovy vinaigrette, currants, and parsley.
There's an extensive list of wine choices available by the glass, primarily Italian, but also Spanish, French, and German, starting at $10. Denton kept half of the wine list to under $60 a bottle, which fits with Feast & Floret's overarching goal of being a restaurant you could swing by whether you're celebrating a major milestone or just want a simple glass of rosé and a small dish of pasta, and families with their young children are welcomed with enthusiasm. For beer drinkers, there are a few draft beers available. At press time, that included two: Nightlife Light Lager ($6 spina/$8 pint) and Mad Jack Mont Pleasant Porter ($9/$11). There are six additional beer and cider options by the can or bottle—starting with the budget-friendly Genesee Red ($5) and Central Waters Mudpuppy Porter ($9), moving up to Lawson's Sip of Sunshine IPA ($12) and Metal House Arista Cider ($35).
Flower Power
Denton was eager to dive into the space on South 3rd Street, which he says he'd always loved, with its wood-burning oven and fireplaces, but the trio wanted to shake up the space and make it more approachable. "[Patrick, Lavinia and I] were talking," says Denton. "How do we incorporate flowers into it? I wanted to take the taxidermy and dark clubby feel and make it softer and more floral, and Patrick said, 'Why don't we do a flower program?' and Lavinia took the lead on that."
"We opened in the midst of COVID, and in many ways our main goal was driven by a sense of survival and the need to hold on to some sanity," Lavinia Milling-Smith explains. "If there was a philosophy, it was to build something accessible, healthy, enriching, and close to nature. We wanted to build an environment that feels clean, cozy, and comfortable but also bursting with the budding natural bounty of Hudson and beyond." Some of that bounty is straight from Milling-Smith's farm. You can pick up a jar of their honey to go, and there are plans for more of the couple's homegrown produce to show up on Feast & Floret's menu come springtime.
The bones of the building have an old-world substance and elegance, Milling-Smith points out, which allowed the partners to lean into celebrating the authenticity while lightening it up with saturated pinks and greens and comfy banquets and sofas. The end result? A lighter, more open space, softened up with pastels, and trees and flowers throughout the restaurant, which not only support social distancing but add to the warmth and coziness of the interior. You may not get quite that same ambiance when you're seated at one of the four well-spaced outside tables, but even the patio feels cozy and inviting, and entices you to linger, cold weather or no.
Both Milling-Smith and Denton are effusive in their praise of Rebecca O'Donnell of Hudson's The Quiet Botanist, who helped create the fresh, floral feel. When you go, be sure to look up—O'Donnell designed the dried flower chandelier above the bar. "Together, we created an environment that feels like spring and summer in the dead of winter," Milling-Smith says. "This was a calming thought as we stumbled through the darkness of lockdown and the long, cold season." Marilyn Cederoth of Cedar Farms, and Denise Pizzini at Damsel Garden also provide flowers for the restaurant.
At Fish & Game, Zak Pelaccio claimed he was trying to answer the culinary question: "What does this place taste like?" Feast & Floret seems to be asking, "What does this time taste like, and what do we all need from a restaurant right now?" The answer is the welcoming and unpretentious Feast & Floret.
Feast & Floret

13 South 3rd Street, Hudson
(518) 822-1500
Wednesday through Sunday, 12-11pm