The artist Jesse Bransford on the porch of his octagonal home in Catskill, which he bought in 2013. Although the home was in good shape, Bransford rebuilt the porch in 2017 as well as repaired the soffits and shutters. He also installed the stone-lined driveway and worked on the surrounding property. The home sits in a grove of black walnut trees, adjacent to a tulip poplar that is as old as the house. "The property is completely sequestered in the midst of the village. Many people I meet don't even know it's here," he says.
In 2013, when the artist Jesse Bransford bought his historic octagonal home in Catskill, he didn't anticipate its one rather unusual hospitality requirement. More on that later. "I was very careful the first time I looked around. I knew I didn't want any structural damage," he explained of his first walk-through when he discovered the 1860 brick home in surprisingly good shape. Set on two-and-a-half landscaped acres, and guarded by a sentinel of ancient walnut trees that separate the verdant, serene property from the surrounding town, the three-story home was designed around a central, spiral staircase leading to a domed cupola with views all the way to Olana and painted to evoke the heavens.
Bransford believes the three-story spiral staircase is central to the home's purpose— guiding wandering spirits to pass. "The design is about directionality," he explains. "But it's also about centrality. The center of the staircase feels as if somebody took a staff and drove it into the ground, so that this is the center of the world." Bransford has started hosting events at the house, including sounds baths and a seance. "The results were pretty impressive," he says. "The house really seems to enjoy these kinds of gatherings."
After poking around the basement, checking all the beams and trying to sniff out any mildew, Bransford kept wondering, "What's wrong with this place?" The 3,000-square-foot home, with a first floor that rambled through a library, dining area, and sitting room and four ample second-floor bedrooms with multiple irregularly shaped nooks at the edges, seemed ideally suited to Bransford.

Even the home's distinct history resonated with Bransford's surrealist-informed visual work, which explores themes of deep symbolism and color. Luckily, he'd brought along a friend to serve as reality check on that first visit. "She was supposed to be the bad cop," Bransford says. "So I asked her to tell me what I was missing." But the home had Bransford's friend under its spell too. "She told me it was the most beautiful house she'd ever seen and she'd do anything to live here," he says. "That was the turning point."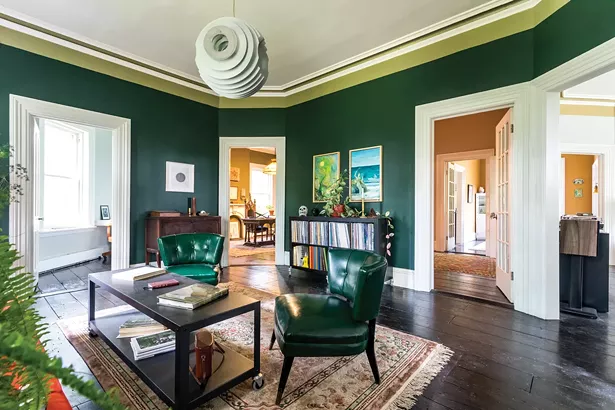 A first-floor sitting room features some of Bransford's extensive art collection. Two works by the artist Max Razdow, a longtime friend and collaborator, hang above a collection of albums. After studying art in New York City, Bransford developed an interest in the artistic and alternative cultures of the Hudson Valley. "I'm especially drawn to the spiritualist movement and the Hudson River School of painting," he says.
From Surrealism to the Hudson River School
Indeed, Bransford suspects that the house found him, rather than the other way around. "I really do feel like I've been charged with its custodianship," he explains. Originally from Atlanta, Bransford descended from a family that had made their home in Western Tennessee for multiple generations.

"We were really part of the New South," he explains. "And while my parents were raised religiously, I was always allowed to choose my own path." That path led Bransford to New York City, where he studied art at Parsons School of Design and then Columbia's MFA program. After school, he remained in Manhattan, focusing on his own art practice and teaching at NYU, while living on the Lower East Side.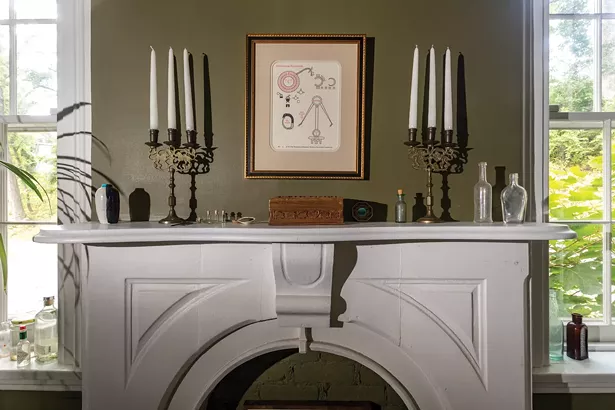 A fireplace mantel in Jesse Bransford's study is one of several altars in the octagonal Catskill house. An alchemical print from Ouroboros Press sits above candlesticks and found objects.
It was Bransford's own artistic evolution that lead him upstate and eventually to the stewardship of his historic home. "My art education pulled me over and over again into surrealism," he explains. "Surrealism has a relationship to psychology and an interest in what lies underneath normal reality." Bransford's work also explored symbolic structures, which pushed him into depth psychology. "You can't study the material without bumping into alchemy, which has its own beautiful, rich visual world," he says. "Alchemy is one step away from magic, which is a loaded term, but was also something my work has led me to explore."
Early in his artistic career, Bransford also developed a keen interest in the Hudson River School of art. "We didn't really learn about it in art school, but it was always in the background," he says. "When I started visiting the Hudson Valley, I realized this was where it all happened." Over regular visits, Bransford developed a deep connection to the region's landscape and creative history, but hadn't considered actually buying property in the area until a friend came across the octagonal home and thought of him immediately. "It came at an interesting time in my life when I'd just inherited a bit of money," he says.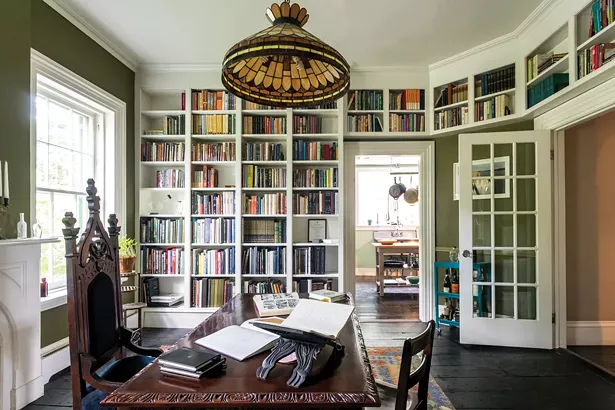 Bransford's study features an extensive library of books on alternative historical movements, spiritualism, and art. An expert on color theory, Bransford teaches art at NYU. "Color has a fascinating history," explains Bransford. "And when you connect that history to the history of magic, it becomes mind-blowing." A vintage Odd Fellows Ritual Chamber Chair is matched with a copy of a Renaissance style table to serve as Bransford's desk.
He was also experiencing a crisis of faith in his own city-based career. "I never really felt at home in New York City," he says. "I felt like I was part of a community that was constantly creating and destroying itself. At that time, I felt like the art world around me was devolving into a merely commercial venture and the competitiveness it brought out was very toxic. I really feel at peace in Catskill."
A Light in the Dark
Bransford's, and his friend's, initial instinct about the house proved sound. It was built by David Van Gelder, a local farmer who also built several covered bridges in the area. The home's design was based on Orson Squire Fowler's book The Octagon House: A Home for All (1853). The practical purpose of the design was to maximize light exposure and space and to discourage the use of right angles, which Fowler believed caused miasma—or bad and unhealthy air that was blamed for diseases such as cholera and the common cold. Van Gelder's original construction sat on the entirety of the surrounding Cherry Hill and included a fruit orchard and extensive year-round edible gardens according to Fowler's designs.
While Fowler's practical designs encouraged a healthy lifestyle, there was more to the octagonal shape than that. "Much of Fowler's thinking was born out of the spiritualist movement and their beliefs state that octagonal structures encourage the visitations of spirit," Bransford says. According to Bransford, the home was built to be like a lighthouse for wayward spirits. In the spiritualist belief system, the eight sides were designed to face the eight cardinal directions, all revolving around the stairwell, serving as a conduit helping the wayward spirits to pass. "The simple way to say it is that the house is pretty haunted, but it's nothing malevolent," Bransford explains.
After the Van Gelder family passed on, the home was owned by multiple families over the years before it was eventually abandoned. In the 1990s, it was bought by Mark Phillips, who was able to stabilize the original construction and list the home with the National Register in 1997. The intervening owners continued with the home's upkeep and when it fell into Bransford's hands, he was able to focus on exploring and preserving the home's distinct history. Beyond the normal maintenance of a 160-year-old property, and a few "shoring-up" projects—including rebuilding the partial wraparound porch, stabilizing the kitchen addition, and replanting the garden—the structure of the home has remained solid.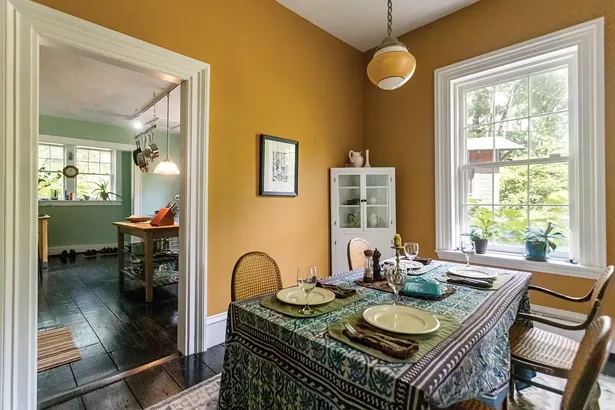 Hanging above the dining room table is a print by Swiss-American Surrealist painter Kurt Seligmann, an expert on magic and the occult. "His book The Mirror of Magic is a much-used reference in my library," says Bransford. Through the doorway, the home's kitchen was moved from the basement to the first floor as a later addition to the house.
After living in the home for almost a decade, the architecture's true purpose has slowly revealed itself. "The metaphor I use to get myself around it sometimes is that it's like we have spiritual squirrels in the attic," he says. "Maybe you see it for an instant but you feel like it's absolutely there. It's like concrescences of energies that are attracted to other energies. And I can see how this house in particular was built to attract all this stuff." Still, Bransford likes to leave a space open for incredulity. "There's a lot of people up here with more conservative belief structures, and I respect that," he says. "You don't have to fully believe in it for it to be a great story."
Bransford has channeled the octagonal house's ambiance and powerful history into his creative practice and research into the esoteric. He's also learned to set boundaries with the home's wayward spirit drop-ins. "Sometimes, when it gets to be too much, I'm a bit like a bartender at 3am," he explains. "I just say: 'Look we're closed. You can go up or you can go down, but you can't stay here.'" Then Bransford directs the entities to the stairwell. "As dumb as that sounds. It seems to work."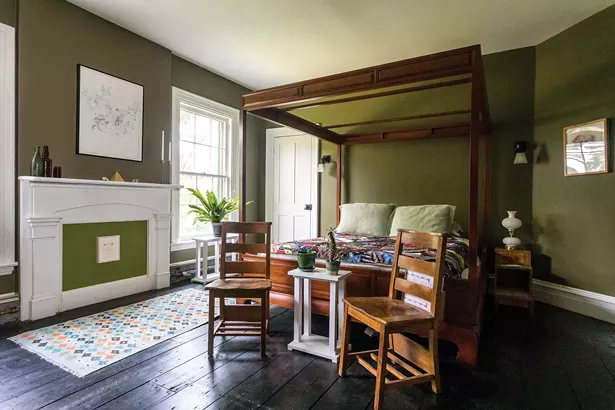 A second-floor bedroom features a handmade Thai wood canopy bed and two antique 1940s school chairs. "I find myself unconsciously pairing old and new things," says Bransford of his decorating style. "I've also come to love plants, especially ferns. They have a lot of say about what goes where in terms of furniture placement."