Photo: Niva Dorell
George Salter, co-owner of the Juice Branchmakes their signature juices for customers.
Picture an old school restaurant with brick walls and dark wood paneling, a beloved bartender serving stiff drinks and caustic wit to a dozen or so bar patrons, including artists, business owners, elected officials (of both parties), millennials, baby boomers, union workers, unemployed folks, and at least one millionaire. Laughter fills the air. No, this isn't the set of "Cheers." This is the bar at the Italian eatery La Conca D'oro, one of several mom-and-pop establishments in the small, self-described "ever improving," village of Catskill.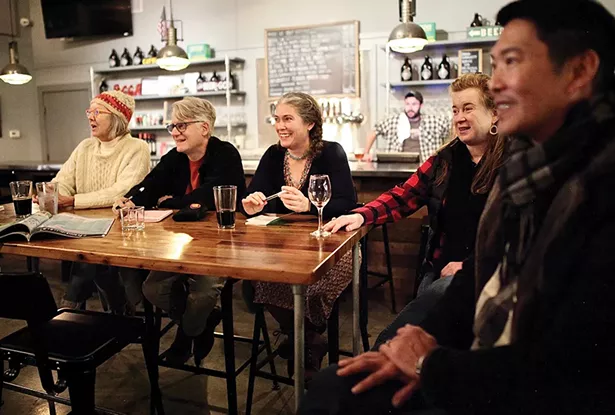 Photo: Niva Dorell
Catskill Merchant Coalition members meet atCrossroads Brewery and Taproom on Water Street. (Left to right: Chrisie Cordrey of Corduroy Shop, Rodney Greenblat of The Rodney Shop, Kristi Gibson of Magpie Bookshop, Jill Lamanec of the Frisbee Agency, Michael Moy of Joe's Garage, and Rob Sager of Crossroads behind the bar.)
Located where the Hudson River and the Catskill Creek meet, halfway between Kingston and Albany, Catskill has historically been a transportation and trading hub, a thoroughfare, a sanctuary for artists and creative minds, and a tourist destination. It's experienced its share of economic booms and busts, beginning with a boom in 1800, and suffered its first big downturn after the Erie Canal was completed in 1825. In the 1850s, Catskill rebounded as a gateway to the mountains and the big Catskill resorts of the era. The success of Catskill was the byproduct of an economy in the late 19th century that embraced both tourism and local industry, and that industry survived more or less right up to the Depression. The town's economic fortunes rose again World War II, and descended in the 1980s and `90s "crack era," from which it has slowly been recovering ever since.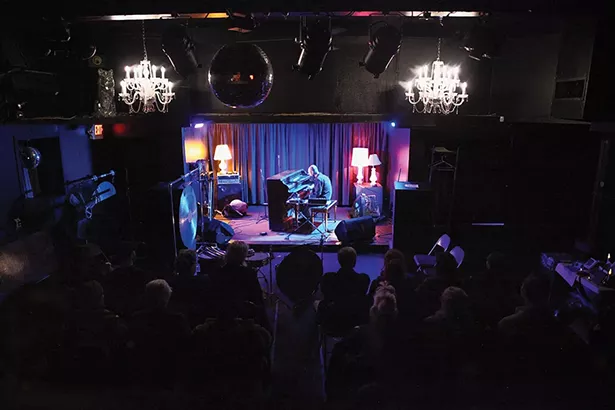 Photo: Niva Dorell
Marck Trecka performs at the Avalon Lounge on November 14, opening for avant-garde sound artist and percussionist Tatsuya Nakatani.
A Formative Moment
Catskill has steadily and organically morphed into a vibrant, quirky town where creative people can afford to live and work. In the past year alone, it's welcomed at least a dozen new businesses, and dozens more new residents, mostly makers and gig economy workers. This gradual but steady influx has infused the village with new energies, as well as new tensions.
Photo: Niva Dorell
Construction continues at Ben Fain's property on Main Street, which will eventually house Left Bank Cidery.
Jonathan Palmer, archivist at the Vedder Research Library and Deputy Greene County Historian at the Greene County Historical Society, likens today's Catskill to that of the 1830s. "Before the Erie Canal opened, Catskill was a gateway, a boomtown," says Palmer, who was born and raised in nearby Athens. "After it opened, the village tried to reconcile lost business, and everyone had separate visions for what Catskill should become—there were the industrialists who wanted to bring manufacturing jobs and industry, and the artists who saw Catskill as a pastoral haven. Catskill was at a formative moment in the 1830s. What we're in right now is a formative moment."
Maureen Sager, the executive director of the Upstate Alliance for the Creative Economy (ACE), a nonprofit that works to develop, promote, and implement programs that benefit the creative economy in the Capital Region, recalls first encountering Catskill in 2017, when ACE held its first networking event at HiLo, several weeks before the popular cafe/bar/gallery opened. Her impression was that Catskill was similar to Brooklyn in 1986, "a sleepy town with affordable studio and retail space where artists were living and working."
Since then, Sager has held 35 ACE mixers all over the Capital Region and witnessed a lot of change in the area. She attributes the rolling migration of artists and makers from larger metropolitan areas to Catskill specifically to more than simply lower real estate prices, lower stress, and higher quality of life. It's also about the distinctive character of the town, which includes a balance of local flavor, arts, community, lush natural beauty and resources, and an emergence of industrial trades, crafts, and home goods.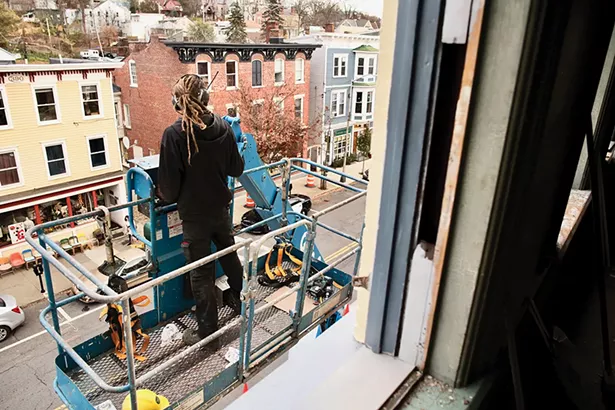 Photo: Niva Dorell
Construction continues at Ben Fain's property on Main Street, which will eventually house Left Bank Cidery.
Just in the past year, Catskill's three main thoroughfares—Main, West Bridge, and Water streets—have seen at least a dozen new stores open, both by newcomers and people who grew up in the area.
These include on Main Street: Solo Vino, an organic wine shop; Bittersweet, an ice cream parlor that serves Jane's ice cream with homemade toppings plus vegan, gluten-free, and keto options; Circle W, the second outpost of the popular Palenville sandwich shop; Sister Salvage, a consignment and antique store that used to be located in Coxsackie; Village Common, which sells 100-percent plant-based products made on-site and infused with pure essential oils; Spike's Record Rack; and Subversive Beer Cafe, which serves its own beer, brewed exclusively with ingredients sourced in New York.
Photo: Niva Dorell
Ben LeBel and Blake Kendal Hays, co-ownersof Village Common.
On West Bridge Street, there is the Juice Branch, which serves juices, smoothies, and soups; Winkles Bakery; From Nature to You, a CBD shop; two vintage shops: Acquired Tastes, and Upstate Gypsy; and Subversive's brewery, relocated from Livingston.
Water Street has Lumberyard Center for Film and Performing Arts, a nonprofit performing arts center and events venue, which significantly increased its audience sizes this past summer during its second season and saw more film production rentals in its off-season, including the David Simon/HBO miniseries "The Plot Against America," and actress Tonya Pinkins's directorial debut feature film, Red Pill. Also new on Water street is Radici, an Italian bistro, and Crossroads Brewery and Taproom, which hosts live music and food trucks creekside in the former Daily Mail printing facility.
More Music!
Perhaps the biggest buzz in Catskill this year was the opening of the Avalon Lounge by Laura and Liam Singer (who also manage HiLo), and the purchase of four Main Street properties by Ben Fain, a real estate developer and artist. The Avalon Lounge is an outgrowth of the music programming that had snowballed at HiLo, where the Singers had started to book events three to five nights a week. "It was becoming increasingly challenging to use [HiLo] as a performance space," says Liam Singer.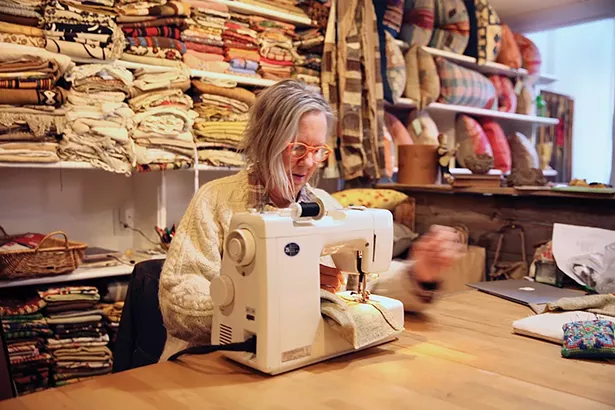 Photo: Niva Dorell
Chrisie Cordrey sews in her studio/retail store Corduroy Shop.
When they heard that the Doubles II nightclub was going up for sale, they reached out to its former owners, Sam Aldi and the late Michael de Benedictus. They closed on the property six months later, spent five months redesigning and deep cleaning, and opened in August with a beer and wine license (they expect to have a full license in early 2020).
The Avalon Lounge has music programming almost every night, and serves Korean food made by chef Annie Poole (who was the chef at Doubles II and is a native Korean). Between the music at Avalon Lounge, various live performances at other locations like New York Restaurant, Subversive, and Lumberyard, plus the already established recording studios around town such as Kenny Siegal's Old Soul Studios, and musician, music producer, and sound engineer Scott Petito's NRS recording studio, there is also a growing buzz about Catskill's music scene.
Putting the Cat in Catskill
When Ben Fain started checking out the Hudson Valley, he almost immediately found himself drawn to Catskill and was so inspired he bought four buildings on Main Street (totaling 45,000 square feet) within a year. "When you're in the city you feel like an alien," says Fain. "But in Catskill, you get the message quickly that every encounter matters. People here are passionate about what they're doing and interested. I wanted to invest in the village because I felt that attitude daily and wanted to be a part of it."
Three of Fain's buildings are located at the corner of Bridge and Main Street, two on one side of Bridge, and one, a former bank, on the other, totaling 30,000 square feet. His plan is to convert the two adjacent buildings into a boutique 30-room hotel, Mr. Cat Hotel (Fain was inspired by the artist Milton Glaser's poster series of the Catskills, commissioned by the New York Bureau of Tourism in the mid-1980s). Mr. Cat will eventually have retail on the first floor, and the former bank building will host the hotel's bar, restaurant, and event space.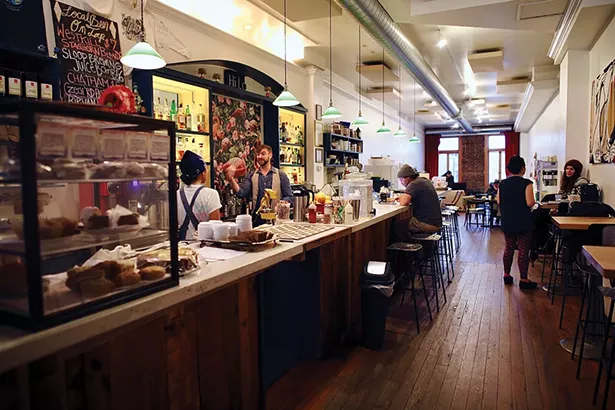 Photo: Niva Dorell
A typical morning at HiLo, a bar/cafe/gallery that serves as Catskill's social hub.
To manage the latter, he's partnered with Eric Amling (a friend from college) and Sarah Grimm, who, together, also own the literary agency After Hours. Grimm and Amling have already started hosting events there, including a reading with renowned short-story writer Amy Hempel.
The town's growing enthusiasm for Mr. Cat Hotel is palpable. The closest hotels/motels in Greene County are either further up the mountain, or in Coxsackie to the north, and Saugerties in Ulster County to the south, which forces visitors and business travelers to stay 20 to 30 minutes away from Catskill. To have a hotel on Main Street, within walking distance of shops, restaurants, and entertainment venues, could be a real turning point for the village.
"The hotel is exciting," says Fain. "And there's a need for it." Fain anticipates that Mr. Cat Hotel will open by early 2021, and the bank building will open first, in late 2020.
Fain's fourth property, a beautiful three-story building originally built in the 1870s, will soon house in its basement Left Bank Cidery, a cider tasting room and production site run by Tim Graham, a former classmate of Fain's when they were both graduate students at the School of the Art Institute of Chicago. Other plans include a cassis production site in the rear of the first floor and a photography studio and artist residency, complete with dark room, on the second floor. He is currently looking for one or two more businesses to rent the rest of the space and, being discerning about the process, both for Catskill's sake and his own.
Fain's purchase of these four properties, along with Lumberyard's purchase and renovation of the former Dunn's Building Supply building in 2015, and Stef Halmos's purchase in 2017 and ongoing renovation of the 50,000 square-foot building that will house her proposed Foreland arts ecosystem, all represent a new level of investment in Catskill.
"In the past 10 years, businesses were started without a full-fledged business plan or market analysis," says Vincent Seeley, the president of the Catskill Board of Trustees, a position he's held on and off for 12 years. "The level of investment [in Catskill] has gone from amateur to professional. We now have people bringing solid business ideas and plans forward with enough capital to not only start their business, but also weather any slow time, which is crucial."
Many of Catskill's downtown businesses (30 percent of which, according to Seeley, are women-owned) have recently banded together to form the Catskill Merchant Coalition. The group meets monthly to discuss issues, coordinate efforts, and plan community-wide events like Second Saturday Strolls, Catskill Trick or Treat, and a village easter egg hunt.
Greg Smith, another village board of trustee, says that Catskill's large events bring the most people together. "The Parade of Lights in the winter and the Food Truck Festival in the summer bring the most foot traffic to Catskill, and it's a mix of residents and tourists. We want a village where people come to visit, but also for people who live here to be able to stay. It's very difficult to do that properly."
Some businesses independently offer community events. Laura and Liam Singer plan to hold their second community Thanksgiving dinner at the Avalon Lounge this year (the first was at Hilo in 2018). The event is free, open to anyone, and completely volunteer- and donation-based.
"Catskill is a tight-knit community," says Shawn Corbin, the bartender at La Conca D'oro (yes, that bartender).
That sense of community—that people are looking out for one another and (almost) everybody knows your name—is the main reason people cite when asked why they moved here, or why they chose to stay.
"There's something so different about Catskill," says Ben Fain. "It's hard to put your finger on it. It's not just one story. There's not one person who is in control. It's a lot of different, interesting people with different passions. There are also people whose families have been here for many generations, and they'll always be here. It's that recipe that makes it so special. It'll always be funky."
How Catskill's developments will play out in the long run are yet to be seen. The town is experiencing growing pains, such as a decrease in affordable housing and an increase in Airbnbs, while at the same time attracting major artists, such as Chinese photographer Shi Guorui, whose recent exhibition at the Thomas Cole National Historic Site received a multipage feature in the New York Times arts section. But there is still a sense of communal commitment to making sure no one is left behind as Catskill's star rises.
"Catskill at this moment is full of people opening their own places, freelancers who don't fit neatly into boxes, and people who see that here they can affect change, personally, professionally, and in the community," says ACE's Maureen Sager.
Sager should know—she moved her family to Catskill from Saratoga exactly a year ago. "Catskill had everything I was looking for. The surrounding nature is absolutely gorgeous, and the scale of the town is really enchanting. Plus, my kids love it. I'm an empty nester—my kids are now 18 and 21 and off to college. But I gave them a choice of place, and they totally wanted to make Catskill their home base. If a place can satisfy both an 18-year old and their parent, that's really saying something."