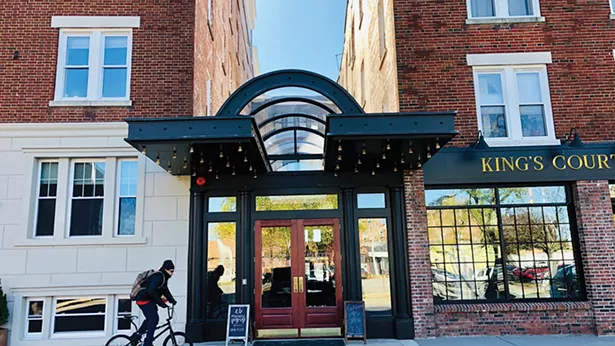 Paul Hesse
40 Cannon Street complex, formerly the site of King's Court Hotel, in Poughkeepsie.
Nonprofits throughout New York are enacting forward-thinking policy and planning strategies to create more equitable cities. Some local leaders have even gotten in on the act, seizing the opportunity provided by renewed interest and investment in the Hudson Valley to create better places to live.

But ask a hundred Hudson Valley residents how the region should develop, and you're likely to hear a hundred different answers, though most will agree that the displacement that usually accompanies gentrification is unwelcome, and that there needs to be a holistic view when planning redevelopment projects. Instead, according to one Poughkeepsie common council member, all too often it's done piecemeal, based on what cities think is a need.
Poughkeepsie, in fact, could be a test case for the lessons learned in the recent spate of redevelopment projects in the region. It has assets like historic housing stock, proximity to New York City via train, and a waterfront district to overcome problems like blight, disinvestment, the ravages of urban renewal. And Poughkeepsie's already come a long way. In 2016, there was no city planning department and no economic development apparatus. But early on, officials focused on building capacity and trust with the city's anchor institutions and community organizations.
From a development perspective, Poughkeepsie can accommodate more density due to its size, though it also has more distinct neighborhoods to consider when planning. The city has recently partnered with the Dutchess County Transportation Council on a study that will weigh transportation alternatives that make it easier for the 30 percent of its residents who don't own a car to get downtown and to their places of work.
All of these considerations are reframing discussions and decisions about development in a more holistic way is forcing elected leaders not just to state a vision for the future but to answer the types of questions that often don't figure into a quick calculus when there's a lot of money on the table. Questions like: What kind of city do we want to be? What are we developing toward?
Original article: https://therivernewsroom.com/2019/09/29/space-race/