The sunny summer months are upon us, and that means it's Tanglewood time once again. Located in the Berkshires in Lenox, Massachusetts, Tanglewood has been the summer home of the Boston Symphony Orchestra since 1937. And while classical still fills the bill, a diversified lineup of contemporary music and NPR fare has broadened the venue's audience. This year's summer lineup offers attendees of all ages an impressive array of musical performances and demonstrations.
Opening Weekend
July 5-7
July 5 kicks off the Boston Symphony Orchestra's summer residency at Tanglewood. For opening night, conductor Andris Nelsons will take the stage to lead the orchestra, featuring pianist Emanuel Ax, in Mozart's Piano Concerto No. 22, on a program with Mahler's Symphony No. 5.
On Saturday evening, July 6, take a pause from music to diplomacy, as the Tanglewood Learning institute presents a talk by Dr. Madeleine K. Albright, the US's first female Secretary of State. Albright will take the stage at 5pm for a keynote speech on nation-building and foreign relations.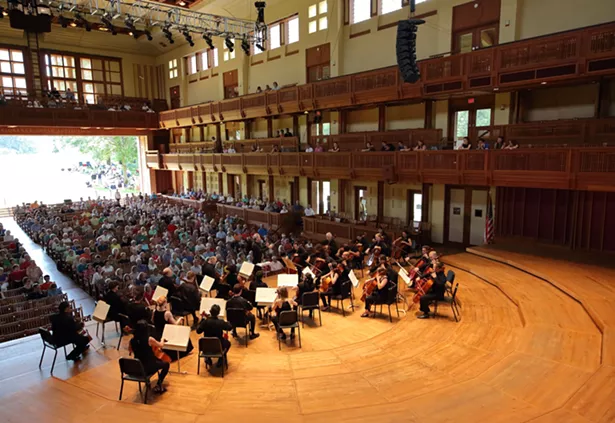 Later that evening, Andris Nelsons and the BSO will take the stage again, opening with Joan Tower's "Fanfare for the Uncommon Woman No. 1." After this, BSO's will perform André Previn's "Violin Concerto, Anne-Sophie," with special accompaniement by the piece's namesake, soloist Anne-Sophie Mutter. Dvořák's "Symphony No. 9, From the New World" will close out the evening.
Sunday afternoon will see the first of three concerts celebrating the music of American composer, conductor, and pianist John Williams. The Boston Pops, with violinist Anne-Sophie Mutter, will perform selections from Williams' iconic scores, in new, custom arrangements. This playful and energetic program will include the famously identifiable scores from Star Wars, Dracula and Harry Potter.
Wagner Weekend
July 26-28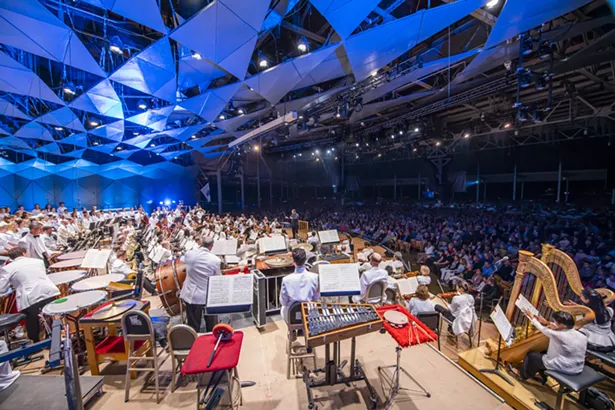 Delve into the mythical musical alchemy of Wagner with this weekend-long celebration. Festivities kick off July 26 with a welcome breakfast. Then, in one of the most ambitious undertakings of its 82-year history, the Tanglewood Music Center Orchestra will perform Wagner's musical drama Die Walküre. Andris Nelsons will conduct, with stellar soloists Amber Wagner as Sieglinde (soprano), Christine Goerke as Brünnhilde (soprano), Simon O'Neill as Siegmund (tenor), James Rutherford as Wotan (bass-baritone), and Franz-Josef Selig as Hunding (bass). Saturday evening at 8pm, the ensemble will perform Act I; Sunday afternoon at 2:30pm, they will perform Act II; and Sunday evening at 6:30, they will close out the show with Act III. Die Walküre will be performed in German with English supertitles.
Throughout the weekend enjoy film screenings, performances, and panel discussions with soloists, directors, musicians, and teachers as Tanglewood leads you on a journey through the rich legacy of Wagner. Tickets to Wagner Weekend are $399.
Festival of Contemporary Music
August 8-12
With this five-day festival, Tanglewood seeks to unpack some of the larger questions of contemporary composition, like " How has music evolved?" and "How does today's music inform our understanding of our own time and place?" In addition to lectures and panel discussions, festival-goers will enjoy chamber music performances, American premieres of international contemporary compositions, like the debut of Poul Ruders' "String Quartet No. 3" and Chaya Czernowin's "Anea Crystal."
Other Offerings
Every Saturday from July 6 through August 11 as a prelude to their evening BSO concerts, Tanglewood will host one-hour chamber music concerts featuring musicians from their fellowship program along with visitings guests. Admission is free for all ticket holders.
In addition to hosting world-class dance and music performances, Tanglewood is also offers a range deals and events to expand your weekend possibilities. Join them for "Yoga on the Lawn" every Saturday (weather permitting) near the Tanglewood Visitors Center. From 10:15am to 11:15am, come train your body and mind with accredited teachers from the Kripalu Center for Yoga & Health. Sundays are fun again with "Summer Sundays" with fun for the whole family. Enjoy diverse food and beer tastings and guided nature walks while the kids indulge in the craft station or take a trip to the temporary tattoo parlor.

Purchasing a Lawn Pass Book offers a flexible and affordable experience for users. This book of 11 tickets can get you in all regular and specially priced BSO and Pops concerts in the Koussevitzky Music Shed and Ozawa Hall (excluding popular artists). Eager customers can snag the early bird special, $190, up until June 23; the pass increases to $200 after that date.