Installation view of "A Quiet Respite," On view at the Carrie Haddad Gallery through January 5, 2020.
From the thunderous quietude of a mountain snowstorm to the seemingly endless horizon of water at a coastal edge, nature alerts us to the Lilliputian scale of human activity. Ironically, this only seems to draw artists to the Herculean task of depicting both the impact and magnitude of the world around us. "A Quiet Respite," on view at the Carrie Haddad Gallery in Hudson now through January 5, offers a tour of new work from seven artists who have dedicated themselves to that task.


Be sure to spend a while contemplating the electrically ethereal oil paintings of Jane Bloodgood-Abrams, who has been exhibiting at the Carrie Haddad Gallery for over 20 years. "The deeply profound moments in nature excite me most, where there is a connection with a higher energy and one feels alive," says Bloodgood-Abrams.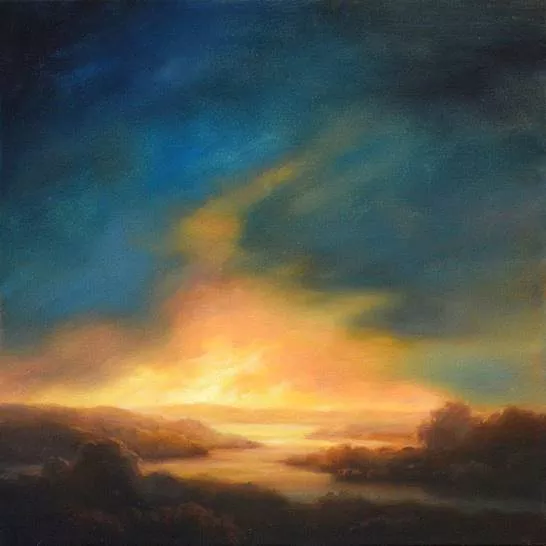 Jane Bloodgood-Abrams, Enigma I, oil on canvas, 18 x 18 inches, 2019. Image courtesy of the artist.
A lifelong resident of the region, Bloodgood-Abrams' emphasis on clouds and an expansive sense of space references the work of 19th-century greats Thomas Cole and Frederic Church of the Hudson River School. "Jane has a wonderful sense of color and a way of capturing the style of the Hudson River School, yet she has her own voice," says Carrie Haddad, the gallery's owner.
The painter, who earned her MFA from SUNY New Paltz, was inducted into the National Association of Women Artists in 2002 and included in Who's Who in American Art, an encyclopedia of contemporary artists. "Jane's work embodies the romance we admire about the landscape painting tradition in 19th-Century American art, and yet channels the energy of the present," says Linden Scheff, director at Carrie Haddad Gallery.

Her latest work will be on display alongside that of Sue Bryan, Tracy Helgeson, David Konigbserg, Eileen Murphy, Judy Reynolds, and Harry Orlyk.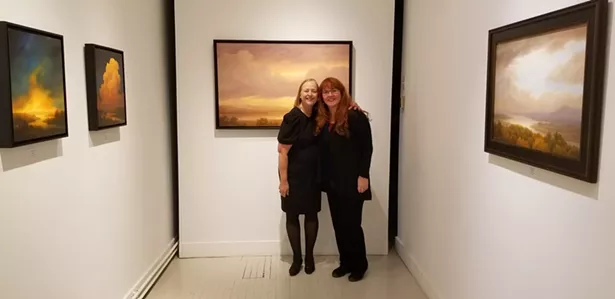 Carrie Haddad and Jane Bloodgood-Abrams