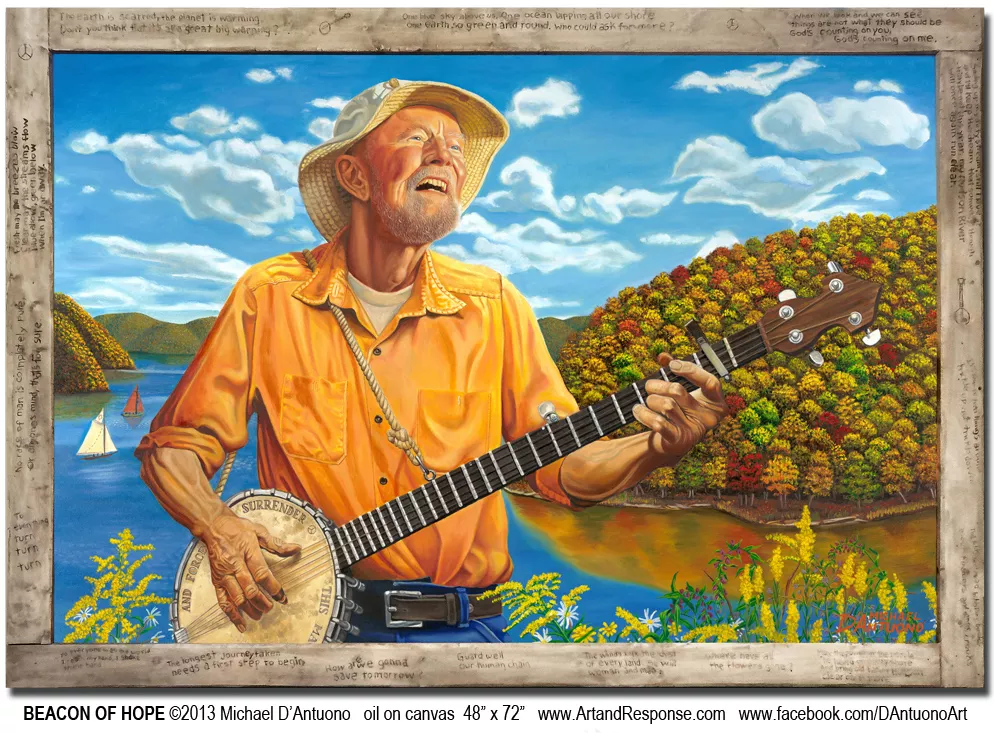 Michael D'Antuono
Oil painting of Pete Seeger.
"You don't change the course of history by turning the faces of portraits to the wall." The first prime minister of independent India, Jawaharlal Nehru, spoke these words during his lifetime of political activism, and it seems his words breathe truth today. Humans must observe the life and lessons of those who have past. These faces of history can instruct, teaching of the mistakes to avoid of the successes to glorify.
Overlooking the inner walls of the newly erected Towne Crier Cafe in Beacon now hangs a portrait of one of Hudson Valley's most treasured icons, one that can instruct all. Titled "Beacon of Hope," Michael D'Antuono's six-foot wide oil painting of Pete Seeger pays tribute to the life of the Beacon-born sociopolitical activist.
The image depicts Seeger standing with his staple instrument, the banjo, juxtaposed in his orange shirt against the complimentary blues of the Hudson River that lays behind him. Encasing the river and accompanying Seeger are Autumn's trees, shifting from their lively hues of green to their warmer tones of transition and hibernation. To Seeger's right, two sailboats float upon the Hudson, indicative of Beacon's Clearwater Sloop, the 106 foot sail boat Seeger founded in 1969. Bordering the painting is a driftwood like frame etched in Seeger's lyrics.
Ever since the 1960's, Seeger has infused his music with the undying lessons that plague his heart. In the 60s, it was the Vietnam war and communism. And in the 70s and 80s through today, it has been environmentalism. D'Antuono paints with the same passionate intensity as Seeger writes, and his works often evoke the lessons found in Seeger's songs. "I was inspired to paint 'Beacon of Hope' as a tribute to a man who serves as an inspiration to me and many, many others," writes D'Antuono. "I can only hope to have a small fraction of the positive influence in sociopolitical change with my art as Pete has had with his."
Now, as D'Antuono's portrait stands in the walls of the Towne Crier Cafe in Beacon, the legacy of the celebrated singer will not go amiss, and surely, his face will not be one to turn and face the wall.
Read Chronogram for more information on Seeger.