What is the sound of three plants vibrating? Behind the brick façade of a roofless brick building in Newburgh, an installation by Martin Roth seeks to find out.
Martin Roth (1977-2019) was an installation artist whose work often incorporated living organisms in pieces that unfolded narratives through poetic site interpretations. The titles of some of Roth's work give a sense of his process and the scope of his imagination and ambition: In October 2014 I rescued laboratory mice so they could play Swan Lake, In June 2012 I flooded a gallery in Austria,and From July to August 2012 I lived with sheep in Europe, and In November 2017 I collected a plant from the garden of a mass shooter. In Roth's work, the environment itself can become a collaborator. Roth told the Creative Independent shortly before his death: "For a lot of people, nature is an app or something that they listen to in order to fall asleep, a digital recording of a rainforest or something. My work creates a strong reaction, because, of course, you don't believe that grass or trees or lavender could live inside a gallery."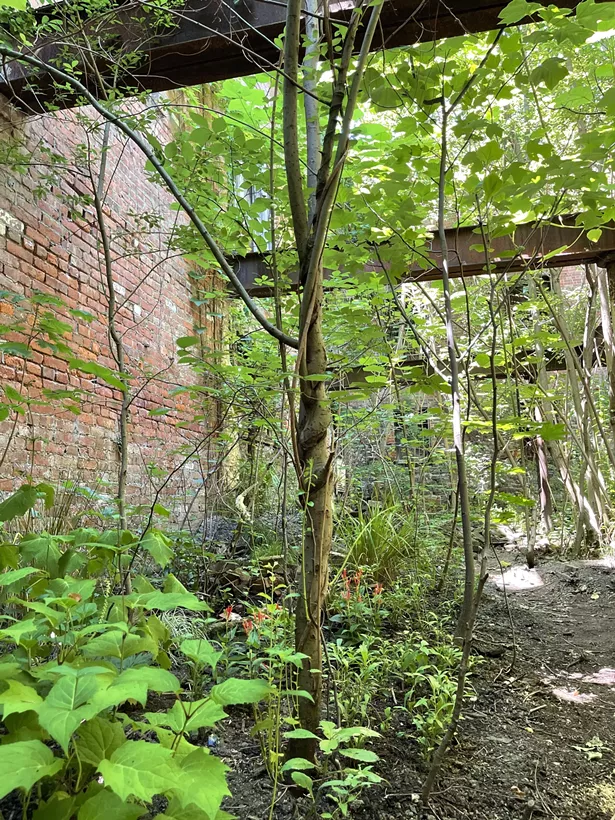 Kelly Schroer, who runs Strongroom, an organization promoting and curating contemporary art that interacts with Newburgh's architecture and history, invited Roth to come Newburgh in 2017 after seeing his work at Bard's Hessel Museum (From January to March 2015 I grew corn for a plant concert performed in a museum). The site Schroer showed to Roth, 120 Grand Street, has a special place in the city's history. The Newburgh "City Club" was originally built as a private home in 1852, designed by renowned architects Andrew Jackson Downing and Calvert Vaux. It's one of the Downing's last buildings in the city still standing.
"Standing"is a relative term, however, as the building is now an empty shell, having been slowly overtaken by nature over ensuing decades. Roth's installation, From 2017-2021 Martin Roth transformed a ruin into a garden for a plant concert, turns that accidental process into an intentional one, as he noted at the start of the project. "While citizens of Newburgh are very aware of nature overtaking buildings and mainly see this as an eyesore, I want to alter and shape the environment inside the building to emphasize the beauty in nature reclaiming a site in an urban setting," Roth wrote.
While Roth died in 2019, his vision is coming to fruition this weekend. "I wouldn't normally create a huge installation by a dead artist," says Schroer. "The only way this is possible is because Martin set up a framework for the artwork and let the artwork make itself. That's just how he worked. When he passed away in 2019, the framework was very far along. He also left notes on different types of plants to use, and the path through the installation was already underway."
What Roth envisioned and started, and what Schroer has completed, is a botanical fantasia amidst a ruin. A jungle of plants and mature trees grow out of the top of the roofless structure while more recent plantings have been installed under the tree canopy. "Martin wanted to make it feel like you were experiencing a magical garden in an abandoned building," says Schroer.
Among the piles of brick and trees and plants is also a sound installation in a natural amphitheater. "It's a concert made by the trees," Schroer says. How it works: According to Roth's specifications, sensors were attached to three trees—"at the root and the leaves—"which transform the electrical frequencies of the plants into musical notes which are broadcast through speakers. The ambient sound creates a plant concert performed by a mini-orchestra of flora. Like much of Roth's work, the site is a clever cultivation of exiting conditions. "I believe that if you change reality just a little bit, everything changes," Roth wrote.
From 2017-2021 Martin Roth transformed a ruin into a garden for a plant concert, located at 120 Grand Street,will be open Saturday and Sundays 12 to 5pm, July 10 through October 31. Admission is free. Some upcoming talks at the site include:
Johanna Yaun, Orange County Historian, will lecture on "Downing and Vaux: Collaboration and Friendship," on Saturday July 17, at 4pm and on Sunday, August 22, from 11 to 12am.
Art historian Arnaud Gerspacher will speak on "Martin Roth and the Critical Possibilities of Wonder" on August 28 from 3 to 4pm.
Botanist Peter Del Tredici will give a talk titled "A Walk on the Wild Side: The Hierarchy of Plants" on September 25, from 3 to 4pm.