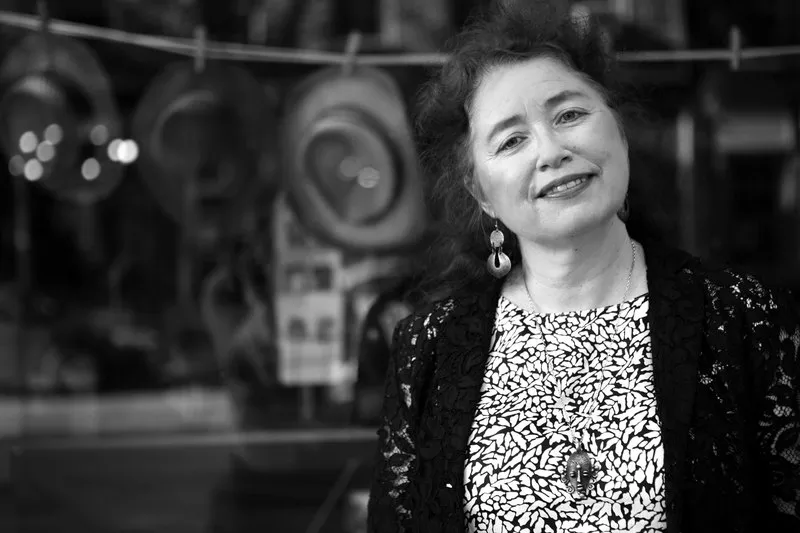 Amber S. Clark
Babette Hierholzer in her home in Rhinebeck.

Dwarfed by the horse totem that oversees the stage of the Maverick theater outside Woodstock, New York, Babette Hierholzer stands beside a nine-foot piano, her left hand resting lightly on its glossy frame. Dressed in black sequins, she bows her head to acknowledge the polite applause of the audience. Sitting, her wrists arch upward and pause above the keyboard as she prepares to play the first notes of Edvard Grieg's Arietta op. 12, no. 1. That delicate arch belies the power of her hands. Hierholzer is a petite woman, so when the tsunami of sound her fingers generate floods the concert hall, it comes as a bit of a shock.
Unfortunately, flood is a word that resonates with Hierholzer. When the Sawkill Creek reared up over its banks in the spring of 2007, it inundated the lower level of the house she shares with her husband, Michael Simpler, in Red Hook, New York. Muddy waters swirled through and destroyed a lifetime's collection of books along with the kitchen appliances. And yet, she smiles: Her two grand pianos were safely ensconced on the second floor.
Sitting in her second floor music studio, you would never know Hierholzer was gutting, renovating, and reconstructing her home. In her studio, Oriental carpets cushion each Steinway piano ("the best piano for solo playing because they are so powerful") sitting beneath large skylights, and two cream leather sofas reflect each other; tables holding mementoes of world travel plus the floor-to-ceiling bookcases of sheet music make her world look ordered and sane. But a freelance concert pianist's life is anything but routine—even when it starts at age 11.
Babette Hierholzer was a child prodigy. As the oldest of four siblings on the west side of the Berlin Wall, it was clear by the time Hierholzer was five that she was not likely to follow in the family tradition and become a doctor. It wasn't as if her family had no musical interests; her great-grandmother was not only an opera singer but conducted as well, and both of Hierholzer's parents played instruments when not practicing medicine. By the age of five, however, Hierholzer's skill and interest in the piano were apparent, and her parents found the ideal teacher to nurture and encourage her talent.
"My first teacher knew how to motivate young players," recalls Hierholzer fondly, her tumble of long brown curls clipped back in a semblance of order. "Instead of drills of boring scales, she selected actual phrases from a piece of music for us to master a technique. We always played good pieces—minuets by Haydn or Bach—and were always preparing for a competition or recital."
"The Berlin Steinway competitions are the Olympics of piano playing for children under the age of 16," she continues in lightly accented English. "I entered at age six and won first prize in my age category. I was very motivated to win the second year. I won another major competition at age nine. Competitions are necessary because there are so many musicians, and it's good to see other musicians and build a repertoire."
"Besides," she confides with a chuckle, "Berliners are competitive by nature." Despite the lessons and practice, competitions, recitals, and awards, she describes her childhood as normal—there was no dramatic change precipitated by the crescendo of her talent.
"Like other children, I always wanted a dog," she recalls with a wry smile seasoned with adult insight, "but we lived in an apartment. My parents thought they could placate me by promising a dog if I played in the Philharmonic Hall. But, when I reminded them of the bargain after I made my professional debut there at age 11," Hierholzer said, "they forgot the promise."
Public elementary school, followed by attendance in the Humanistic Gymnasium where she studied Latin and Greek along with English, continued until her father's sabbatical, spent in the United States. This move allowed for further music studies in Fort Worth, Texas, with Lili Kraus and the Julliard Pre-College program with Herbert Stessin. Her formal education was completed with four years of music theory and history at a conservatory in Essen.
"There was never a conscious decision to be a concert pianist," Hierholzer reflects. "I had thought might want to study something in addition to the piano—criminal pathology or archeology—but I can't even recall when I went from 'child prodigy' to professional pianist because the work is the most important thing."