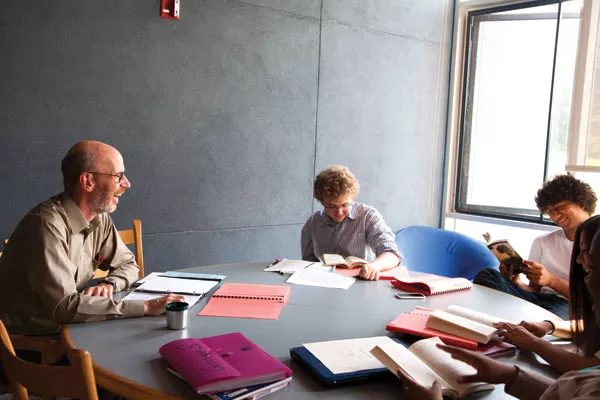 Students delve into the classics with Professor Chris Callanan at Simon's Rock.
Don't be mistaken; Bard College at Simon's Rock is not a boarding school. It's a legit college, and a prestigious one at that. Last fall, the Forbes "30 Under 30" list, which names the most creative minds in each of 12 fields, featured four Simon's Rock alumni—quite an honor for a school with only 400 students on average. Leslie Davidson, dean of Simon's Rock College, explains that their mission is to provide bright, motivated students with the opportunity to begin college immediately after the 10th or 11th grade. "In so doing, we allow them to undertake the challenge of a rigorous education in the liberal arts and sciences when they're ready, rather than requiring that they wait until they've finished with high school." Why? People mature at different rates, intellectually and socially; while the conventional system dictates that most students begins college at 18, the reality is that some students are ready earlier, and Simon's Rock is designed for that population.
The Students
The students at Simon's Rock vary. Many have exhausted the possibilities of high school and are highly motivated. Here, they're doing advanced work in one or more areas. There are bright students who have accelerated past the limits of high school as well as students who are gifted in a specific area (like arts or science) and want to pursue it at the collegiate level. (The Coen Brothers make the list of alumni.) Maryann Tebban, associate professor of French at Simon's Rock, explains that their students find that they finally have a peer group when they arrive on campus. Davidson says that the fact that all of the students come at a younger age means they're able to combine challenging and engaging college academics with a social and residential community specifically tailored to the age group. "We often joke that when we say 'early college,' parents hear 'early' and expect boarding school-level structure and supervision, and students hear 'college' and expect a complete absence of structure and supervision." The truth is that it's in the middle: While students have more freedom and autonomy than they would at boarding school or, in most cases, at home, they have more structure and support than they would at other colleges.
Gabriel Salgado, who attended Simon's Rock after his sophomore year of high school in 2005, says that he ended up at there by chance. He attended high school in Mexico and when his counselor suggested the school after receiving a brochure in the mail, he applied and got in after being accepted for a solid financial aid package. Salgado has nothing but the highest of praise for Simon's Rock. In fact, he's currently employed at the college as a residence director after completing grad school at The New School. But he willingly shares his struggles to acclimate as a teenager. "Most people are used to being the smartest kid in the room, and when you show up at Simon's Rock, you're in a class with everyone else who's used to being the smartest kid in the room." The teachers at the school ask a lot of the students, and Salgado found that his grades suffered the first semester. Socially, he struggled too. He credits the support from the professors and staff that helped him to adjust in such a short time. By the time his second semester rolled around, his grades were back on top. "Because the students come in young, there's more attention from the staff and a focus to succeed. I think that because we're young, they feel a certain responsibility."
Bethany Geiger, who's currently a junior at Simon's Rock, had a similar experience. "Living at Simon's Rock is unlike any other place in the world. I have met friends and professors who've changed my life, and I have also met people who I couldn't stand. What I love most of all is the room everybody has to be a true individual. I was 'that one kid' in high school who stood out a little too much. Then, I came to Simon's Rock to find that everybody else was also 'that one kid.'" Geiger says that Simon's Rock is made up almost entirely of all the people who, for a variety of reasons, felt out of place where they were before. "Because of that, there's a level of social acceptance here. We do not tolerate racism, or sexism, or classism, or homophobia. No matter who you speak to. Even among enemies, you can be sure that you will be judged for your opinions as an intellectual, and not for how you identify yourself. When I leave campus for holidays, I am always shocked to rediscover what 'the real world' is like."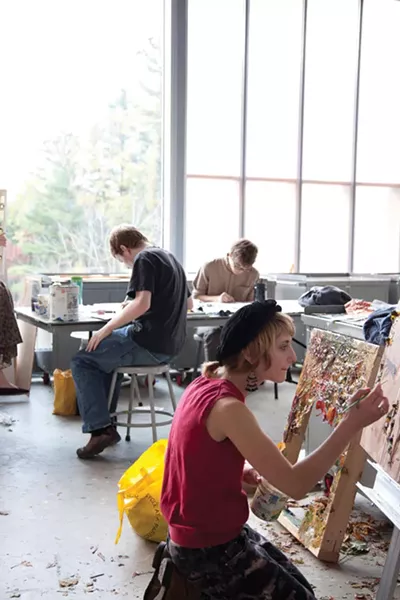 Students working in the Painting Studio course at Simon's Rock at Bard College.
The Staff
A nontraditional environment continues with the staff at Simon's Rock. Ramiz Shaika, a senior, explains that all faculties, staff, even the provost, are called by their first names as a way to foster conversation between professors and students. "I think, by referring to our professors by their first names, it creates a much more welcoming environment," he says.
Geiger says that she's had plenty of friends transfer to the Ivy Leagues, grad schools, or private European universities only to exclaim, "It's so easy to get an A here!" She was overwhelmed when she came to Simon's Rock—not by how much she had to work, but by how much she had to think. Geiger is proud of how the professors expect so much more of her and she also learned to expect more of herself here.
The goal for instructors is to capture the students' energy and help them excel in their own way. Tebben, who also teaches the General Education seminar sequence that's required for all students, explains that Simon's is a nontraditional college in some ways, but the mode of instruction is classic-seminar courses with plenty of room for student input. "I'm continually surprised at the high level of discourse in my seminars and at how many students work so hard to accomplish everything we set before them. I think we are lucky to have them before the enthusiasm for this kind of love for learning wears off. But I also think that we attract a particular kind of student who sincerely wants to discuss Dante in the library at night, whether or not they are taking a course on Dante at the moment." Tebben's job is to keep French literature and French studies alive and well, and to her credit, there's a healthy enrollment in French at Simon's Rock, and in languages in general. "One of my best moments was at graduation, when one of my students in an upper-level French literature course was giving the graduation speech that year. She was an excellent student across the board, but she wasn't a French major, so it was really touching to hear her cite a passage from Laclos's 'Les Liaisons Dangereuses' at the top of the speech, a connection between Madame Merteuil and making your own way in life. It had obviously resonated with her and that made me proud."
The Results
During the admission process, Davidson explains that the school specifically looks for students who are bright and motivated, who love learning, and who want to be around peers who may be different in their backgrounds and interests but are similar in their fascination with ideas and desire to be part of a vibrant intellectual community. It's also important that applicants are socially and personally mature enough to take on a greater degree of responsibility for their own lives. "The students we admit are smart, mature, and independent; nonetheless, being away from home for the first time is an adjustment, particularly at 16," she says. The level of staffing in the dormitories, the weekly adviser meeting, the guidance available for students learning to manage their own time and lives, the way faculty and staff involved with students in various capacities work together, and an openness to communication and partnership with parents is all designed to enable younger students to make a successful transition to college. Davidson explains that they expect students will learn to make good decisions and take responsibility for their own lives during their college years. They also know that this may not happen immediately or automatically, or without guidance and support.
Due to the size of the school, there are limitations in providing the specialized coursework and programs some students seek. For that reason, about half of the students transfer after the sophomore year—most commonly, to Bard's main campus in Annandale, NY, Brown University, Cornell University, Smith College, NYU, University of Chicago, UC Berkeley, and Stanford. Shaikh says, " I am definitely planning to go to a grad school, but not right away. In terms of my future, I am still unsure of what I would like to do after I leave Simon's Rock, but I do know, from studying abroad in Peru in the spring of 2012, that I am ready to walk out into the real world."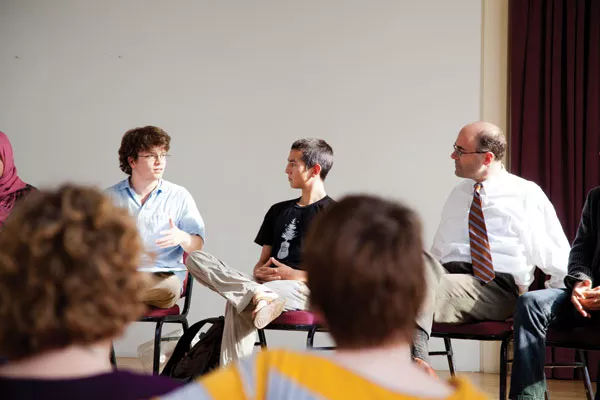 Community Council representatives discuss issues, organizations, and campus activities with Provost Peter Laipson.