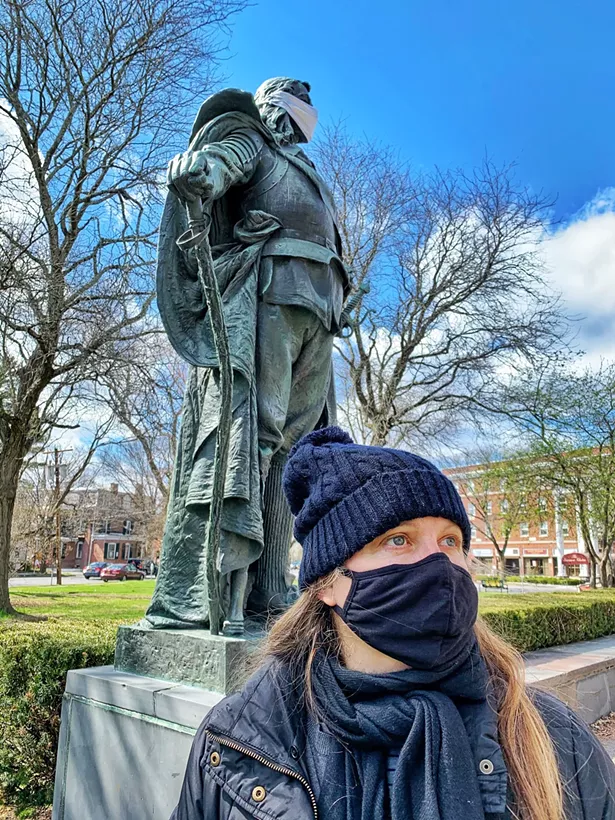 Just after waking at dawn I was inspired to begin my day by replanting my begonia cuttings back into their old/new home of soil in the pot which has been waiting for them to return. For months, theirs had been an altered, wet reality, reincarnating by sprouting new roots in small perfume bottles and glasses of water. Striving to be strong enough to be reborn. They should have been re-planted back into their previous life weeks ago, but I couldn't face them. I just couldn't garner the gardener within I needed to facilitate their rebirth, despite the joy I've felt rebirthing hundreds of cuttings from water over decades.

I'd been living a new life myself, but its facets didn't include the mama gardener in me. I was too busy reading and educating myself about the pandemic and the asinine words, acts and non-acts coming from the asinine person who lives in the White House.
But last night I learned my younger sister was able to say a few words from the ICU and today I felt my reality alter yet again, and the gardener within me reborn.
Being newly awoken from her 14-day intubated, induced coma, she had begun working with a speech therapist and yesterday a nurse held a phone to my sister's face in the Covid-19 ward in Richmond, VA (where she'd been air-lifted to three weeks ago from her local ER because the hospitals in her DC suburb were all full), and she was able to say "I love you" to her husband.
My sister the Barbie Doll Dream House inheritor, pink/orange/gold bedroom sharer, mother to twin teenaged son and daughter (and two dogs).
My sister the loving, sensitive, compassionate, kids school volunteer, crafty (as in art), Obama "Hope" symbol pumpkin carver, Halloween grey wigged bespeckled Harry Potter wizard, and gardener extraordinaire; is awake, cognizant, and relearning how to talk after having a tube down her throat for days. We almost lost her. It's a new day.
When the ambulance took her to the original ER and her kids and husband couldn't accompany her (no families allowed to join patients in our new paradigm), her husband told their kids who were in despair, "Mom won't die, she's too stubborn." She's back in her local hospital now, where she will remain for 2 months.
There are no guidelines yet for recovery from this easily inhaled molecule. We are the ones we've been waiting for to invent those. The soon-to-be released yellow plasma test the gold ring for ending the pandemic, clarifying whether we've had COVID, or the flu this winter.
So we cultivate hope, remembering we susceptible humans are also the ones who invented the machines which allow women and men to live in space for a year, cause audiences to be astounded by great dancing and moved to both delight and tears by great music.
And we are the ones who invented cures for other diseases, but those were mostly done in laboratories over long lengths of time. This ain't no party, this ain't no disco, this ain't no fooling around. No time for dancing, or lovey dovey. (We) ain't got time for that now.
So it is the stories of those stricken and recovered who will be delineating our new health paradigm. Maybe one in which our bodies adapt to living with some form of COVID, (By our hand? By CRISPR manipulation?)
To a new paradigm of understanding the molecular world of viruses that jump species.
And to infected, yet strong, stubborn sisters around the world.
Especially the younger ones.
Maya Horowitz is a modern dance historian and holistic health researcher living in Woodstock.