Photo: Deborah DeGraffenreid
A corner of the home's living room is devoted almost exclusively to Midcentury Modern design pieces. "We love that MCM is functional and practical, yet has a fun, playful side that inspires us to live better," says Moser. "After World War II there was such hope for the future—new manufacturing techniques and materials like plywood, plexiglass, and plastic had been invented. Ambitious designers were eager to implement them into affordable furniture for the growing middle class."
When Hilary Davis and Jordan Moser embrace the aesthetics of a particular era, they don't do it half-heartedly. Case in point: After fully refurbishing the A-frame cabin they bought on Mount Beacon, they went gaga for Midcentury Modern design, and the house is a showcase for the couple's ever-growing, eclectic collection of pieces from that "playful, more idealistic era." Over the past three years, Davis and Moser have scoured the four corners of the Hudson Valley. They've searched through basements and antique shops, through yard sales, Craigslist, and eBay, all to rescue the neglected, rejected artifacts—futuristic furniture, whimsical light fixtures, distinctive art, and even bygone technology of the optimistic, utopian post-World War II era.
Photo: Deborah DeGraffenreid
Hilary Davis and Jordan Moser on their Eero Saarinan "Womb Chair" under the Arc Lamp, made by the Guzzini brothers in Italy. Moser found the iconic Midcentury Modern lamp on Craigslist in the dead of winter. "It had seen better days," Moser remembers. "The head had been ripped off, the sockets removed—it was in pieces." Still, he drove up to Woodstock in his Honda Civic "with fingers crossed" and was able to score the piece for $125. "For a moment it seemed like it wasn't going to fit in the back," he recalls However, after some dissembling, he was soon driving down the thruway with the lamp hanging out the back window. After an additional $20 investment and a "night doing surgery," he was able to surprise Davis with a new lamp arcing over the living room. "That was my favorite part," says Moser. "She got so excited; we did a little dance in the living room."
There might have been a hint of the lengths Davis and Moser would go to in restoring both their home and its contents, in one of their other collaborations—the synth rock band Tygersounds. Emulating the buoyant tone of the '80s, the trio "takes some of the cooler sounds from the decade, adds a modern twist to the vocals, and leaves out the cheese," explains Moser, who plays synthesizer and sings. Davis, who also plays synth as well as electric violin, sees the correlation. "I think it's the same reason that we're drawn to Midcentury Modern design; the band is a kind of sonic equivalent—it's nostalgic."
Photo: Deborah DeGraffenreid
The couple painted an accent wall in the first-floor guest room to add a pop of green. Originally they'd thought to decorate the home with a "rustic-modern vibe" and collected trunks, weathered crates, and paintings from upstate flea markets. After deciding on a different aesthetic for a majority of the house, they conceded to decorate the guest room with their upstate finds, including an antique trunk, oil paintings, and a collection of maps.
Like Tygersounds, their home is a creative collaboration. It's where Davis's eye for style and formal design education meets Moser's dogged persistence in tracking down pieces and then painstakingly refurbishing them. "It's not about buying the most expensive or famous pieces," explains Davis. "It's more, 'Do we love the story behind it? Do we love the character? Do we love the intention of the designer who made it, or even just how the shape makes us feel?'" Through their joint vision and combined talents, the couple have assembled a home where each restored piece has its place in a comfortable, authentic whole. "It's so meaningful to us to have an original piece," says Davis. "Even if we have to find something and fix it up. We feel like we've saved it for its historical value."
A Frame of Possibility
It was the Hudson Valley's effusive atmosphere of creative experimentation that led Davis and Moser upstate. Previously residents of the East Village, the two first stopped in Beacon on their way to Fishkill for a friend's winter solstice party. "We had heard about Dia, Main Street, and the Roundhouse," explains Davis, who originally hails from Minneapolis. They loved the region's abundant natural resources, the plethora of independent, creative businesses, the farm-to-table food scene, and the area's rich musical roots. "There's an entrepreneurial, exciting spirit in the Hudson Valley," says Moser. "If you want to do something cool, you can do it. It's affordable and the community is open to it"
Photo: Deborah DeGraffenreid
The dining room features a glass dining table designed by furniture designer-turned-shipbuilder Adrian Pearsall, Verner Panton single-injection plastic chairs, and a Louis Polson PH-5 pendant lamp. "We love the personalities of the designers from that era and the stories about their projects and artistic endeavors. They were all renaissance people," says Davis.
They continued to explore the wider region on weekends, but during their jaunts they were always drawn back to Beacon. "Every time we visited Beacon, we discovered a new hike, brewery, or cozy spot that made it harder to leave," remembers Davis. When they realized a part-time commute from Beacon to the city was doable both work in the advertising field: Davis as a graphic designer; Moser as a sound engineer—they crunched the numbers and realized buying a home in the area was actually feasible.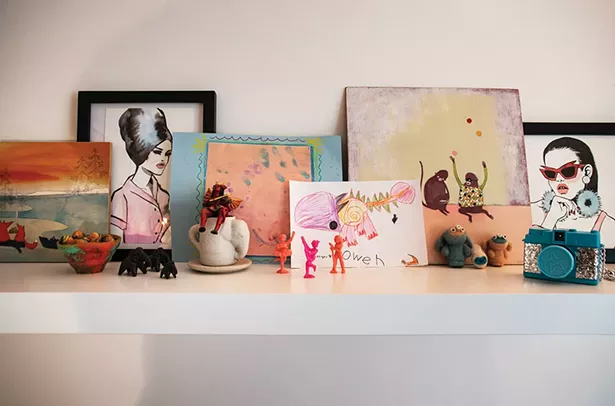 Photo: Deborah DeGraffenreid
A shelf in Davis's home office. She works in theadvertising industry in Manhattan. "I've always loved art and making things, but I'm not a painter or illustrator," she says. "Working in design allows me to bring together different styles of illustration and photography then add typography to communicate a message."
"We thought we were going to find a cute 1950s, industrial-era home with a fenced-in yard within walking distance to Main Street," remembers Davis. "But we weren't connecting to any of the houses or the architecture in town." After months of looking, they heard about a place on Mount Beacon—a neighborhood they hadn't even realized existed. "As we drove up the mountain for the first time, we thought, 'we can't live all the way up here, we'll need to get a car.'" However, from the moment they first walked into the house, they loved it. Built in 1990, the three-bedroom, two-bath Swiss-style ski chalet was an architectural novelty. Even though the rooms were filled with dilapidated furniture, the refrigerator still contained rotting food, and beach balls hung from the ceiling rafters, the two could see evidence of the original owner-builder's craftsmanship. The open first-floor living room, dining room, and kitchen were centered around a giant bluestone fireplace—built from stones gathered from the surrounding property, they later discovered—that reached all the way to the double-height knotty pine vaulted ceilings. "We loved how the surrounding nature was integrated into the house," says Davis.
Photo: Deborah DeGraffenreid
Left: Moser turned the home's second-floor loft space into a home office. "This is where I spend most of my time mixing music for my work or just focusing on my own stuff," he says. "It also doubles as a cozy nook when friends come to visit."
Years of neglect had left the house in a sorry state. It needed a new roof, the exterior siding had been torn up by woodpeckers, the chimney needed repair, and many of the windows needed replacing. Even though it would require extensive rehabilitation, the couple felt they had to rescue it. "We wanted to restore it to its former glory," says Moser. In 2016, the two took the plunge. They bought the home, let go of their tiny apartment and sold "all our furniture from Ikea that we knew wouldn't survive the move," says Davis. She even quit her corporate job and the two put their band on hold just so they could focus on the house. "We were in over our heads for sure," explains Moser. "But it was also very exciting."
Penchant for Whimsy
The next few months were spent sleeping on an air mattress in the middle of the floor while they oversaw the home's overhaul. Their real estate agent, Jon Miller of Jon Car Realty, connected them to local contractors to repair the exterior damage and the two tackled as much of the interior work as they could handle themselves. Inside, they ripped up the carpets and worked with Strictly Hardwood to restore the hardwood floorboards throughout the open first-floor living, dining, and kitchen areas, as well as an adjacent office and guest room. Then they repainted all the walls and replaced every light fixture, both upstairs and down.
Photo: Deborah DeGraffenreid
A refurbished bluestone fireplace sits at the home's center. It was the first thing the couple noticed on their initial visit. "We've had so many adventures and good times exploring areas and finding cool stuff to fill the house," says Davis. The white Haeger antelope sculpture was a regift from friends in Brooklyn who received it as a thank-you present from a drag queen whohad crashed on their couch. "I know we've picked out a cool piece when the kids who come over are obsessed with it or crawling all over it," says Moser. "Everyone wants to interact with it."
The couple tore out the existing kitchen and in its place created a sleek monochrome enclave with playful pops of color. They added walls of gray cabinets, off-white counters and new appliances, incorporating intermittent touches of orange paint for flair. When a chandelier wouldn't fit into their dining room, Moser deftly disassembled the piece and the two hung the individual pendants from a cement track in the ceiling to create track lighting over the countertops. He took a similar innovative approach with the second-floor loft space, open to the living area below. By reappropriating acoustic soundproofing panels from a Manhattan studio, he created a home studio filled with instruments and recording equipment. The remaining second floor has a large master suite with vaulted ceilings, a full bathroom, and a walk-in closet running the length of the house.
As the couple restored the house, they began to explore ways they might furnish it. With little left from their Manhattan apartment, they started frequenting retailers for ideas but were disappointed in the quality of materials they found. However, while shopping, Moser was always drawn to the same distinctive colorful, playful motif. Moser didn't even realize there was a name for what he liked until Davis pointed out all the pieces he gravitated to originated from the Midcentury Modern design movement. "The designers of that era were all multimedia artists and renaissance people," explains Davis. "They would design furniture, houses, lighting, and all sorts of different things." One night the couple asked each other, "What if we just decorate everything this way?" Rather than buying knockoffs, they began searching for pieces they could both afford and refurbish.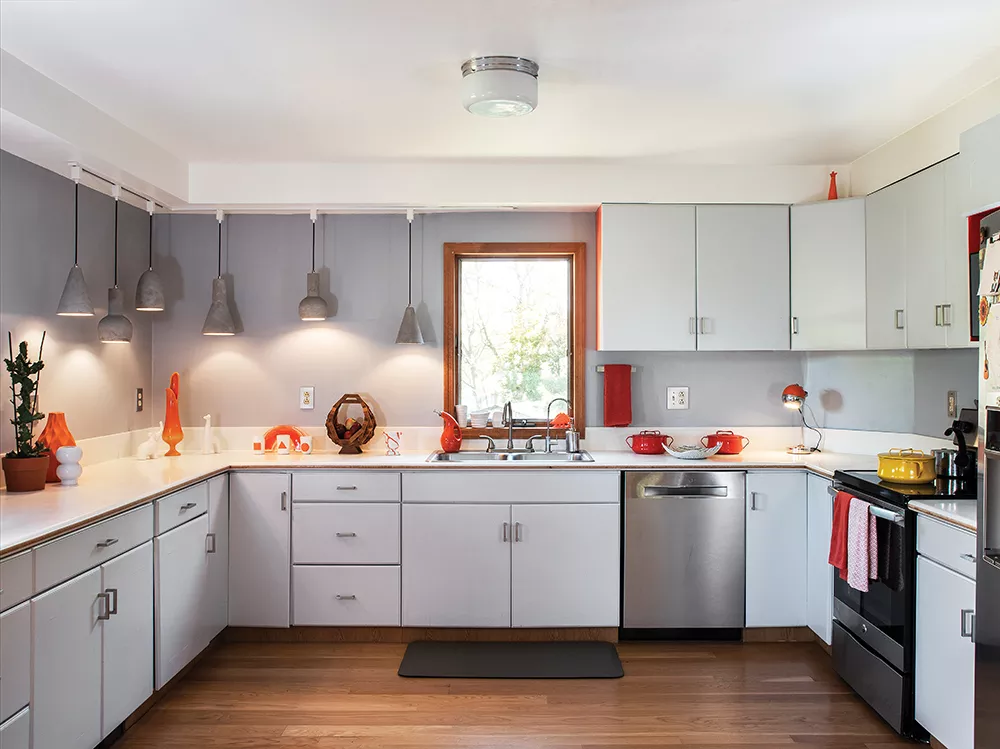 Photo: Deborah DeGraffenreid
The kitchen of Jordan Moser and Hilary Davis gutted and redesigned the home's open kitchen then filled it with an eclectic assortment of refurbished finds. "It makes us so happy to bring old, forgotten objects back to life," says Davis.
While they've found many original pieces to match their idiosyncratic home ("Good thing we got that car," says Moser), what they've really discovered is a vein of inspiration. "Sometimes we find a piece and then we immediately get ideas for what goes around it," he explains. "We find a chair or a sofa and then, all of a sudden we have a shape or a color scheme to work from." That, in turn, sends them back out searching. "It inspires play," says Moser. "It lifts you up to be surrounded by objects that were designed to be fun. It makes you happy."