Photography by Daniel Ocean Joseph

Self care might seem like a millennial buzzword, but if 2020 has taught us anything, it's the fundamental importance of taking time to care for yourself and your community. "You need to be able to get out and do your public life, but at a certain point you need to center and ground," says Lydia Willoughby, owner of Sassafras Mercantile in Kingston. "This is a place for people to get resources for their own personal liberation so they can stay at capacity and be there for themselves, too."


The intimate, light-filled store, which opened in Kingston's Rondout district in June 2019, is stocked with an eclectic selection of products, all grounded in systems of care. There is an extensive selection of bulk herbs, tinctures, and potions, a wall of zines on topics from astrology to cultural appropriation, tarot decks and oracle cards, CBD products, candles, jewelry, and more.
Photography by Daniel Ocean Joseph
Lydia Willoughby
Willoughby is committed to supporting under-represented communities, especially QTBIPOC, both in the products she brings into the space and the message she sends about who they're for. "It's important for me that people who live in the neighborhood are able to shop here, too," she says.
To help bring diverse communities together, she draws on her background in university and public libraries, where she honed her ability to "make magic with no money." As part of this effort, many of the shop's items are priced under $20, like the rotating selection of zines that she sources from local distributors or direct from producers like The Kingston Matter Digest and Women's Studio Workshop in Rosendale.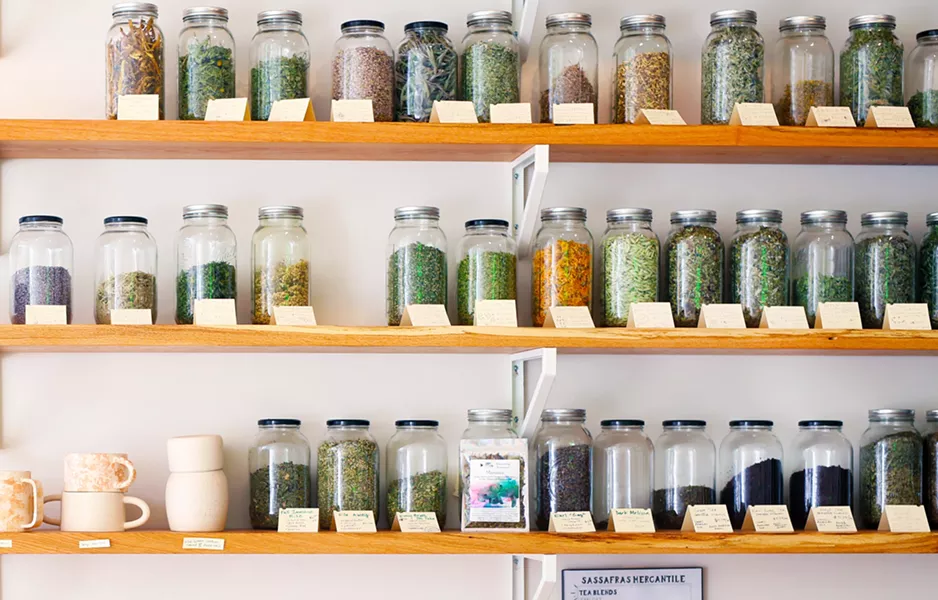 Photography by Daniel Ocean Joseph
She also has an emphasis on bulk herbs and teas for healing—a reflection of her lifelong interest in nature. She works closely with select herb farms like Deer Creek Collective Herb Farm in Accord and a few others who focus on sustainable or permaculture practices. She blends many of the teas herself, including a decolonized take on earl grey called "Earl Gay," which features West Texas-grown yaupon, the only caffeinated plant indigenous to North America.
During the pandemic, Willoughby and her shopkeep and production assistant Jamie Sanin also started shipping out monthly subscription wellness care packages that include a seasonal combination of custom blended tea, herb, and a house-made potion like a tincture, vinegar- and honey-based oxymel, or herb or floral essence. Like so much else in the shop, the subscriptions offer Willoughby another opportunity to help customers navigate the intersection of wellness subcultures to discover what works best for their individual needs.