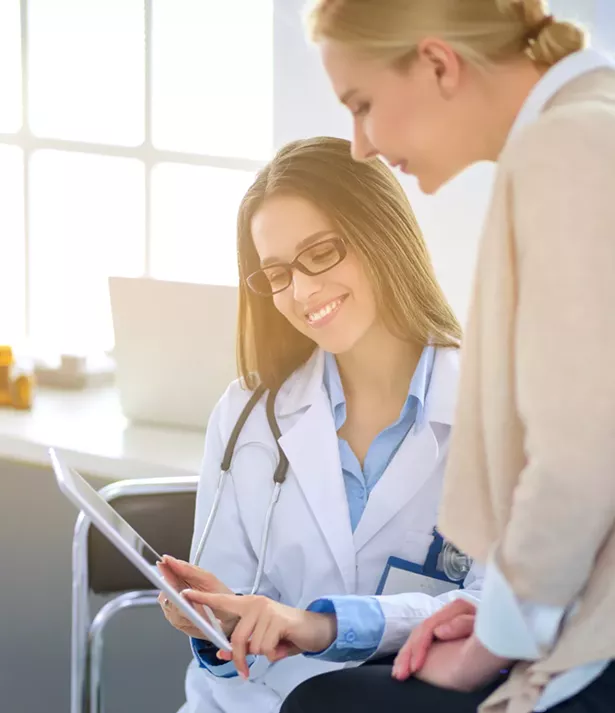 Image courtesy Columbia Memorial Health
If you're a woman, you're likely familiar with the lifelong struggle of bouncing around from doctor to doctor. The search for a provider who can help guide you to a birth control that works is often not the same person you'll see if you get pregnant. And while you might find a provider that finally works for you, they may not specialize in adolescent women's health for your daughter.
For Columbia Memorial Health (CMH), the last several years have been devoted to bridging the gap in women's health services for Columbia and Greene Counties. "We serve women throughout their lifecycle," says Cynthia Friedman, a Certified Nurse Midwife at CMH's Women's Health Centers in Hudson and Catskill.
Friedman is part of an intimate team of three providers—including Certified Midwife Jennifer Fegan-Szalay and Dr. Jonas Wilson-Leedy—that oversees all OB-GYN care for CMH. From teens just starting their well-woman exams to women navigating their post-menopausal years, CMH's GYN services provide comprehensive preventative care, diagnostic tests, and treatment for everything from routine pap smears to minimally invasive hysterectomies.
For women who are pregnant, the team provides all prenatal OB care for their maternity patients preparing for childbirth. Importantly, that includes the seamless option to deliver at Albany Med's state-of-the-art Birth Center—a benefit of the affiliation between CMH and Albany Med that began in 2015.
As part of this unique continuum of care, maternity patients who choose to deliver at Albany Med have the opportunity to meet the provider who may deliver their baby to go over their birth plan in detail. The partnership also affords maternity patients at CMH resources at Albany Med's Maternal Fetal Medicine division, where specialists can consult with CMH providers on difficult cases. And after delivery, new moms come back to their provider at CMH for postnatal care with someone who has already spent over nine months getting to know them.
"I find that I have a following of people," Friedman says. "I've taken care of them for their GYN care, their pregnancies, and after they deliver, for their GYN care again. Because we're a small team, we really get the chance to get to know our patients. They're not numbers to us. They're names and faces."