Page 7 of 7
Another day, I left a meeting to go get some water. In Kurdistan, men don't allow women to do much on their own—a polite tradition masking a deep-rooted subjugation of women. NI's superfriendly driver, Shorsh, who speaks no English, followed me to the grocery store. As we mounted the steps together, he gestured insistently that he would purchase the water. I gently tugged on his shirt in an attempt to hold him back. As Shorsh ordered the water bottles and took out his wallet to pay, I thought, I am going to kill you. At the very same
moment—literally—he pointed to a toy handgun on the counter and said slowly, in pure, clear English, "I am going to kill you." When I told him I was thinking the same of him, we both laughed—tears streaming down my face.
And that is about the closest to danger I have come while here.
But I am in Kurdistan. In Iraq—a country that has been watched, dissected, critiqued, used and abused by the media, terrorists, insurgents, and agendists left, right, and center—this place called Kurdistan has been virtually ignored. The opinions of its people have not been aired. The good going on here does not exist for those who do not want anyone to know that among the rubble, horror, and death that exists in other parts of Iraq—yes, it exists, I know that for a fact—the din of construction, the pains of growth, and the sounds of laughter also exist.
Lorna Tychostup
Against the backdrop of the Zagros Mountains in Kurdistan, boys attending a nearby wedding sneak off for an afternoon swim.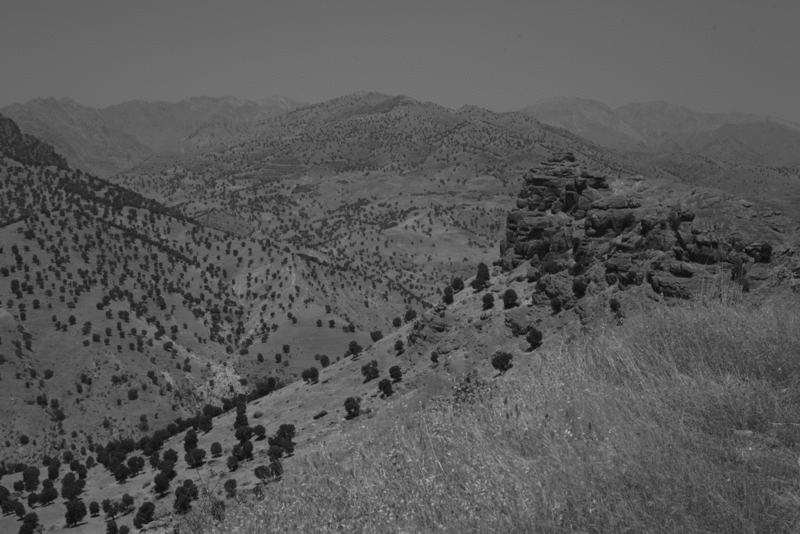 Lorna Tychostup
The hills of Mawat, north of Sulaimaniyeh, near the Iranian border. the area is littered with mines laid during the war with Iran.