Page 2 of 2
Saugerties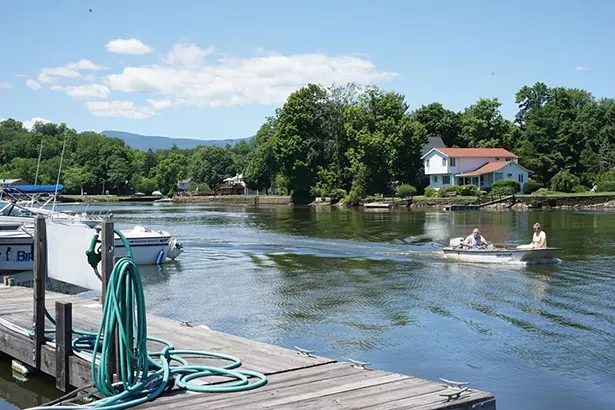 John Garay
Saugerties Marina
My French friend Margaux says of Saugerties: "It is like a little French beach town." If you're still enjoying the European analogies, you could say that if Woodstock is Tuscany, Saugerties is Umbria, the equally beautiful and yet underappreciated cousin of the celebrated family star. Walking down Partition street late this afternoon, the first place I stumbled upon was the newly opened
Hudson Trade Company
, the creation of Jen O'Brien, a Saugerties antiques veteran pursuing a passion for collecting and refurbishing in the wake of a serious car accident. She has wonderful taste and humors me as I fawn over her serious collection of antique ribbon made from French fabric. O'Brien shows me a vintage Miu Miu blouse she's adding to her rack hidden in the corner of the second floor of this vast trove she's chosen to cultivate, a former antiques shop that she and her staff have spent four months renovating.
John Garay
Outside Deli Cioso in Saugerties.
Jen Dragon laughs when she hears my Umbria comparison. The owner of Cross Contemporary Art speaks Italian and has lived there, but now tells me about upcoming shows at her spacious gallery on Partition Street, which include poetry readings, and chats with me about the numerous sculptors who have chosen to live in Saugerties or who show their work here, such as Millicent Young who shows her horsehair pieces in the windows of Newberry Antiques Co-op as part of a program called Windows on Newberry presently.

Laura Huron at Bosco's Mercantile lovingly takes me through her collection of luscious linens and cottons sheets and bedding by designers. A true connoisseur, she worked with Calvin Klein in the city before choosing fortunate Saugerties for her collectors. "Something about the community, the village and the town just spoke to me," Huron says.


John Garay
Cole and Carson on the Saugerties Lighthouse walking trail.
At Fiber Flame craft studio on Route 212, you can walk in a create a project—but if you're a writer like me who mostly works in fine-tipped black gel pens, you can also pick from a charming selection of pre-made crafts. I was captivated by a set of bells strung together with scraps of different sari fabrics. Design insider spot Green on Partition Street is frequented by Parsons administrators and students and provides Saugerties with a well-curated glimpse of mid-century modern.
There's plenty to recommend in Saugerties' dining scene, beginning with the Pig or the recently renovated Dutch Ale House; and the ongoing debate between Mirabella's and Slices about the best pizza. The Tavern at Diamond Mills is a gorgeous spot for summer al fresco eats overlooking the falls; Black Eyed Suzie's has upscale takeaway (try the cornmeal crusted chicken); Love Bites Cafe serves unfussy, locally sourced fare and cocktails; Miss Lucy's is great for just a classy glass, or scallops, or dessert in a Mason jar and a beautiful collection of vintage aprons.


John Garay
Saugerties Lighthouse
Julian Hom, a photographer and ice cream artist, moved up from the city and started a business after his father gave him an ice cream maker for his birthday five years ago. "What did you think?" he asks me, about the city and about the ice cream. He's young and stylish in wire-rims and a print shirt and creates custom ice cream flavors at Alleyway Ice Cream behind a framing gallery beside what was once a laborer's union and which is now a vast and fashionable Airbnb. My favorites were roasted strawberry and orange blossom with pecan shortbread.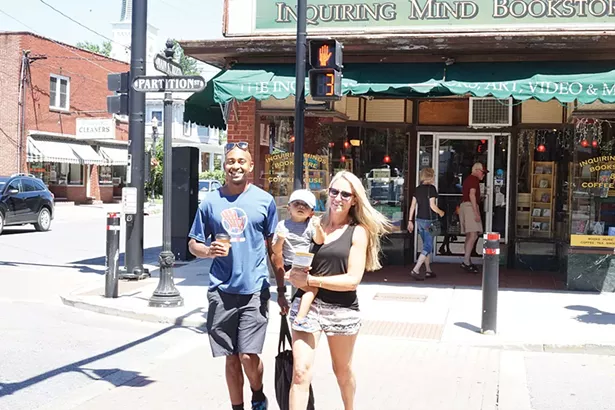 John Garay
Yusef, Cameron, and Carly, crossing Partition Street in Saugerties
While writing a piece such as this, it's easy to think of more places and more people you'd like to include. This is a timeless, lovely place full of surprises and delights. I didn't think I'd stay here so many years ago and now it's difficult to imagine living in many other places. It was mostly biking between Saugerties and Woodstock that I came to this conclusion.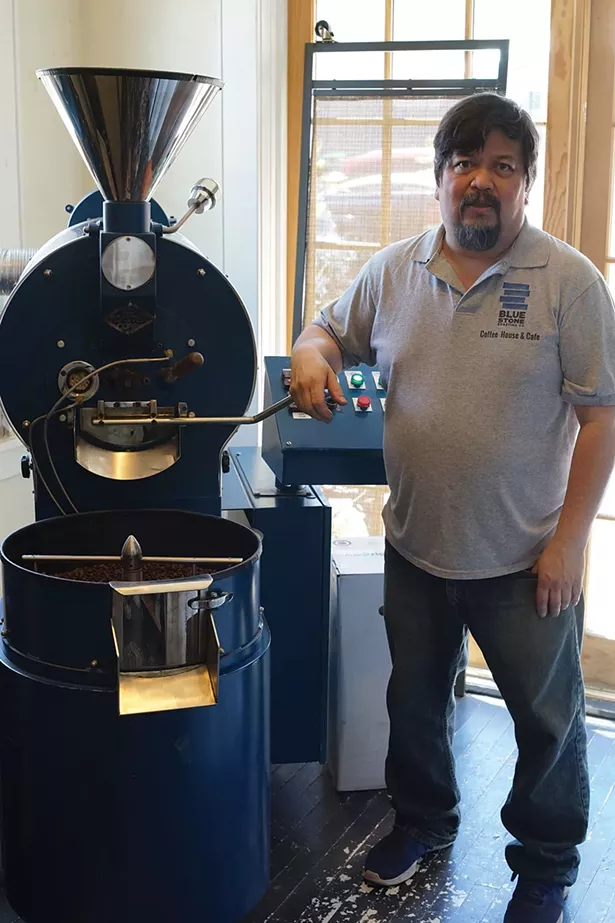 John Garay
Michael Hom at Blue Stone Roasting Co. in Saugerties.