John Garay
Kathryn Spata and Nathalie Tsai-Probst at Nancy's Ice Cream in Woodstock
Though head shops still abound, sleepy Woodstock has become a cosmopolitan destination, while nearby Saugerties blooms as a quaint, waterfront culture center.

Woodstock


John Garay
The Woodstock Blues checkout counter.
Driving or biking into town past
Karma Triyana Dharmachakra
, the Tibetan Monastery on Overlook Mountain, you'll pass
Family of Woodstock
's handpainted rainbow sign and perhaps marvel at the humble auspices of what is now the largest social services non-profit in Ulster County, founded in 1970 when a woman came to a town meeting on the topic of the hippies sleeping in the cemetery and said, "Give them my number."
Now the population sleeping around the Woodstock Artists Cemetery has expanded to include weekenders from New York City in beautiful Airbnb locations. Sleepy Woodstock has become a cosmopolitan destination and no longer drifts off into house parties and Rip Van Winkles around ten. You can get a grilled cheese and play a game of pool at The Station Bar & Curio until two in the morning. You can amble down Tinker Street as though you were in Venice, reading menus and trying to decide which excellent and stylish restaurant to patronize. Reynolds & Reynolds Taproom has music tonight, A&P Bar has that berry shortcake, and Joshua's makes you feel as though you are in a treehouse overlooking the town. The former sous chef for Wolfgang Puck is at Harvest at The Lodge and people are raving.


John Garay
Rachel Stein and Ananda DiMartino on Tinker Street in Woodstock
Lex and Neil Howard have renovated the historic building next to Family, now known as the Colony, where you can see people like Happy Traum, Tracy Bonham, and visiting musical dignitaries perform. Debra Granik, director of A Winter's Bone and meditation on Hudson Valley rehab culture Down to the Bone recently gave a talk after a recent Saturday night showing of her new film, Leave No Trace. You can get classic and jazz music at Maverick Concerts, tour the artist studios at the Byrdcliffe Guild, or check out bluegrass nights at Catskill Mountain Pizza and Celtic nights at the new Provisions Pub. There's the Secret City and the Luthiers Showcase, rock shows at the Bearsville Theater and Levon Helm's barn, and Shiv Mirabato's Shivastan poetry ashram.
Woodstock is a town with a psychic and a few head shops, so if you decide to go that route, you will have company. In a sign of the changes in the town, though, you'll see that the large structure that was once the head shop, Not Fade Away, has moved next door and now houses quite a good restaurant, Sylvia, where you can eat oysters in leather banquets. Mountain Gate is down the street from Not Fade Away and is worth a visit if you are interested in curried chicken cream soup or mulligatawny and the quiet that used to permeate the town but now grows harder to find.
John Garay
Station Bar & Curio in Woodstock.
Ten years ago, I was spending disproportionate amounts of time reading and collecting vintage clothing in Brooklyn and had gradually woken up to the fact that the city was now faster than a beating heart, as that poet said, and that it was time to move on. Moving up here, I was overjoyed to find a chiffon Sretsis gang dress at the Mower Flea Market (Saturdays and Sundays, plus Wednesday in July and August). The Sweetheart Gallery has a new showroom with windows from which you can covet blown glass lamps with embroidered shades, further expanding Woodstock's glass galleries.


John Garay
Hannah, Marianne, and Emile at Pegasus in Woodstock.
"Pageant of Inconceivables" is currently showing local and New York small scale sculptors at Kleinert/James Gallery and Japanese designer Asa Warshafsky shows his bags among other designers at D-Day, a bright gallery where I wandered through "Shaking the Dreamland Tree," curated by Jichee Schnee, featuring Will Lytle and other local artists.

The newest addition to the Woodstock gallery scene is the Burnette Gallery at 31 Mill Hill Road. The vision of singer/songwriter Tai Burnette, the gallery focuses on emerging artists. "Bite Me," a group show curated by Lily Primamore and Nicole Pollina is on display through October 31.


John Garay
Salon Assistant Carly Lenhardt at Glo Spa in Woodstock
Ryan Giuliani and Jesse Halliburton have taken Woodstockers' concerns that guests at Woodstock Way might become over enthusiastic during their stay on the Tannery Brook to heart. They've soundproofed the walls and ceilings of their new hotel so that neighbors will not be disturbed by visitors. (Time will tell how well this relationship evolves.) Guests can look at the stars through the tree branches while listening to local musicians' curated record collections on their rooms' individual turntables or lounging in a copper bathtub. Giuliani and Halliburton have created Woodstock Way using locally sourced woods, reprocessed pine, redwood, black locust, repossessed fixtures and local craftsmanship, as well as bikes from Overlook Bicycles to rent.
Saugerties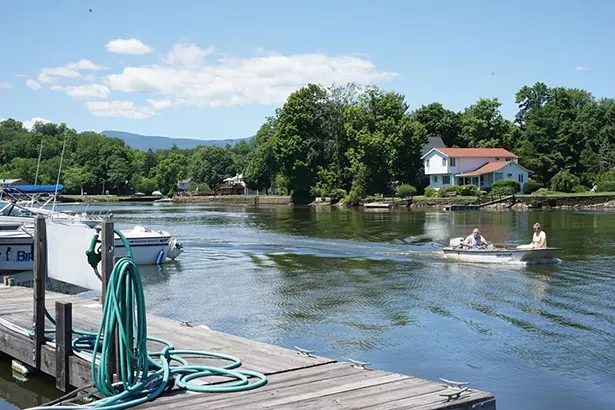 John Garay
Saugerties Marina
My French friend Margaux says of Saugerties: "It is like a little French beach town." If you're still enjoying the European analogies, you could say that if Woodstock is Tuscany, Saugerties is Umbria, the equally beautiful and yet underappreciated cousin of the celebrated family star. Walking down Partition street late this afternoon, the first place I stumbled upon was the newly opened
Hudson Trade Company
, the creation of Jen O'Brien, a Saugerties antiques veteran pursuing a passion for collecting and refurbishing in the wake of a serious car accident. She has wonderful taste and humors me as I fawn over her serious collection of antique ribbon made from French fabric. O'Brien shows me a vintage Miu Miu blouse she's adding to her rack hidden in the corner of the second floor of this vast trove she's chosen to cultivate, a former antiques shop that she and her staff have spent four months renovating.
John Garay
Outside Deli Cioso in Saugerties.
Jen Dragon laughs when she hears my Umbria comparison. The owner of Cross Contemporary Art speaks Italian and has lived there, but now tells me about upcoming shows at her spacious gallery on Partition Street, which include poetry readings, and chats with me about the numerous sculptors who have chosen to live in Saugerties or who show their work here, such as Millicent Young who shows her horsehair pieces in the windows of Newberry Antiques Co-op as part of a program called Windows on Newberry presently.

Laura Huron at Bosco's Mercantile lovingly takes me through her collection of luscious linens and cottons sheets and bedding by designers. A true connoisseur, she worked with Calvin Klein in the city before choosing fortunate Saugerties for her collectors. "Something about the community, the village and the town just spoke to me," Huron says.


John Garay
Cole and Carson on the Saugerties Lighthouse walking trail.
At Fiber Flame craft studio on Route 212, you can walk in a create a project—but if you're a writer like me who mostly works in fine-tipped black gel pens, you can also pick from a charming selection of pre-made crafts. I was captivated by a set of bells strung together with scraps of different sari fabrics. Design insider spot Green on Partition Street is frequented by Parsons administrators and students and provides Saugerties with a well-curated glimpse of mid-century modern.
There's plenty to recommend in Saugerties' dining scene, beginning with the Pig or the recently renovated Dutch Ale House; and the ongoing debate between Mirabella's and Slices about the best pizza. The Tavern at Diamond Mills is a gorgeous spot for summer al fresco eats overlooking the falls; Black Eyed Suzie's has upscale takeaway (try the cornmeal crusted chicken); Love Bites Cafe serves unfussy, locally sourced fare and cocktails; Miss Lucy's is great for just a classy glass, or scallops, or dessert in a Mason jar and a beautiful collection of vintage aprons.


John Garay
Saugerties Lighthouse
Julian Hom, a photographer and ice cream artist, moved up from the city and started a business after his father gave him an ice cream maker for his birthday five years ago. "What did you think?" he asks me, about the city and about the ice cream. He's young and stylish in wire-rims and a print shirt and creates custom ice cream flavors at Alleyway Ice Cream behind a framing gallery beside what was once a laborer's union and which is now a vast and fashionable Airbnb. My favorites were roasted strawberry and orange blossom with pecan shortbread.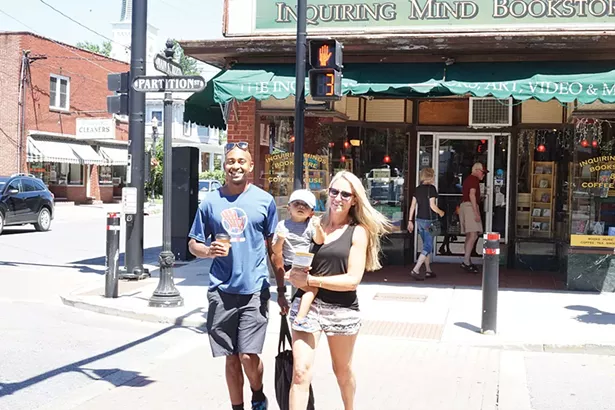 John Garay
Yusef, Cameron, and Carly, crossing Partition Street in Saugerties
While writing a piece such as this, it's easy to think of more places and more people you'd like to include. This is a timeless, lovely place full of surprises and delights. I didn't think I'd stay here so many years ago and now it's difficult to imagine living in many other places. It was mostly biking between Saugerties and Woodstock that I came to this conclusion.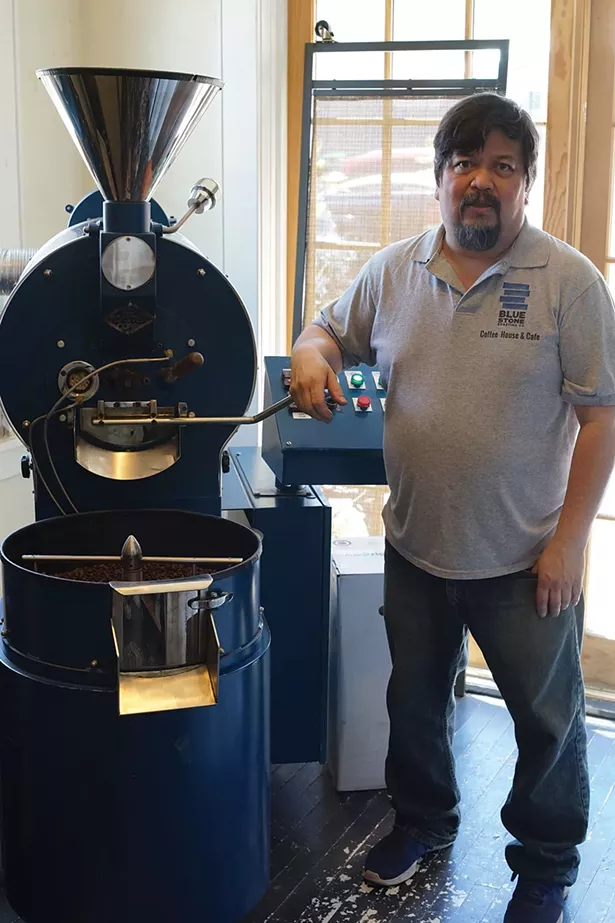 John Garay
Michael Hom at Blue Stone Roasting Co. in Saugerties.