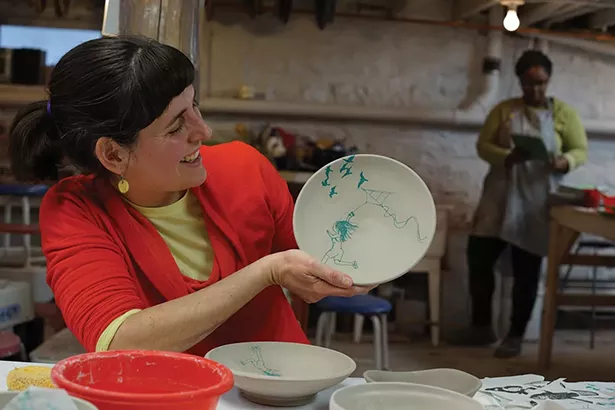 John Garay
Ruth McKinney Burket and Breana Hendricks at Women's Studio Workshop in Rosendale
Upstate New York boasts a wide range of things to do, and these three towns are no exception. Rosendale, High Falls, and Stone Ridge are artsy hamlets to visit for shopping, food, entertainment, and relaxation.

Rosendale
Past the northern end of the Shawangunk Mountains, Route 213 cuts off west along the Rondout Creek and becomes Rosendale's Main Street. The magic kicks in immediately: you're passing a splendid library housed in a former chapel, celebrating the 60th anniversary of its love affair with the community this year. At the other end of the hamlet, you'll find the historic Rosendale Trestle, the crown jewel of the 22-mile-long Wallkill Valley Rail Trail running from Kingston to Wallkill. The 940-foot-long span soars 150 feet above the creek, offering postcard-gorgeous views.
John Garay
The Delaware and Hudson canal
In between lies a walkable, sweet stretch packed with food, entertainment, and shopping. Seekers after nifty decor will be over the moon amid the (mostly) 20th-century pieces, from major furniture to curios, to be found at the newly opened Stuff. And don't miss Soiled Doves, the vintage/antique treasure trove curated by a quirky former designer. Postmark Books is a bookstore/florist's shop, succor for the eyes, nose, and mind in one bright and airy package.
John Garay
Monik M. Geisel at Stuff in Rosendale, with Zombie Sun Bathers, a painting by Headley Harper
Stop for a coffee or kombucha at the People's Cauldron, an herbal apothecary and vibrant community gathering spot. And you don't want to skip The Big Cheese, dedicated to the divinity of cheese. Not a believer? They'll happily convert you. Nor do you want to miss The Alternative Baker, where everything is handmade and classic sweet stuff awaits beside organic, vegan, gluten-free and sugar-free selections.
When the sun goes down, Rosendale lights up. The landmark Rosendale Cafe has been offering eclectic live performances and delicious vegetarian eats for over two decades. People plan visits around who's playing there. The Rosendale Theatre, family-owned for decades and now operated by a community collective, specializes in quirky indie films and live performances.
John Garay
Essell Hoenshell-Watson and Barbara Scott at The Alternative Baker in Rosendale
Across the street, The 1850 House Inn and Tavern combines luxe boutique lodging with a hearty neighborhood pub. (During warmer the weather, guests can sit on the expansive back deck and look out on the creek.) It's a combo that might not work just anywhere, but this is Rosendale—funky, smart, and deep.
Heading west on Route 213, you'll snake along the creek through sinuous S-curves and see a sign for the Century House Historical Society. Rosendale cement put this town on the map—used to build the Brooklyn Bridge—and the society celebrates that, holding poetry festivals and Taiko drumming performances in its Widow Jane Mine. Up the hill in Binnewater, the Women's Studio Workshop is an arts education landmark with a global reach and over four decades of history.

John Garay
The Bell Tower, an event venue in a renovated church, in Rosendale
John Garay
Teresa Lepore at Postmark Books in Rosendale
High Falls
Continue west on 213 and you'll find yourself in High Falls, a wee hamlet with a fierce community spirit and gobs of history. The D&H Canal was a formative influence; you can time-travel back to the brawlin' canawlin' era along the D&H Canal Historical Society's Five Locks Walk and in their museum, opening for the season in May. Other key pieces of the High Falls history mosaic: artist Marc Chagall, visionary Father Divine, Natalie Wood, and the television writer who crafted Rudolph the "Red-Nosed Reindeer" and "Frosty the Snowman."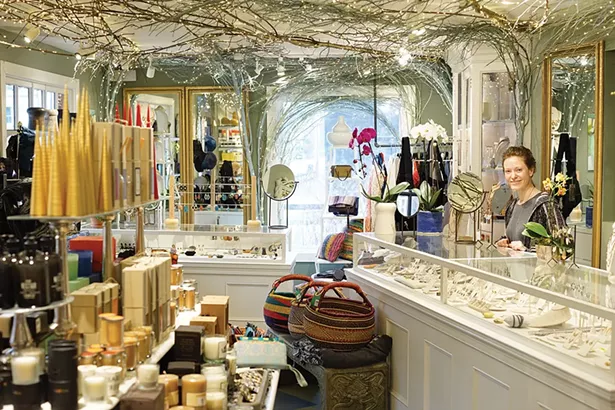 John Garay
Galen Green at the Green Cottage in High Falls
Present-day High Falls is a great place to be hungry. Great restaurants here go on and on and just keep getting better. George and Brigitte Nagle tried to retire from the Northern Spy a couple of years ago but their neighbors simply weren't having it, so the icon was reborn as The Spy Social Eatery and Bar to resounding sighs of relief.
Cries of joy arose when Richard G. Murphy, the joyful eccentric who began the Egg's Nest in 1973, found Cristina and Eric Silver to carry on his legacy. The couple took over from Murphy last summer. "We treated this like an art restoration or museum curation," says Cristina." It's like a quilt; we like to imagine we're adding to the fabric that he started. It's really great when people can't tell what was here, where the old and new end and begin. Ultimately it's about creating a feeling, an atmosphere that is playful, creative and fun. We want people to feel like they are able to escape, if just for a brief moment in time, into another world leaving their worries aside. And the icing on the cake is that we have great food. Flavors and creative expression on the plate never play second fiddle."
John Garay
Christina and Eric Silver at The Egg's Nest in High Falls
She's not kidding. You don't keep a destination restaurant running in this neighborhood with so-so food; you do it with fresh local ingredients, genius-level chefs and fine beverage. Try Kitchenette to see how this plays out over brunch; their hallmark is "classy comfort food." And while in High Falls, do check out the Green Cottage, a renowned florist's shop with handmade jewelry and nifty gifts.
Stone Ridge
Head west from High Falls and you're in yet another hamlet of distinction, Stone Ridge. The geographic center of Ulster County, it's the home of SUNY Ulster, which draws folks smart enough to find a great bargain on topflight education. Stone Ridge has a beautiful historic district and MaMa (Marbletown Multi-Arts) a place to relish world music or get your yoga on.
John Garay
SUNY Ulster Senators baseball team members in Stone Ridge
Here too, you'll find great food and plenty of it: sushi and hibachi at Momiji, fresh creative American at Butterfield, free-range organic meats out of 24/7 vending machines at Applestone Meat Company. "You'd think this is the sticks, but it's not. It's top end up here," says Page Moll, proprietor of Hash Food NY, where he and partner Shala offer goat cheese omelets, Moroccan lamb burgers, free-range bone broth, and much more. "There a lot of foodies here, and phenomenal ingredients to work with," says Moll. "We have so much fun creating things. "
Indeed, "we have so much fun creating things" might serve as an apt motto for this trio of lovely hamlets, girding the middle of Ulster County like the stars of Orion's belt. From here, you're a stone's throw (or a bike ride) from the Gunks and the bigger towns, yet enveloped in a lively, soulful, social cocoon of multifaceted excellence.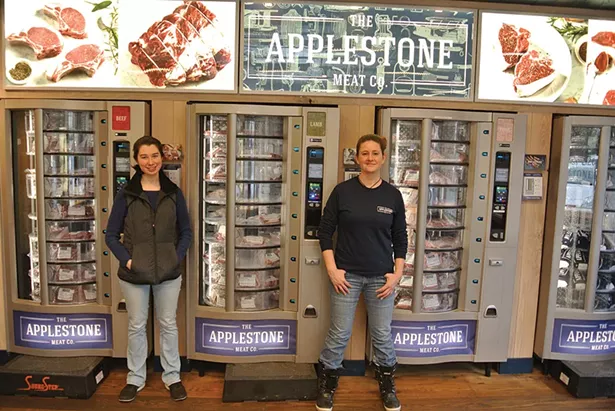 John Garay
Corinne McDonald and Meghan Spoth of The Applestone Meat Co. in Stone Ridge
Find more
things to do in upstate New York.