Page 2 of 4
On the retail front, North Front Street's parade of boutique newcomers has deemed it practically unrecognizable from just a year ago. Try Kingston Consignments for its ground-floor consignment shop and some 30 antique vendors upstairs; Rebecca Peacock for original jewelry pieces by the shop's namesake designer, along with handcrafted items from area makers; Lovefield Vintage for curated vintage clothing; or Anderst for designer duds by owner/designer Sylvia Grieser. Bluecashew Kitchen Homestead offers quality kitchenware and a demo kitchen for local chef-led cooking classes. An annual outdoor makers' marketplace on North Front Street will showcase many of the new shops: The inaugural Uptown Autumn Street Fair is scheduled for October 13.
Elsewhere in the Stockade District, seek out antique furniture store Stuff, a recent import from Rosendale, or stylish men's boutique/gift shop Hamilton & Adams, which—along with Exit Nineteen and the Kingston Uptown Business Association (KUBA)—are behind the Stockade Nights, a Friday-evening shopping initiative that launched in September, with nearly 20 participating businesses featuring special offers and extended hours in what's anticipated to be a near-monthly event.
Other events to watch for include the Uptown-anchored, three-day arts-and-music extravaganza O+ Festival, which will be enhanced with more family-friendly programming and comedy for its ninth edition in 2018 (October 5-7); look out for seven new-for-2018, large-scale, festival-sponsored murals on buildings throughout the city, too. During Pride Month in June, O+ collaborated with the Hudson Valley LGBTQ Center and Radio Kingston to paint four rainbow crosswalks at the intersection of Wall and John streets.
Eleni Loizou, president of KUBA and proprietor of the Dietz Stadium Diner says of the developments, "It's just very good energy for everybody, people are excited, they can't wait to see all of the new things that are coming. Uptown is booming."
Midtown
John Garay
Morgan Coy and Cory Plump at Tubby's, a new bar and music venue in Midtown.
Of course, not everybody is quite so enthusiastic. With the influx of investment, there's been a surge in the price of local real estate, raising community concerns about gentrification. An increasing shortage of affordable Kingston rents for retail space and apartments is emerging as one of the city's major challenges.

While businesses are blossoming throughout Uptown, many of the fresh ventures are a result of longtime commercial tenants being pushed out in the face of rent hikes from new building owners. For instance, Saker Guitar Works, which had occupied its storefront on North Front Street for 10 years, recently relocated to Midtown's Barcone's Music after facing a 60-percent rent hike. Discussing such mom-and-pops, Kevin O'Connor, CEO of Kingston-based, affordable housing developer RUPCO explains, "They end up needing to close and to relocate to more affordable space." In turn, for the new shopkeepers, higher rents demand bigger profit margins, with a newer breed of pricier boutiques and eateries perhaps out of line with the economic realities of many Kingstonians.

John Garay
Jimmy Buff, executive director of Radio Kingston, and Manny, host of "La Dosis Perfecta."
For residential rentals, the story is even bleaker. According to data analyzed by RUPCO, Kingston demands one of the top rent-to-earnings ratios in New York State. Alex Panagiotopoulos, cofounder of
Kingston Creative
and moderator of the
Gentrification & Community Development Issues in Kingston NY
Facebook group page, cited more than 130 evictions in Kingston thus far in 2018, mostly unfolding in the Midtown area. It's a neighborhood known for its vacant and underutilized industrial spaces, where more affordable rentals have increasingly lured artists and entrepreneurs over the last decade. However, lower home ownership rates and lower median incomes here have made residents more vulnerable to displacement. "There is no long-term success in Kingston if decent housing is unaffordable for working class people," Panagiotopoulos cautions, adding, "Cities are supposed to have a cross-range of class, age, ethnicity, sexuality, and experiences; they're not supposed to be playgrounds for rich people or parking lots for their cars."
A counterbalance for affordable housing in Kingston in the face of rising rents has been offered by RUPCO, which most recently backed the Lace Mill adaptive reuse project in Midtown, converting an abandoned, century-old lace factory into 55 units of artists' housing in 2015.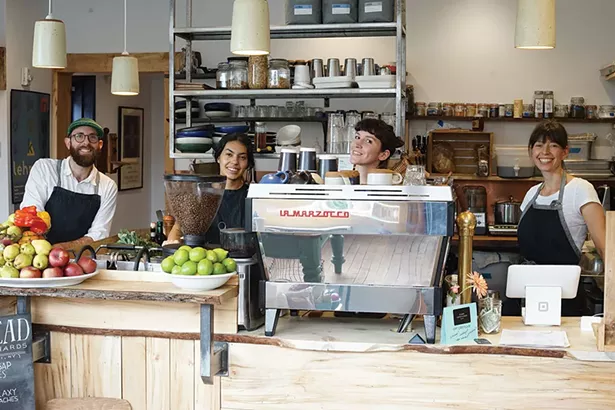 John Garay
Mark Palmer, Nicole Rojas, Molly Hamilton, and Anth Palmer at Village Coffee and Goods.
Upcoming RUPCO projects include the solar-powered, six-story Energy Square facility on the site of Midtown's demolished old bowling alley, due to debut in late 2019 with 57 mixed-income units of housing, a new space for the Center for Creative Education, and a public park. Their other planned housing development, Landmark Place, set within the historic Alms House, was slated to provide 66 apartments for seniors, veterans, the disabled, and formerly homeless, but approval plans were rejected in a surprise vote by the City of Kingston Planning Board in August. While the site's future is now up in the air, Guy Kempe, RUPCO's vice-president of community development, notes that, "We're committed absolutely to preserving that property and putting it to good use for the city of Kingston."