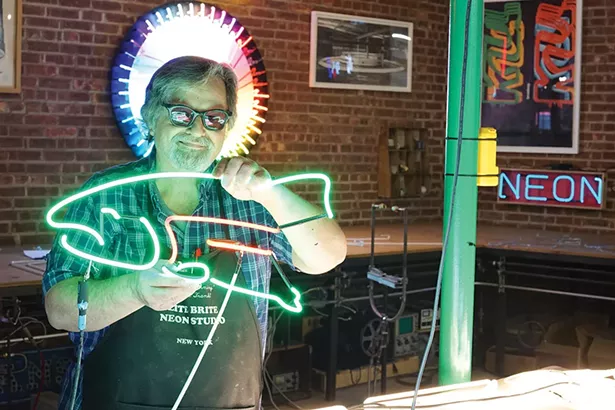 John Garay
Frank Kmiec at Lite Brite Neon, one of the premier neon studios in the country.
Millions of dollars are being funneled into the riverfront city of Kingston, as the incoming tide of new residents, business owners, and investors continues to surge.

Kingston is a city on the rise. While its prestige and pocketbook may have faltered in a familiar boom-and-bust cycle over the last four centuries, a synergy of old-meets-new is presently manifesting distinct visions of revival across the city's three communities: Uptown, Midtown, and The Rondout. There's the steadfast tenacity of Kingstonians of yore, invigorated by the fresh enthusiasm of newcomers; transporting historic districts met by gleaming new developments; legacy businesses standing beside innovative entrepreneurial ventures. For better or worse, tens of millions of dollars are being funneled into Kingston presently, in the form of government grants and private investments. The people, the money, the moment—it's here. The time for Kingston is now.
Uptown
John Garay
Rachel McCrystal, Lizz DeFeo, and Alexandra Shea of Woodstock Farm Sanctuary, at Rough Draft Bar & Books.
Uptown Kingston, with its historic Stockade District that still hints of Dutch colonial days, isn't gathering any moss. Instead, it's leading the charge in Kingston's modern-day makeover.
Most buzzworthy, it's the beneficiary of a $10 million 2017 Downtown Revitalization Initiative (DRI) state grant, meant to stimulate economic growth and improve quality of life. While the DRI money is earmarked for Uptown, Kingston Mayor Steve Noble is quick to point out that "each of the projects that were selected will benefit the city as a whole."
The most notable initiative is The Kingstonian, a $48-million mixed-use development, which will get $3.8 million in grants and bring 132 apartments, 34 hotel rooms, commercial space for restaurants and retail, and a 420-space parking garage to the intersection of North Front and Fair streets. Other priority DRI plans include $2.5 million toward updates to Dietz Stadium—the most requested project during the public engagement process, according to Noble—as well as the Andretta Pool; some $1.3 million toward improving traffic, pedestrian access, and signage; nearly $1 million in improvements to Schwenk Drive (gateway to Kingston Plaza); and nearly half a million toward restoring the ruins of the historic stone Louw-Bogardus House and creating an adjacent public park. While the timeline for the individual components is still being developed, Noble anticipated that all DRI projects would be completed within approximately two years.
John Garay
Margaret Verghese at South Manor
Most prominently on the private investment front, meanwhile, are two big New York City-based developers—each known for their role in transforming Manhattan's Meatpacking District—who are snatching up Uptown real estate with big visions for the city's untapped potential.
Neil Bender has his hands in two big Uptown pots: Over the last year, he's acquired the old Woolworth building at 311 Wall Street, as well as the Kingston school district's administrative headquarters, the Cioni Building, on Crown Street. Bid documents indicate that the Cioni Building is destined to become a boutique hotel and spa, with support amenities, including a pool and gym, provided at the nearby 317 Wall Street building, another of Bender's acquisitions. The fate of the long-vacant Woolworth building remains unclear: Plans predating the building's sale called for the Kingston Food Exchange, a proposed food hall and natural food market, which have since been put on hold indefinitely.
The other big player is Charles Blaichman, who's owned a home in nearby Woodstock since the '90s, and is all in on Kingston. "He's been coming to Kingston for years, saying 'Someday, someday,'" says his Kingston-based property manager Nan Potter, of Potter Realty, adding, "And, finally, the timing was right."

Blaichman has purchased four historic Stockade District buildings that will function as a four-part, high-end boutique hotel totaling 43 rooms, which are slated to open up on a staggered basis between late 2018 and the end of 2019. The first of the four buildings—which will be the cornerstone and hub of the hotel concept, with its lobby, ground-floor restaurant/bar, and 10 independently designed rooms—will be set in the old corner bank building at 301 Wall Street. Satellite locations will follow. Blaichman has picked up at least seven additional properties throughout the city, including 10 Crown Street, the historic stone Cornelius Tappen House that's now home to the city's latest cocktail lounge, Crown.
Bi-level Crown, from the team behind Uptown home goods shop Exit Nineteen, debuted in July with three indoor and two outdoor spaces; it's just one of several dining-and-imbibing hot spots to join the Uptown party over the course of the last year. Up the block, Rough Draft Bar & Books has likewise filled in a historic Colonial building with a well-received cafe/bar/bookshop hybrid that's become a centerpiece for community gathering, bolstered by events like authors' talks, live music, and trivia. On Wall Street, fine dining farm-to-table eatery Wilde Beest, helmed by Chef Chris Turgeon, opened in June to rave reviews, elevating the Kingston dining scene to unprecedented levels. Nearby, Palizzata, from father-son team Eric and Joseph Cafaro, debuted in July to deliver authentic Northern Italian cuisine.
On the retail front, North Front Street's parade of boutique newcomers has deemed it practically unrecognizable from just a year ago. Try Kingston Consignments for its ground-floor consignment shop and some 30 antique vendors upstairs; Rebecca Peacock for original jewelry pieces by the shop's namesake designer, along with handcrafted items from area makers; Lovefield Vintage for curated vintage clothing; or Anderst for designer duds by owner/designer Sylvia Grieser. Bluecashew Kitchen Homestead offers quality kitchenware and a demo kitchen for local chef-led cooking classes. An annual outdoor makers' marketplace on North Front Street will showcase many of the new shops: The inaugural Uptown Autumn Street Fair is scheduled for October 13.
Elsewhere in the Stockade District, seek out antique furniture store Stuff, a recent import from Rosendale, or stylish men's boutique/gift shop Hamilton & Adams, which—along with Exit Nineteen and the Kingston Uptown Business Association (KUBA)—are behind the Stockade Nights, a Friday-evening shopping initiative that launched in September, with nearly 20 participating businesses featuring special offers and extended hours in what's anticipated to be a near-monthly event.
Other events to watch for include the Uptown-anchored, three-day arts-and-music extravaganza O+ Festival, which will be enhanced with more family-friendly programming and comedy for its ninth edition in 2018 (October 5-7); look out for seven new-for-2018, large-scale, festival-sponsored murals on buildings throughout the city, too. During Pride Month in June, O+ collaborated with the Hudson Valley LGBTQ Center and Radio Kingston to paint four rainbow crosswalks at the intersection of Wall and John streets.
Eleni Loizou, president of KUBA and proprietor of the Dietz Stadium Diner says of the developments, "It's just very good energy for everybody, people are excited, they can't wait to see all of the new things that are coming. Uptown is booming."
Midtown
John Garay
Morgan Coy and Cory Plump at Tubby's, a new bar and music venue in Midtown.
Of course, not everybody is quite so enthusiastic. With the influx of investment, there's been a surge in the price of local real estate, raising community concerns about gentrification. An increasing shortage of affordable Kingston rents for retail space and apartments is emerging as one of the city's major challenges.

While businesses are blossoming throughout Uptown, many of the fresh ventures are a result of longtime commercial tenants being pushed out in the face of rent hikes from new building owners. For instance, Saker Guitar Works, which had occupied its storefront on North Front Street for 10 years, recently relocated to Midtown's Barcone's Music after facing a 60-percent rent hike. Discussing such mom-and-pops, Kevin O'Connor, CEO of Kingston-based, affordable housing developer RUPCO explains, "They end up needing to close and to relocate to more affordable space." In turn, for the new shopkeepers, higher rents demand bigger profit margins, with a newer breed of pricier boutiques and eateries perhaps out of line with the economic realities of many Kingstonians.

John Garay
Jimmy Buff, executive director of Radio Kingston, and Manny, host of "La Dosis Perfecta."
For residential rentals, the story is even bleaker. According to data analyzed by RUPCO, Kingston demands one of the top rent-to-earnings ratios in New York State. Alex Panagiotopoulos, cofounder of
Kingston Creative
and moderator of the
Gentrification & Community Development Issues in Kingston NY
Facebook group page, cited more than 130 evictions in Kingston thus far in 2018, mostly unfolding in the Midtown area. It's a neighborhood known for its vacant and underutilized industrial spaces, where more affordable rentals have increasingly lured artists and entrepreneurs over the last decade. However, lower home ownership rates and lower median incomes here have made residents more vulnerable to displacement. "There is no long-term success in Kingston if decent housing is unaffordable for working class people," Panagiotopoulos cautions, adding, "Cities are supposed to have a cross-range of class, age, ethnicity, sexuality, and experiences; they're not supposed to be playgrounds for rich people or parking lots for their cars."
A counterbalance for affordable housing in Kingston in the face of rising rents has been offered by RUPCO, which most recently backed the Lace Mill adaptive reuse project in Midtown, converting an abandoned, century-old lace factory into 55 units of artists' housing in 2015.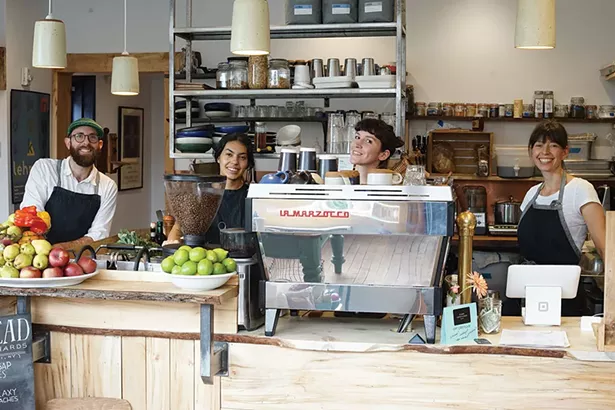 John Garay
Mark Palmer, Nicole Rojas, Molly Hamilton, and Anth Palmer at Village Coffee and Goods.
Upcoming RUPCO projects include the solar-powered, six-story Energy Square facility on the site of Midtown's demolished old bowling alley, due to debut in late 2019 with 57 mixed-income units of housing, a new space for the Center for Creative Education, and a public park. Their other planned housing development, Landmark Place, set within the historic Alms House, was slated to provide 66 apartments for seniors, veterans, the disabled, and formerly homeless, but approval plans were rejected in a surprise vote by the City of Kingston Planning Board in August. While the site's future is now up in the air, Guy Kempe, RUPCO's vice-president of community development, notes that, "We're committed absolutely to preserving that property and putting it to good use for the city of Kingston."
Like RUPCO, the city of Kingston also has a stake in addressing the affordable housing problem, pursuing its own initiatives like crafting actionable Equitable Development and Fair Housing plans, as well as recently establishing the Kingston City Land Bank. "I think if there was one community in the Hudson Valley that is really earnestly engaged in the concerns of gentrification, it's Kingston," acknowledges O'Connor.
Midtown has also evolved into a hub for notable nonprofit ventures. Formed in 2015 with a mission of "fostering resilience and regeneration in the Hudson Valley," the Good Work Institute strives to connect like-minded organizations and community members working toward positive change. By year's end, they'll move into their first official headquarters in the old Girl Scout building on St. James Street, though executive director Matt Stinchcomb says, "It's much less of a headquarters than a community hub that we'll be developing." The building will provide home to some half-dozen area nonprofits (including Rise Up Kington, one of several local beneficiaries of the North Star Fund's Hudson Valley Momentum grant program), space for public workshops and classes, and a community workspace that Stinchcomb hoped would cultivate "serendipitous interaction."
Radio Kingston, meanwhile, took over WKNY airwaves with a noncommercial platform in November, made possible by funding from the NoVo Foundation (which also supports local organizations like the Good Work Institute, YMCA of Kingston, and others, through its Supporting Thriving Local Communities initiative). Run by radio personality Jimmy Buff and aimed at cultivating community connection through storytelling, music, and conversation, the station (soon to add FM frequency 107.9 to its AM frequency, 1490) features some 40 programs hosted by local community members. They'll be moving their Broadway headquarters up the block later in 2019. Staying in Midtown was important to the station; Buff says, "As goes Midtown, so goes the rest of Kingston."
By all accounts, Midtown is on the upswing. Money is pouring in for improvements: HealthAlliance is planning a $92-million expansion of the Mary's Avenue hospital campus; the Kingston High School is in the midst of a $137-million renovation and expansion. Millions more are being allocated to modernize and improve safety on thoroughfares like Broadway (via the Broadway Streetscape Project) and Franklin Street (via the city's "complete streets" project).
And then there are the arts. Formed in 2016, the Midtown Arts District is a growing hub of more than 200 arts-based businesses and studios across 40 buildings. Newer additions include Ferrovia Studios, which debuted space for 14 artist studios; the Department of Regional Art Workers (DRAW), an arts workshop based out of the YMCA; and photographer Aaron Rezny's 76 Prince Street Studios, which has transformed the former Welch Industrial Supply Co. warehouse into a photo studio and gallery/event space that sees frequent collaborations with the Center for Photography at Woodstock.
Upcoming in the pipeline are the Kingston Pop Museum, opening in November on Broadway; later in 2019 will welcome both the 10,000-square-foot Cornell Creative Arts Center, touting 10 artist studios, a dance studio, and a community space for workshops, along with the historic Fuller Shirt Factory building, being transformed by Kingston architect and owner Scott Dutton, to include offices and studio spaces for makers and creatives.
The 1920s-era, 1,500-seat Ulster Performing Arts Center (UPAC) is fresh from a $5.4 million renovation that brought improvements to the restrooms and heating and air conditioning systems. Uptown music mecca BSP Kingston has developed a program of intimate shows at the ballroom of The Beverly Lounge.
In fact, BSP is just one of several successful Uptown-based businesses that have seen the potential of Midtown and are branching out. Since 2017, outposts of popular yoga studio The Yoga House and the Outdated Cafe (via Outdated Lite) have launched spinoffs here. Outdated Lite rents space inside the Lite Brite Neon studio on Downs Street and fronts segments of a future rail trail. Promises of the development of the Greenline trail system have lured businesses from further afield, too, like Saugerties transplant Revolution Bicycles, which opened in Midtown in April.
Other standout newcomers include Village Coffee and Goods, a coffee bar, mini market, and instant neighborhood hub. Three other imminent additions to the Midtown food/drink scene include Lis Bar, pairing cocktails with Polish-inspired small plates; Tubby's, set within the former Broadway Joe's on Broadway, where vegetarian pub grub will meet touring live music acts; and Gomen-Ramen, an authentic Japanese ramen noodle eatery from the couple behind New Paltz's Gomen-Kudasai.
The Rondout
The maritime-flavored Rondout district (sometimes called Downtown) has been increasingly capitalizing on its waterfront real estate to serve as a destination for recreation, culture, shopping, and dining.
The development of the 76-acre Hutton Brickyards complex, on an old 19th-century brickyards site, continues. Following the production of two sold-out Bob Dylan concerts there last summer, the Poughkeepsie-based Bardavon is readying to put on a summer series of outdoor concerts in 2019. Since the Dylan shows, the site, with capacity for 3,500 guests, has upgraded its facilities with doubled parking, a new bar, and some two dozen bathroom stalls. Terra Glamping, touting seasonal accommodations in 25 plushly appointed "glamping" (glamorous camping) tents debuted in June. While two attempts at seasonal, riverside food-and-craft vendor fares here (Smorgasburg, which ran for two seasons in 2016/2017 and Hutton Fare, which ran just once in 2018) have failed due to low attendance, the site will host the Field + Supply maker fare for the second time on October 5 through 7.
The brickyards project is just one component of massive waterfront revitalization efforts underway. Large-scale government-funded improvements projects are in the works, with some 190 acres of waterfront poised for redevelopment, inclusive of the mile-long, Hudson River-fronting Hudson Landing Promenade, slated for completion by late 2019.
The Greenline—a linear network of some dozen rail trails, bike lanes, promenades, parks, and "complete street" connections—marks a partnership initiative between the nonprofit Kingston Land Trust, the City of Kingston, and Ulster County. The project will serve to ultimately connect all three neighborhoods of Kingston, and is already making considerable headway Downtown, where a section of the Kingston Point Rail Trail and a small park entrance to it (the Hasbrouck-Delaware Parklet) are anticipated for completion in 2019.
There are more options for getting out on the water, too, thanks to the Riverport Sailing and Rowing School, which launched last year in partnership with the Hudson Valley Maritime Museum, Kingston Sailing Club, and the Rondout Rowing Club, with sailing programs geared toward youth and adults.
The walkable stretch of restaurants, galleries and shops along Broadway and West Strand Street has seen a boost of late, too. For retail, new additions include charming stationery shop South Manor, designer jewelry store Facets of Earth, and dressmaker Zephyr. Last fall, both öl, a Scandinavian tap room by Hetta Glögg, and the revamped Downtown Cafe, serving authentic Venetian-inspired Italian cuisine from chef Graziano Tecchio, joined the mix, too.
On the cultural front, the modest Reher Center for Immigrant Culture and History debuted in May, unfolding within an historic, 19th-century bakery/apartment building on Broadway, with a museum and gallery space focused on highlighting the Hudson Valley's history of immigration. With limited hours on Saturdays through October, before reopening in May, it's a place well-suited to reflecting on the resolve and dedication of Kingstonians through the ages. Indeed, it's the denizens of this small city who have quietly maintained that Kingston, even during its most down-on-its-luck days, was worth sticking around for. Today, with the urban enclave engulfed by rolling layers of renaissance and renewed interest, their secret is out.