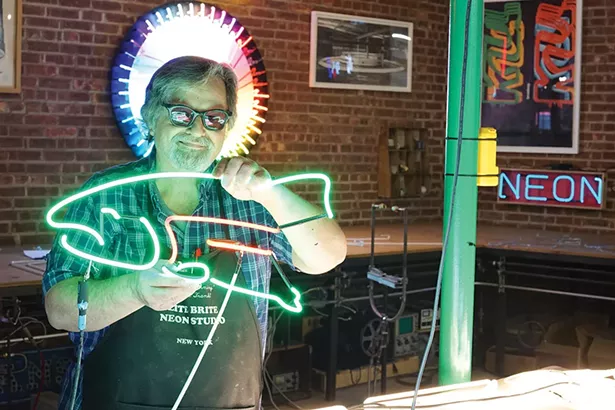 John Garay
Frank Kmiec at Lite Brite Neon, one of the premier neon studios in the country.
Millions of dollars are being funneled into the riverfront city of Kingston, as the incoming tide of new residents, business owners, and investors continues to surge.

Kingston is a city on the rise. While its prestige and pocketbook may have faltered in a familiar boom-and-bust cycle over the last four centuries, a synergy of old-meets-new is presently manifesting distinct visions of revival across the city's three communities: Uptown, Midtown, and The Rondout. There's the steadfast tenacity of Kingstonians of yore, invigorated by the fresh enthusiasm of newcomers; transporting historic districts met by gleaming new developments; legacy businesses standing beside innovative entrepreneurial ventures. For better or worse, tens of millions of dollars are being funneled into Kingston presently, in the form of government grants and private investments. The people, the money, the moment—it's here. The time for Kingston is now.
Uptown
John Garay
Rachel McCrystal, Lizz DeFeo, and Alexandra Shea of Woodstock Farm Sanctuary, at Rough Draft Bar & Books.
Uptown Kingston, with its historic Stockade District that still hints of Dutch colonial days, isn't gathering any moss. Instead, it's leading the charge in Kingston's modern-day makeover.
Most buzzworthy, it's the beneficiary of a $10 million 2017 Downtown Revitalization Initiative (DRI) state grant, meant to stimulate economic growth and improve quality of life. While the DRI money is earmarked for Uptown, Kingston Mayor Steve Noble is quick to point out that "each of the projects that were selected will benefit the city as a whole."
The most notable initiative is The Kingstonian, a $48-million mixed-use development, which will get $3.8 million in grants and bring 132 apartments, 34 hotel rooms, commercial space for restaurants and retail, and a 420-space parking garage to the intersection of North Front and Fair streets. Other priority DRI plans include $2.5 million toward updates to Dietz Stadium—the most requested project during the public engagement process, according to Noble—as well as the Andretta Pool; some $1.3 million toward improving traffic, pedestrian access, and signage; nearly $1 million in improvements to Schwenk Drive (gateway to Kingston Plaza); and nearly half a million toward restoring the ruins of the historic stone Louw-Bogardus House and creating an adjacent public park. While the timeline for the individual components is still being developed, Noble anticipated that all DRI projects would be completed within approximately two years.
John Garay
Margaret Verghese at South Manor
Most prominently on the private investment front, meanwhile, are two big New York City-based developers—each known for their role in transforming Manhattan's Meatpacking District—who are snatching up Uptown real estate with big visions for the city's untapped potential.
Neil Bender has his hands in two big Uptown pots: Over the last year, he's acquired the old Woolworth building at 311 Wall Street, as well as the Kingston school district's administrative headquarters, the Cioni Building, on Crown Street. Bid documents indicate that the Cioni Building is destined to become a boutique hotel and spa, with support amenities, including a pool and gym, provided at the nearby 317 Wall Street building, another of Bender's acquisitions. The fate of the long-vacant Woolworth building remains unclear: Plans predating the building's sale called for the Kingston Food Exchange, a proposed food hall and natural food market, which have since been put on hold indefinitely.
The other big player is Charles Blaichman, who's owned a home in nearby Woodstock since the '90s, and is all in on Kingston. "He's been coming to Kingston for years, saying 'Someday, someday,'" says his Kingston-based property manager Nan Potter, of Potter Realty, adding, "And, finally, the timing was right."

Blaichman has purchased four historic Stockade District buildings that will function as a four-part, high-end boutique hotel totaling 43 rooms, which are slated to open up on a staggered basis between late 2018 and the end of 2019. The first of the four buildings—which will be the cornerstone and hub of the hotel concept, with its lobby, ground-floor restaurant/bar, and 10 independently designed rooms—will be set in the old corner bank building at 301 Wall Street. Satellite locations will follow. Blaichman has picked up at least seven additional properties throughout the city, including 10 Crown Street, the historic stone Cornelius Tappen House that's now home to the city's latest cocktail lounge, Crown.
Bi-level Crown, from the team behind Uptown home goods shop Exit Nineteen, debuted in July with three indoor and two outdoor spaces; it's just one of several dining-and-imbibing hot spots to join the Uptown party over the course of the last year. Up the block, Rough Draft Bar & Books has likewise filled in a historic Colonial building with a well-received cafe/bar/bookshop hybrid that's become a centerpiece for community gathering, bolstered by events like authors' talks, live music, and trivia. On Wall Street, fine dining farm-to-table eatery Wilde Beest, helmed by Chef Chris Turgeon, opened in June to rave reviews, elevating the Kingston dining scene to unprecedented levels. Nearby, Palizzata, from father-son team Eric and Joseph Cafaro, debuted in July to deliver authentic Northern Italian cuisine.