John Garay
Cabin Fever Outfitters in Rhinebeck.

Elegant, creative, and casual—Rhinebeck, Red Hook, and Tivoli offer a bevy of cute boutiques, innovative cuisine, and cutting-edge art.
Northwestern Dutchess County is excruciatingly lovely. It's easy to see why this area was one of the earliest settled parts of the Hudson Valley settled by Europeans when the Dutch bought 2,200 acres from the Iroquois in 1686. Two decades later, a tavern opened for business near the new King's Highway, now Route 9, and things were off to a grand start.
Rhinebeck: Warm & Eventful

John Garay
Sidewalk dining on Montgomery Street at Liberty Public House in Rhinebeck
Rhinebeck, site of that first tavern, is a true Hudson Valley gem: tidy and prosperous, yet warm and down to earth, with a solid village core full of wonderful places to eat, drink, and shop, many of them longtime fixtures.
"Terrapin Bistro is my top place to hit," says Lou Trapani, artistic and managing director of the Center for Performing Arts at Rhinebeck, sharing some of his favorite places in town. "That and the main Terrapin restaurant. Josh Kroner is the best young chef in the area, bar none. The ambiance is like a New York City bar, very smart but without the hustle and bustle. Then there's Hummingbird Jewelers—they're brilliant. Village Pizza is a great place for a less expensive meal, and they serve beer and wine. And I love Pete's Famous Restaurant. Oblong Books is another wonderful place, and so is Upstate Films [the town's independent movie house, a fixture since 1972]. That's basically where I live in Rhinebeck, when I'm not here at the Center."
The Center itself has packed its summer lineup with good works. In June, it will present the Tony-award winner "Fun Home," and then lighten up with "Chitty Chitty Bang Bang" at the end of the month. Other highlights include "42nd Street," opening in late July; "The Last Five Years" at the end of August, and "The Prime of Miss Jean Brodie." And as if that weren't enough, there's a night of stand-up (August 25) and a guitar concert of Latin American and Spanish music by local virtuoso David Temple.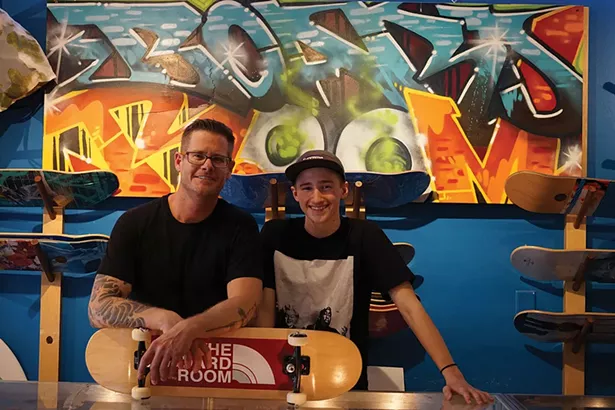 John Garay
Chris and Aiden Hoffman at The Board Room in Red Hook.
And that's far from all that's going on in Rhinebeck this summer. The Dutchess County Fairgrounds have long since ceased to be just the site of the county fair, although that fair itself, in late summer, is the second-largest in the state. In June alone, you can catch the Country Living Fair (June 1-3), the Good Guys Rod & Custom Car Show (June 8-9), and the fifth annual Rhinebeck Crafts Festival (June 23-24). And the first weekend in July, there will be plenty of action in the village itself: the Summer Breeze Festival, full of music and art and perfectly named to coincide with the 27th annual Hudson Valley Hot Air Balloon Festival (July 6-7), at the fairgrounds this year and set to include 100 colorful flights, along with balloon rides and "majestic moon glows" in the evening. Calling Rhinebeck "a happening place" is a laughable understatement.
In response, Rhinebeck folks have developed and groomed the arts of hospitality and retail. The tricky part of getting a bite to eat is choosing. In the mood for French, Italian, (try Gigi's Trattoria, where owner Laura Pensiero, a registered dietician, has invented the "Skizza" flatbread pizza, light as air and available in five varieties, two sizes, and gluten-free) Japanese, Mexican, New American, pub grub, comfort food? Whatever your pleasure, the chefs of Rhinebeck will come through. You can shop your heart out for pretties: handcrafted paper goods, fine leather, antiques, pottery, wine, gems, clothing that ranges from intensely practical to whimsically wonderful. On too many levels to list, Rhinebeck is as vital as a town gets.
Red Hook: Creative & Casual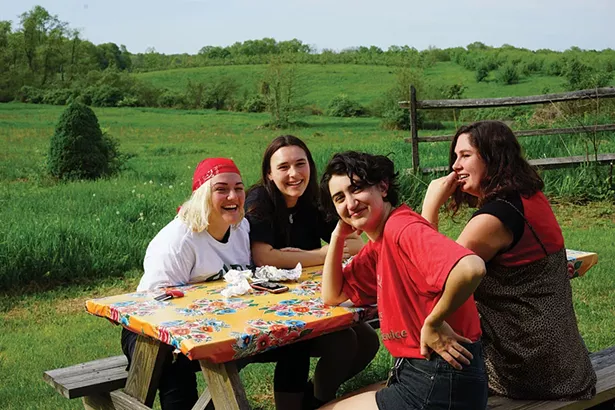 John Garay
Julia, Mirabelle, Emily, and Sabrina at Bubby's Burrito Stand in Red Hook
To the north, quieter and perhaps a bit quirkier, far from drab, you'll find Red Hook. "I love living in Red Hook, and not just because I'm a five minute walk from wonderful food and shops, but for the world class entertainment, cultural opportunities and art at Bard College," says independent REALTOR®
Maarten Reilingh
, a retired theater and communications teacher. "I sing in a choir of theirs, I go to events at the
Fisher Center
all the time." The 15th annual SummerScape Festival at the Fisher Center begins at the end of June and will feature Anton Rubinstein's
Demon,
Leonard Bernstein's "Peter Pan," a dance program choreographed to a T. S. Eliot text, and filmic and musical explorations of the work of Rimsky-Korsakov, along with the Spiegeltent cabaret, considered an "internationally renowned destination of magic and mayhem" these days.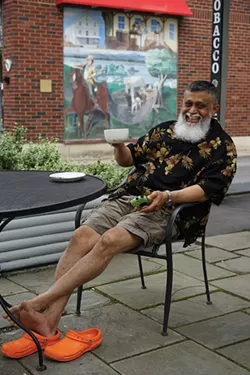 John Garay
Nasir relaxing in Red Hook.
But Red Hook's not just about Bard. You'll find things in Red Hook that you won't find anywhere else: the Hudson Valley's first Cat Cafe, Morgan's, and Equus, a shop devoted entirely to equine-themed fine art, and Atelier Renee Fine Framing. There are ethically sourced pretties at Living Eden and custom memory lockets at With You.
Eats in Red Hook are wildly creative too. The Oliver Weston Company specializes in "foods for health and healing," offering fine soups and edibles prepared to the principled developed by Weston A. Price. (They even deliver to Manhattan and Brooklyn.) Try a signature raspberry bar or a snickerdoodle from Annabelle's Village Bake Shop; Annabelle learned to bake at Grandma's side and has been refining her art for over three decades. Indulge yourself with vegan comfort food at Wildflower Café. Soak up the welcoming elegance over a fresh scone with mango jelly at Maggie's Royal Tea Room, around the back of the Red Hook Country Inn. Red Hook's festival season is autumn, with Hardscrabble Days in September and the Chocolate Festival in November.


John Garay
Samala Rubin, Momo, and Zoe Homer outside Taste Budd's in Red Hook.
Tivoli: Unpretentious & Authentic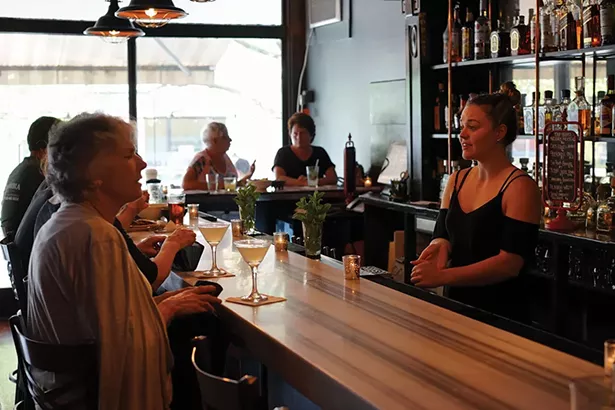 John Garay
Emma Gruden, bartender, at Santa Fe in Tivoli.
Six and a half miles to the northwest you'll find the even smaller village of Tivoli, a tiny powerhouse of cutting edge performance, from the
TangentArts
at the Carpenter Shop Theatre, where they're focused on nurturing new work ("It's like making footprints in fresh snow," says artistic director Michael Rhodes) to the "intimate listening sessions" happening in
Murray's
, a cafe in a former church. Tivoli is where Mary Stuart Masterson and Jeremy Davidson created their Storyhorse Documentary Theatre group, which performs ripped-from-real-life tales in various places including Murray's and the Fisher Center.
"The great anchors have been here a long time," says Andrea Rhodes, Michael's wife and Tangent's producing director. "Rojo Tapas and Wine and Murray's for food. Tivoli Mercantile moved to Red Hook and recently relocated back here; daytime's getting livelier." Of course, one standout daytime activity in Tivoli has always been roaming the Tivoli Bays Wildlife Management Area and Research Reserve on foot or by canoe or kayak.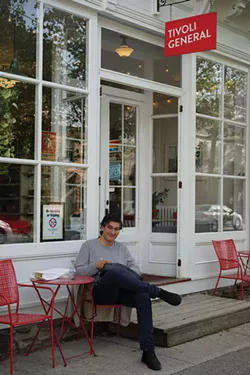 John Garay
Franco Baldasso at Tivoli General.
Maybe the intense creativity in Northwest Dutchess is powered by the beautiful surroundings. "We've got world-class scenery and open space. We've got Poet's Walk, Norrie Point, and Stissing Mountain right nearby," points out Reilingh, "We've got easy access to the whole Hudson Valley, to the Catskills and the Taconics, from right here in peaceful little Red Hook. We can go enjoy Rhinebeck or Woodstock events in minutes. I love living here, and I love selling real estate here and getting to be one of the first to meet the newest arrivals. And a lot of our sellers are staying local, just upsizing or downsizing to get a perfect fit, so it's fun being part of that process as well."
Yes, it's easy to see why the Dutch decided this would be a good place to stay—and why the wealthiest of New York's magnates chose this stretch of riverbank for their palatial escapes. (You can tour Wilderstein in Rhinebeck, an elegant Queen Anne "summer house" with grounds designed by Calvert Vaux, or take in the splendid river views and gardens at Montgomery Place, an early 19th-century Federal mansion with gardens by Andrew Jackson Downing.) On a summer weekend, or any time, there's really no place like it.