18 slides

The county seats of Hudson and Catskill are dissimilar in many respects, but their residents are passionate about the possibilities for their towns. We speak to the movers and shakers in the two communities about what makes them tick.
The logical place to start when talking about Columbia and Greene Counties is with the bridge that connects them, the Rip Van Winkle. Opened in 1938, the span stretches above the Hudson River, carrying 15,000 people along Route 23 between Catskill and Hudson each day. Like the region itself, the bridge is also changing with the times. Earlier this year, the New York State Bridge Authority completed the first phase of the Hudson River Skywalk project, a scenic pedestrian trail linking two state historic sites—the Thomas Cole National Historic Site in Catskill and Frederick Church's Olana in Hudson—with a rebuilt sidewalk on the Rip Van Winkle Bridge, including three scenic viewpoints, each 50 feet long by 10 feet wide, with views of the Hudson River and Catskill Mountains.
Betsy Jacks, executive director of the Thomas Cole National Historic Site, sees the construction of the Skywalk as the continuation of a longstanding connection that began 200 years ago. "We've been collaborating for centuries," says Jacks, "since Cole showed Church that piece of property where Church would build his home." The Skywalk project will ultimately link Thomas Cole National Historic Site and Olana via trails on either side of the bridge that are scheduled to be completed within a year's time. The cross-county collaboration will be celebrated on September 30, with the first Skywalk Arts Festival. There'll be plein-air painters on the bridge, an art sale at Thomas Cole National Historic Site, music, food, and activities for families at both sites.
Despite some similarities between communities on both sides of the river, there are clear differences and divergent challenges facing the main municipalities in Greene and Columbia Counties, Catskill and Hudson.
Catskill: A Village Always On the Verge

John Garay
Jamie Gyftakis and Emily Evans at Thomas Cole National Historic Site in Catskill.
The village of Catskill (population 4,081 according to the 2010 census) is the county seat of Greene County. It's most famous former resident (other than Thomas Cole) is the boxer Mike Tyson, who trained here. (The actress Jennifer Connolly was born in nearby Cairo—pronounced kay-row.) A sense of being on the verge has characterized Catskill for the past 15 years. There was momentum building prior to the real estate crash of 2008, with new businesses opening on the village's historic Main Street, but the downturn stalled the village's rising economic fortunes. A resurgent entrepreneurial class and some well-funded new projects in town have many believing that with this wave of revitalization Catskill can realize its full potential.
Jacks, who's been the executive director of the Thomas Cole National Historic Site for 15 years, is a keen observer of village happenings. "We've had so many people working on bringing up Catskill's fortunes for generations," says Jacks. "But now there's so much happening in Catskill. It's been like a snowball rolling downhill. Catskill has always been cool and fun, but it seems to have arrived."

John Garay
Rip Van Winkle Bridge
Many residents talk about the opening of HiLo Cafe in the spring of 2017 as the physical manifestation of a turning point. The storefront space, run by Queens transplants Liam and Laura Singer, wears its municipal pride on its sleeve, referring to itself as "a cafe, bar, art gallery, and performance space located in the greatest village in the world, Catskill NY." Niva Dorell, visual arts director for the Greene County Council on the Arts, agrees. "Hi-Lo is the heartbeat of Catskill," she says. "It brings a lot of different people together for different reasons. It's a real cross-section.

The building housing HiLo is owned by photographer Alon Koppel and his wife Melissa, a painter, who live on the top floor (the Singers live on the second floor). The Koppels moved to Catskill three years ago from the Dutchess County town of Red Hook and began looking for a tenant for the storefront. After talks with a man who wanted to open a traditional bar but wasn't open to having art in the space's proscenium entryway, Koppel realized he was looking to foster a community space in his building. The Singers' idea for HiLo fit the bill. The cafe hosts community events (like fundraisers for the local public radio station WGXC) and serves as the meeting place for a village steeped in symbiosis. "People come to HiLo and say, 'There's community here, I can see myself here.'"
"Catskill is open to collaboration," says Koppel, who should know. Currently, he's curating a photography show at the Greene County Council on the Arts ("No Nudes, No Sunsets," through September 22), shooting drone photography for the Thomas Cole National Historic Site, and documenting the rehearsals and performances of the new big player in town, Lumberyard.
John Garay
Jakawn Heath, Cassidy Bua, Mama Llama, Jasean Edmonds, Devon Gaillard, Jay Jay Williams, Jason Edmonds, and The Awakened Rip (artist, Matt Bua) in Catskill.
Formerly the American Dance Institute, Lumberyard has transformed the former Dunn Builders Supply, a creekside industrial complex, into a $8.2-million state-of-the-art performance center and certified soundstage for film and TV production. The location will serve as the home of the nonprofit's technical residency program and main performance venue. Artistic and executive director Adrienne Willis believes Catskill is the right home for her organization. "We wanted to find a place that was not only right for us, but where we would have economic impact," says Willis. "We wanted to find a town that was on the verge of revitalization so we could leverage resources for one another and became part of the fabric of the community."
After a summer performance series at locations around the region, Lumberyard is ready for the big reveal of its 7,000-square-foot building on September 1 with a grand opening event featuring tap dance virtuoso Savion Glover and hosted by actor Alan Cumming. Year-round programming will follow, and Willis hopes to capitalize on the booming film and TV production in the region—aided by generous state tax cuts specifically designed to draw projects to the Hudson Valley region—to help defray expenses. Lumberyard also has an ambitious outreach program, training local high school students in tech for the performing arts and doing work inside local correctional facilities. The day before his show in Catskill, Savion Glover will perform for incarcerated teens at the Hudson Correctional Facility. Willis hopes to incubate a statewide arts reintegration program for incarcerated teens at Lumberyard.
Another project with transformative potential for Catskill is Foreland. Slated to open in fall 2019, Foreland is the brainchild of artist and real estate developer Stef Halmos. She is currently overseeing the rehabilitation of an historic 50,000-square-foot-building, which she describes as a "contemporary arts ecosystem" that will include galleries, artist studios, a restaurant, and a special project space. When asked what such a space would like look like, Halmos responds: "A visually striking environment for people to make and show work, cutting-edge programming to engage a regional and national audience, and a spot to sit and stay a while."
Unlike what happened in the village's small-business boom prior to the Great Recession, these new, well-financed operations are unlikely to go away. "The opening of Lumberyward and Stef Halmos's Foreland show the long-term commitments people are making to Catskill," says Dorell. "If all these long-term projects come to fruition, it will bring people and prosperity to Catskill."
But Koppel, who was drawn to Catskill for its inexpensive real estate as much as the sense of a community discovering itself, says be careful what you wish for. "In three or four years, it may be too much like Brooklyn here, and maybe we'll move to Syracuse," he says with a laugh.
Hudson: The Price of Success
John Garay
David Marston and Peter Spear on Warren Street in Hudson
"The city of Hudson's last comprehensive plan, written in 2002, was aspirational," says Carole Osternik. "It painted a picture of a city back from the edge. Now, the population more than doubles on the weekend in the summer. People are saying the city is too expensive and too crowded on weekends. We're at a point where we truly need to assess what's happened. It might be time for Hudson to manage its success." Osternik, who's lived in Hudson for 25 years, has served on the city's
Common Council
, was a founding member of
Historic Hudson
, and is a de facto one-person newsgathering organization on her blog
Gossips of Rivertown
, where she publishes information from various municipal meetings and publicizes community events.
Another independent media outlet working on covering Hudson (and all of Columbia and Greene counties) is local public radio station WGXC. Launched in 2011 on the FM dial as an extension of the community radio work done by Tom Roe and Galen Joseph-Hunter of Wave Farm, WGXC is a hands-on, participatory radio station that not only reports on the region but also serves as a public platform for information, experimentation, and engagement. Three full-time staffers and 90 volunteer programmers create an eclectic mix of programming. "There's something for everybody," says Lynn Slonecker, station manager. "If you hear something you don't like, wait a half hour and you'll hear something completely different."
Hudson's diversity—religious, ethnic, personality, age—is what Mayor Rick Rector refers to as the city's "greatest strength." It also makes the radio station studio on Warren Street a pollinator of community interaction. "If you spend any time at the radio station," says Slonecker, "you'll see a cross-section of people under one roof that you wouldn't see anywhere else in Greene or Columbia. There's a combination of people who love radio and young people who are experiencing radio for the first time." (WGXC features a block of programming in the afternoon created by and for youth.)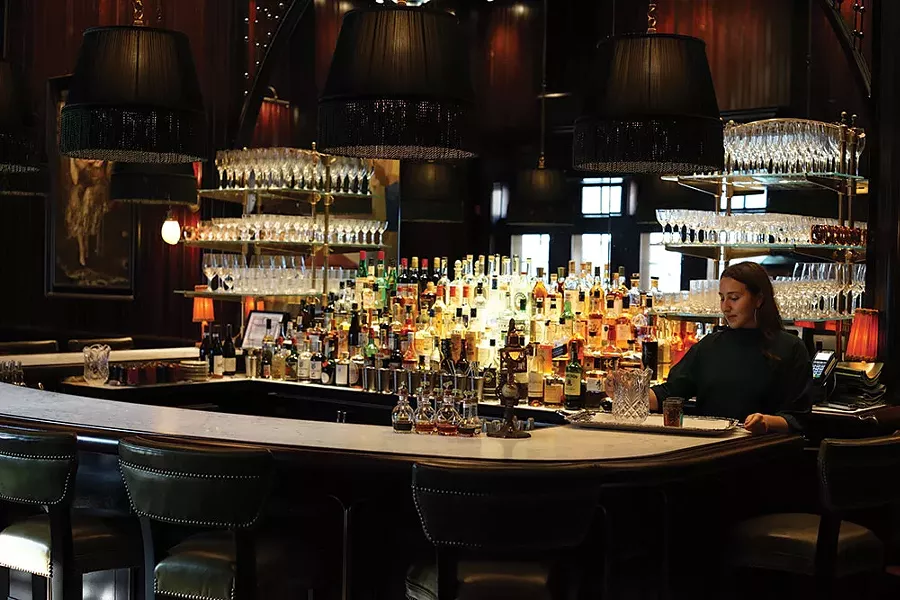 John Garay
Thais Glazman at The Maker Lounge in Hudson
Given Hudson's runaway success in the past decade as a tourist destination and hub of retail activity (and the related negatives that come along with it, which can be loosely grouped under the nebulous term "gentrification"), Slonecker believes radio can play a vital role in the city. "With the way things are evolving, a local community station takes on more and more importance, both creatively and in terms of info gathering and distribution. There's a lot of discussion and in-depth work on issues like gentrification. The community is at a point where public dialog is very important. Radio is a great meeting place. It's intimate. It's a media that allows people to hear the voices of other people. And in order to have a civil dialog, you need to have mutual respect, and that comes from people being able to hear each other."
The challenge of unifying a diverse community was a common theme among the people I spoke to for this article. Chuck Rosenthal, who owns lifestyle and home furnishing store Valley Variety and is chair of the Hudson Business Coalition, expresses it this way: "The biggest challenge is vision and consensus building," he says. "When I did my research on Hudson before moving here five years ago, I read the comprehensive plan reports from 2002. In a way, we're still discussing the same ideas. We struggle to home in on a single vision and come to consensus." Rosenthal is quick to point out that despite some growing pains, the city is distinctive in its mile-long main street offering a cosmopolitan mix of antiques, design, fashion, arts, and food. "We have a lot of built-in attributes that make a really great livable city that's also attractive to visitors," he says. "We have a great town. It's just a matter of pulling it all together."
No one feels that more optimistic than Rick Rector, who was elected mayor last fall, running on a campaign platform of "One Hudson." Rector, a relative political newcomer, ran unopposed, and is seen by many as ushering in a new era of transparent city leadership after decades of Hudson's politics being dominated by a small group of entrenched interests. (Melissa auf der Mar, cofounder of Basilica Hudson, opines: "Hudson has developed despite its elected leadership," she says. "It wasn't until the antiques dealers, the gays, freaks, and artists showed up that things started to shift. The level of momentum has been remarkable but unconnected with any municipal help.")
Job one for Rector is moving beyond outdated political divisions and fostering conversation. "In a small town, it's more about the person than the political party," he says. "It's about finding out what's best for the community. My goal is to reach out to everybody and make decisions collectively with input from everyone."
Rector will also be spending much of his time implementing the $10 million Downtown Revitalization Initiative (DRI) grant the city received from the state last year. The bulk of the funding will go to projects in Lower Hudson. "It's a little like the Wild Wild West down there. The DRI funds will go to much-needed infrastructure in an area that's been neglected by the city."


John Garay
Wheeler at Lil Deb's Oasis in Hudson
Two projects funded by the DRI are overseen by auf der Mar and her husband, filmmaker Tony Stone. Basilica Hudson, which has become a regional arts destination since opening in a former glue factory in 2010, will be winterized, offering the opportunity for year-round programming and training opportunities for Hudson's youth. Auf der Mar is bullish on the possibility of workforce development programs in the arts connecting kids to the booming local creative economy. "We have potential jobs," she says, "we just need to train and connect youth to those jobs. There's potential, it just needs organizing—and the organizing is starting now."
Auf der Mar and Stone's latest endeavor is the River House Project, a film and media hub housed in the vacant Allen Street School that will contain studios and post-production facilities for film and TV, and like Lumberyard, will leverage the state film tax credit. Phase one of the project will be complete this fall, and will also connect Hudson's youth to jobs in film and TV.
Auf der Mar says there's much work to be done in the city—to create opportunities for those most in need, to connect a fragmented community, to overcome decades of political inertia—but she's optimistic. "Everyone in Hudson wants to make it work, it's just a matter of connecting the dots," auf der Mar says. "Our small city has the opportunity to be a beacon for the future of this country."