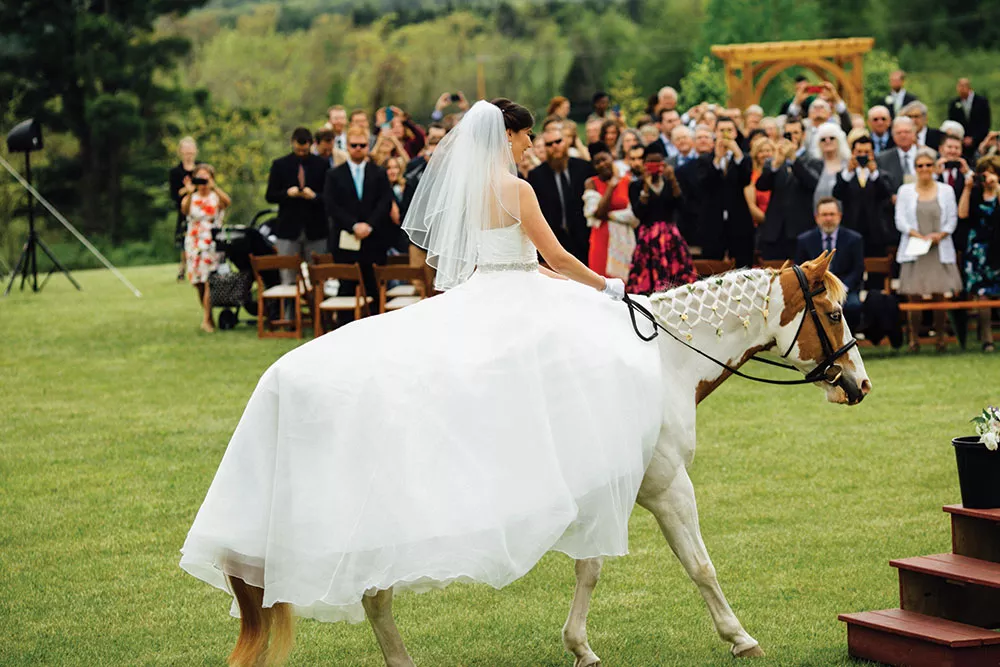 Jesse Turnquist
Meryl Gordon rides her horse Lucky down the aisle on her parents's horse farm, High & Mighty Stables, in Ghent on May 21, 2016.
Planning a wedding can make you feel like you've been dropped into a parallel universe. There's an enormous apparatus of advice, trendspotting, and marketing out there, one that you may have never paid any attention to in the past, and suddenly it is reaching fondant-scented, meticulously calligraphed tendrils in your direction, asking endless questions. Afternoon or evening? Cake or cupcake? Pastels or metallics? Band or DJ? Flawless, photogenic dyads gaze adoringly at one another against an endless variety of picture-perfect backdrops. Even people who think the idea of a wedding sounds great can be daunted. No-fuss types may be tempted to run away screaming.
The good news is, you don't start from there, buffeted by the winds of What's Hot and What's Not, any more than you have to adhere to the old-school model in which just about every wedding resembled the same movie with a different cast. Start from who you are and how you connected, think through what brings you mutual joy, and mull over the specific intentions you bring to this occasion of celebrating your union; sprinkle this with any dreams either of you may cherish about the celebration itself. There. There's your basic movie, unlike anyone else's, a script you can use to guide the choices that follow.
Two general rules apply to all of the following decisions: Know your budget and have plenty of lead time. The Hudson Valley is something of a premiere wedding destination; according to the 2015 Real Wedding Survey published by The Knot, it is also the third-spendiest in the nation, behind only New York City and Chicago. People, according to The Knot, spend over $50,000 on their Hudson Valley weddings. That doesn't mean you can't have a stunning wedding here for far, far less; we have beautiful town parks to rent, complete with picnic grills, and creative, good helpers at a wide range of price points. It simply means that if you want drop-dead estate-level elegance with all the trimmings—yeah, we've got that, in spades and in style. But whatever you can afford or want to do, assume that it may well be booked a year in advance.
Where will your story unwind? The Hudson Valley offers choices you won't find anywhere else. Several centuries of historic architecture and epic scenery are just the beginning. Would you like a mountaintop with miles and miles of views unfolding? A cozy rustic barn? A waterfall? An elegant estate? Post-industrial chic? How about chartering a boat and marrying on the water? Not only are all of these readily available, they can be found and customized to suit just about every party size, budget plan, and degree of formality you require. Narrow your search down online, then make visits to your top choices; bring a camera, and arrange to meet with whoever handles weddings there to get all of your questions answered.
Jesse Turnquist
Julia and Jonathan Whittaker at The Hill outside of Hudson on October 5,2013.
Do you want an "elopement"-style luncheon for 25 or an old-fashioned gathering of the clans out to third cousins twice removed? Are most of them local or will they need accommodations? Are they folks who'd enjoy splitting a big rental house or would they be better off somewhere with maid service and continental breakfast? The actual ceremony and reception are your movie, in accordance with your personal preferences; making your supporting cast comfortable according to their preferences to whatever extent you can manage it will ensure they'll show up fresh as daisies and happy as clams.
Who are the co-stars in this production? Choosing an officiant is one of the most important decisions you'll make. Although having a friend or family member do the honors is trending somewhat, experts caution that there's an art to this ceremonial stuff and someone you may love spending time with may nonetheless lack the public speaking skills, gravitas, and ability to roll with whatever circumstances arise that a professional will bring to the occasion. Local choices vary widely, from traditional religious folk of all sorts to interdenominational and nature-based officiants and justices of the peace, each with his or her own style and way of working.
Like and yet unlike any other important relationship, your officiant should be someone you feel that "click" of empathy with. This should also be the case if you're hiring a wedding planner or coordinator. It's nice if you like your florist or your caterer but more important that you love their work. Officiants, planners, and coordinators, on the other hand, need to be people you can roll with under stress, people whose vision of your Big Day blends seamlessly with your own. They need to be good listeners.
Once chosen, the right officiant or planner may well be able to help you with other choices as well. Being in the professional wedding world, they're well positioned to know who's a gifted and not overwhelmingly bossy photographer, which caterer hires great staff, and what DJ service knows how to rock the dance floor. When you interview these folks for yourself, be very specific about your wants and needs and budget.
You're embarking on a great adventure together, but it is neither a journey into a vast trackless wasteland nor a rigid grid laced with too much signage and a cop car on every corner. Think of it, rather, as a top-grade canvas that can be blank—leaving every detail to you—or complete with an outline exactly as detailed as you need it to be.
Because that's the main thing about a Hudson Valley wedding. (Besides, of course, the aforementioned stellar scenery and architecture.) We have an incredible talent pool. Whether you want everything vegan and green or voluptuous and brassy, you can have it done that way and done well. Chamber orchestra, folkie, or techno? Posed photo sets, inspired candids, or a well-produced video narrative? Vintage floral, country casual, or chic sleek? Our hosts, celebrants, caterers, musicians, designers, limo drivers, and nannies are a warm, smart, sophisticated crew who find their bliss is creating your bliss, your way. After all, it's your love story.