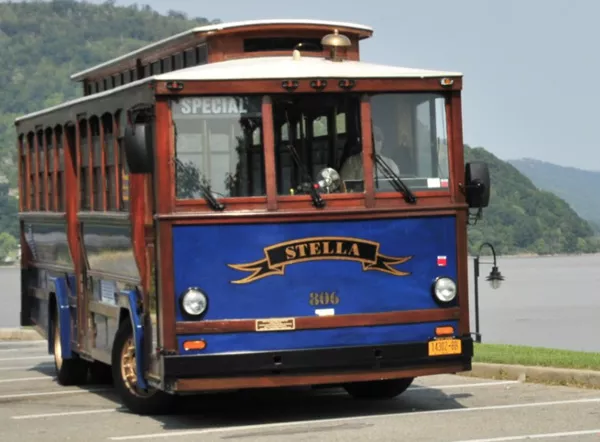 DaytrippersNY presents
"A Glimpse of the Past" Trolley Tour

Sunday, June 2, 2013, 10am
Your Path Through History begins at 10:00 AM at the Peekskill, NY train station where you'll hop aboard Stella the trolley and take a step back in time. The ride will be filled with spectacular views of the Hudson River and tidbits of local history as you travel this historic Route.
Before you know it you will arrive in Kingston where you will take a Docent-led tour of the historic Stockade district & the original NY State Senate House used in 1777! After the walking tour there will be a break for lunch. Where to eat or not to eat, that will be the question!
After the break you'll take a relaxingriver boat ride on the historic "Rip Van Winkle" Your visit to Kingston will conclude with a tour of the Hudson River Maritime Museum.
On the return trip, relax and listen to soft music as you getready to partake in a delightful culinary experience, dinner at The Peekskill Brewery (an artisanal microbrewery).
Cost: $125.00/pp All-inclusive (except for lunch)
Reservations and payment in advance required (check or CC)
Seating is limited to 26, so make your reservations today.
Call (914) 245-1024 or email: daytrippersny@gmail.com
DaytrippersNY
Peekskill Trolley Company