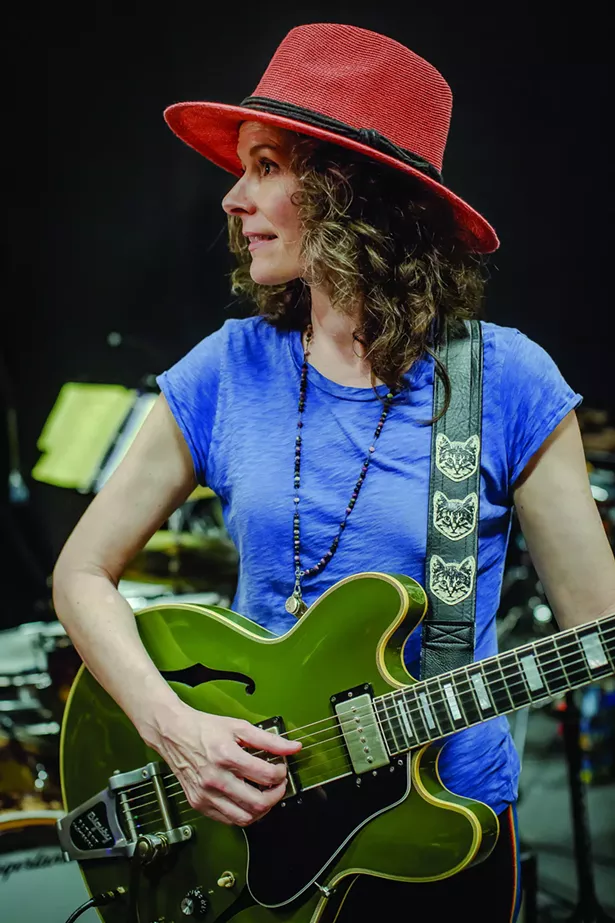 If you were alive and anywhere near a radio at the twilight of the 1980s, it was inescapable. It came curling out of the speakers like patchouli-scented smoke. The bass line: round, smooth, coyly uncoiling. The guitar: slow-moving jazz chords, skanked along with a lazy, sunbaked-ska offbeat. And the voice, a twangy tang of sly Southern molasses offering the Zen-encrypted lyrics: "I'm not aware of too many things / I know what I know, if you know what I mean."
"It was overwhelming," says the owner of that voice and the writer of those lyrics, Edie Brickell, via conference call. She's remembering the runaway ride that immediately followed the release of her band New Bohemians' double platinum 1988 debut, Shooting Rubberbands at the Stars, and its Top 10 single, "What I Am." "Being so overwhelmed was part of the reason I eventually decided step away from music for a while," she explains. "That, and I fell in love with a man [singer-songwriter Paul Simon], and for a while I felt like I had to choose between music and having a family life. But now the band is back together, so things have come full circle."
Success for Brickell and the Texas-born New Bohemians was certainly swift. Initially a ska outfit, the group had already been going for several months when, one night in 1985, Brickell, an aspiring but inexperienced singer, went to see them play at the Dallas comedy club where they were doing a residency. Fortified by a shot of Jack Daniels, she asked if she could sit in with the group. "She just went up there and started improvising, and she was so great," says guitarist Kenny Withrow, who, like Brickell and several of the band's other members, were students at Booker T. Washington High School for the Performing Arts, an area magnet school. "I wasn't in the band yet [Withrow would soon replace founding guitarist Eric Presswood], but after the show I told those guys if they didn't ask her to join their band I was gonna ask her to join mine." Those guys, however, were way ahead of him, quickly welcoming Brickell into the fold.
Brickell was born in 1966 in suburban Oak Park, Texas. Her father, Eddie Brickell, was a professional bowler who played for the National Bowling League-affiliated Dallas Broncos; her mother, whose birth name is Larry, was an office receptionist. Eddie and Larry's tastes leaned toward R&B, soul, and country—Al Green, B.B. King, Aretha Franklin, Ike and Tina Turner, Chaka Khan, and Willie Nelson ruled the hi-fi—and Edie, the younger of their two daughters, loved what she heard. "I was always running around the house, singing," she says. "When I was nine, my dad bought me a guitar and I started learning how to play. One day, he asked me to write him a song and I did. I was too shy to play it for him, though, so I taped it in my bedroom on the little cassette recorder I had. It was kind of a George Jones thing: [singing] "As he walked through the door / of the liquor store..." [Laughs.]
Soon after Brickell had joined, the New Bos, as they were affectionately known to their more dedicated Dallas followers, became a commanding draw on the local scene, packing the clubs in the city's nightlife district of Deep Ellum and building a formidable fanbase among students from the University of North Texas in nearby Denton. A management deal led to better bookings and a contract with Geffen Records, who bumped Brickell's name out in front of the band's for the release of Shooting Rubberbands at the Stars, which was swiftly and warmly embraced by college radio before landing at number four on the US mainstream chart. The group toured with Bob Dylan, the Grateful Dead, and Don Henley and performed on "Saturday Night Live." It was on "SNL" that she met Simon, whose presence momentarily made the nervous singer forget her lines when she spied him watching from off set. (The couple began dating soon after and married in 1992; they have three children and live in western Connecticut.) After the 1990 follow-up, the critically praised Ghost of a Dog, didn't match the commercial showing of its predecessor, the band decided to take a break, with the showbiz-pressure-fatigued Brickell left questioning whether she even wanted to continue making music.
Her uncertainty about playing and composing wouldn't last, although the New Bohemians name would remain on ice for a while. "I was walking through the park one day, and I recognized the fact that I still went around singing all the time," she recalls. "I started thinking, 'Maybe music isn't a fluke.' I realized it was the business of music I wanted to leave, not the music part. I decided I wanted to start recording songs again, but not tour." She made a critically lauded solo album, 1994's Picture Perfect Morning, and an unreleased album with Withrow and New Bohemians percussionist John Bush under the name the Slip before the group's ties with Geffen were severed. After another Brickell solo outing, 2003's Volcano, New Bohemians briefly reunited for 2006's Stranger Things but once again went on hiatus after their keyboardist, Carter Albrecht, tragically, was killed in an accidental shooting.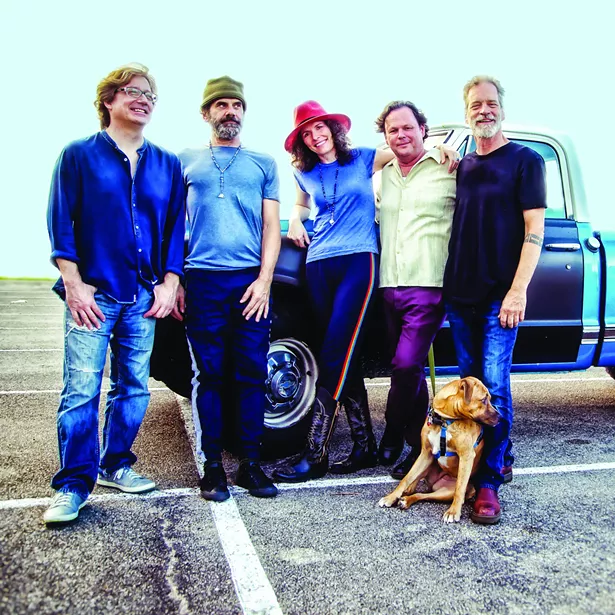 As Brickell and Simon raised their children, she continued to keep busy writing and recording: In 2008, she made a one-off album with Harper Simon, Paul's Simon's son from his first marriage, as the Heavy Circles; her eponymous third album appeared in 2011, as did the first of two albums with the Gaddabouts, an old-timey project also featuring famed drummer Steve Gadd and guitarist Andy Fairweather-Low.
The detour into old-time sounds took Brickell into another fruitful musical partnership, this one with banjo player (and comedy legend on the side) Steve Martin. The pair wrote and recorded 2013's sweet and earthy Love Has Come for You and toured that year with Martin's band, the Steep Canyon Rangers. In 2015 they returned to the record racks with So Familiar and began developing "Bright Star," a musical inspired by the songs on Love Has Come for You. In February 2016, after being workshopped at Vassar College's Powerhouse Theater in Poughkeepsie and premiering at the Kennedy Center in Washington, DC, the production opened at New York's Cort Theater and ran for 109 performances on Broadway before touring nationally. "I really loved the whole Broadway experience," says Brickell, who contributed music, lyrics, and story to the play. "And, of course, I always adore working with Steve. So I'd love to do something like that again."
Right now, though, it isn't Broadway that's beckoning Brickell. It's her old buddies in New Bohemians. The seeds of their latest reunion were sown last year, when Brickell, Withrow, Bush, and original bassist Brad Houser and drummer Brandon Aly reconvened for a run of benefit concerts to aid La Rondalla, an Oak Cliff music school for underserved students where Withrow taught. Sadly, the sold-out shows weren't enough to save the school: In August, it closed due to lack of funds and the loss of a key benefactor. But, on a positive note, the experience resulted in Rocket, the group's first album in 12 years.
"Whenever we rehearse, we immediately start jamming and making up new songs—we can't help it," Withrow explains. "So we came up with a few songs and decided to record a batch of them." Launched last month via Verve Forecast Records, Rocket was produced by Kyle Crusham, who engineered Brickell's 2011 self-titled album. "I never really felt like the producers on the other New Bohemians records captured the essence of the band, the energy," Brickell says. "But Kenny did with this one. He made it pure magic." Less stylistically structured than the band's previous three records, the eclectic set bounces between the feels of smooth '70s AM gold ("Trust"), Gap Band funk ("What Makes You Happy"), and buoyant resort-club reggae ("Singing in the Shower"). "I get bored listening to a genre-specific record," says the singer. "We're exposed to all these different sounds—how can you stick with one flavor?"
With her husband recently announcing his retirement from touring and the couple's eldest child off to college, Brickell is excited to be back on the road and back in the studio with her bandmates. "It takes a serious mind to be devoted to a relationship, and there's definitely a special relationship between everybody in this band that comes out in the music," she says. "Life has funneled all of us back into this position. So right now we're all looking forward to seeing what the next 10, or however many, years will bring."
Edie Brickell and New Bohemians will perform at the Bardavon in Poughkeepsie on November 10 at 8pm. Bardavon.org.