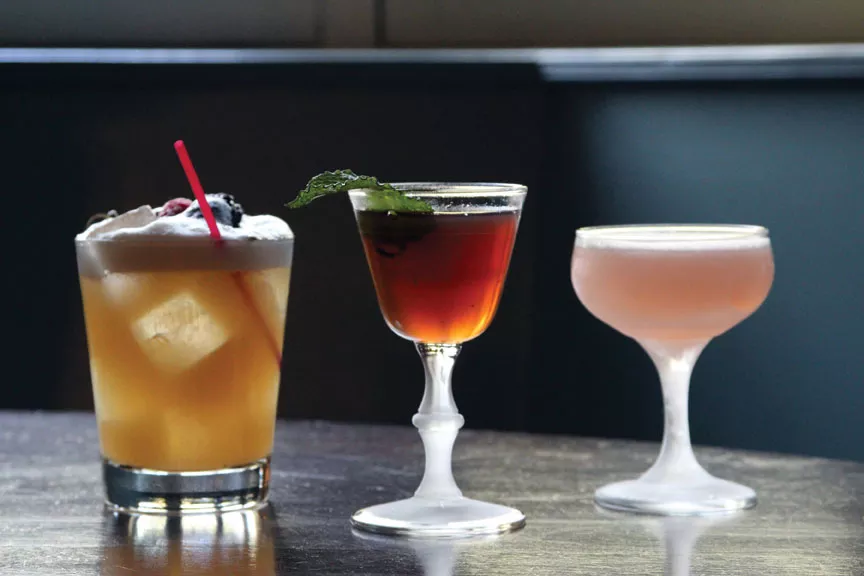 Three drinks from our Chronogram cocktail brainstorming at the Stockade Tavern: The Whiskey Sour, the Chocktail, and the New Jack Rose.
Paul Maloney trained as a painter, and for three years he ran the now defunct Core Gallery in New Paltz in addition to maintaining a successful art career. But then the lease ran out, and the economy tanked, and he needed something else to do. Serendipity struck: "Our friend Don Johnson owns this building [the former Singer Sewing building in Kingston] and wanted to open an Irish pub." Around that time, Maloney took the prestigious
Bar Smarts mixology course
in New York City, so the vision evolved to become the
Stockade Tavern
, which Maloney opened with his wife, Giovanna (Jenny) Vis, in May 2010. It has been a consuming endeavor, and his art has suffered: "The last thing I painted was the ceiling, and that was in 2010," Maloney says wistfully, looking up at the beautifully two-toned tin.
But he clearly enjoys his new vocation. The Stockade specializes in old, classic cocktails from around the turn of the last century, made with top-shelf ingredients and a great deal of care and pride. Syrups (honey, cinnamon, demerara sugar) are made in-house and accurately reflect what a barkeep would have had on hand a hundred years ago. Even the ice is just so; the perfect cubes are clear and rock hard. Maloney is generous with his encyclopedic knowledge, making suggestions and weaving in some of the history behind the drinks he serves, which are sharply focused and never bigfoot the character of the spirits with cloying sweetness: "They rhyme," he explains. "They amplify the qualities of the main liquor." There's not a twee –tini suffix to be found on the menu. His authentic blend of warm conviviality and exacting craft made him the perfect choice for collaborating on an idea I had recently: some deep local Hudson Valley cocktails.
The variety and quality of locally distilled spirits continues to increase;
Warwick
now makes a gin,
Berkshire Mountain Distillers
make two (their Ethereal, which changes aromatics with each batch, lives up to its name), and Tuthilltown will have one for sale soon. Lovers of cassis have four versions to choose from: Warwick,
Clinton
,
Tousey
, and
Tuthilltown
all offer excellent expressions of the blackcurrant.
Harvest Spirits
makes superlative apple vodka (Tuthilltown makes two) and applejack, as well as pear brandy (both clear and barrel-aged, and a peach-infused aged applejack is on the way). Warwick's American Fruit line of brandies and liqueurs make for fine sipping and mixing. And
Delaware Phoenix
offers rye, bourbon, and corn whiskeys in addition to two varieties of absinthe.
Beyond booze,
Fee Brothers
up in Rochester produces a wide range of authentic and original bitters, as well as flavored syrups. Royal Rose in Brooklyn also makes excellent syrups. There has never been a better time to try your hand at local mixology. Citrus is a problem, since it's ubiquitous in drinks and does not grow here, but we're lucky to have the superb vinegars of Brother Victor-Antoine d'Avila-Latourrette to use in their place. Vinegars have a long history in drinks, especially combined with sugar and alcohol in shrubs, which were made for long sea voyages where preservation was required. Hand crafted at
Our Lady of Resurrection Monastery
, D'Avila-Latourrette's vinegars are extraordinary, vital liquids, but they're still vinegar. If that assertiveness is too much for you, feel free to use lemon or lime instead. "Inventing cocktails is fun," says Maloney. "Start by taking one you like and swapping out one ingredient, then switch another. It can be a great social event: Have some friends over and get hammered" (in the name of science, of course). Mismatched, funky vintage glasses from a thrift store will also make your cocktails taste better.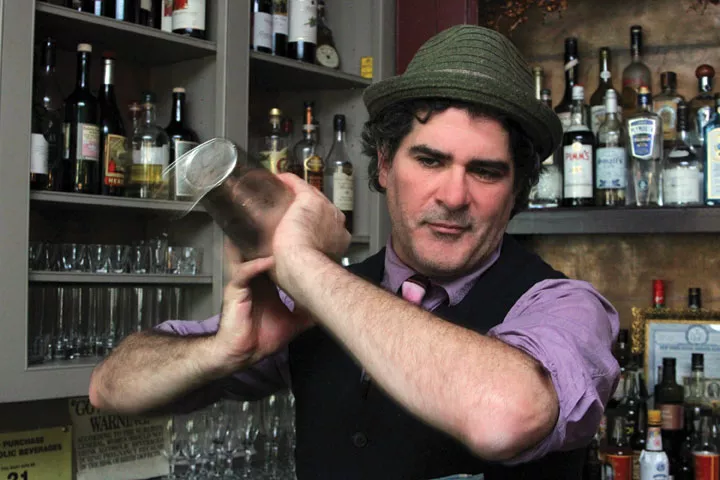 Paul Maloney, owner/master mixologist at the Stockade Tavern, behind the bar. "You can't be shy with the shaking," says Maloney.
Stockade Tavern Cocktail Recipes
Hudson Valley Whiskey Sour
To begin, here's a standard we tweaked to make it entirely from Hudson Valley ingredients. Maloney makes his own honey syrup from a 1:1 mixture of local honey and water: "Honey has a strong flavor, so the water dilutes it a bit and helps it dissolve much more easily." The apricot vinegar adds a lovely fruit note and good sourness.
2 oz. Tuthilltown Baby Bourbon
1 egg white
¾ oz. apricot vinegar
½ oz. honey syrup (1:1 with water) or use ¼ oz. for more sourness
Combine everything in a shaker and "dry shake" for 30 seconds to froth the egg white. Add ice and shake another 30, then strain into a chilled glass with more ice. Garnish with a flag of local fruit, either preserved or fresh.
Hudson Cocktails
We talked some about cider, and a cider-based drink called a Jersey Cocktail, and he pulled out an excellent example from Farnum Hill in New Hampshire that's made in the English style: bone-dry, unfiltered, and delightfully sour and tannic. By happy coincidence, I recently became aware of a cider being made down in Wurtsboro by the
Aaron Burr Cidery
where they use a high percentage of wild and ancient varieties to achieve a similar profile. Sweet table apples alone don't make great hard cider; they generally lack the structure and complexity one looks for in a sophisticated adult beverage. Cideries throughout the region are now hip to this, and are enthusiastically planting old cider varieties in anticipation of the next craft beverage boom.
This drink has an almost candied, slightly rootbeer-y nose, but the finish is dry and clean. The walnut bitters and brown sugar or maple really burnish the apple to a high shine. The result is very refreshing, and low alcohol to boot.
4 oz. dry hard cider (Aaron Burr, available at Tuthilltown's store)

2 dashes walnut bitters

½ oz. demerara sugar or maple syrup

apple slices for garnish

Fill a double rocks glass with crushed ice. Add the cider, bitters, and syrup, then stir gently to combine. Maloney reminds us: "If you stir too hard, you knock down the cider's effervescence."
New Jack Rose
The Jack Rose is one of those drinks whose origin is clouded in myth; there are at least five plausible stories explaining its origin. Made from apple brandy, grenadine, lemon, sugar syrup, and bitters, it seemed an excellent candidate for localization. Warwick's sour cherry cordial is a great grenadine substitute.
2 oz. applejack

½ oz. American Fruit Sour Cherry Cordial

½ oz. spruce* or cider vinegar

¼ oz. cinnamon syrup

Shake, strain, and serve up in a chilled coupe glass with a rose petal for a garnish. The spruce and cinnamon are an odd and volatile combination, but they work together. Alternatively, use honey cider vinegar and substitute rose syrup for the cinnamon.
Old New York
There's a drink called an Old Vermont, made with gin, maple syrup, orange juice, and bitters. We swapped in pear brandy and cider vinegar for the OJ, but kept the bitters for depth and balance.
2 oz. Warwick or Ethereal gin

¼ oz. maple syrup

¼ oz. pear brandy (Warwick or Harvest Spirits)

½ oz. honey cider vinegar

3 dashes Angostura bitters

Combine in shaker with ice, shake, and serve in a chilled martini glass.
That Summer Feeling
Maloney mentioned a drink called a "Spring Feeling," which is gin with lemon and green Chartreuse. We thought that swapping in some Delaware County absinthe for the chartreuse might be interesting, and used the Monk's honey cider vinegar in place of lemon. It's a very clean, elegant, and gulpable beverage, ideal for a hot day. This was our favorite of the bunch we invented. Because we are both from the Boston area, we renamed it in honor of a Jonathan Richman song.
2 oz. gin (Ethereal or Warwick)

¼ oz. Walton Waters absinthe

¼ oz. honey syrup (1:1 with water)

¼ oz. honey cider vinegar (or lime juice)

Combine everything with ice in a pitcher and stir for 30 seconds. Take a chilled martini glass or coupe and rub the rim with spruce or pine needles (or citrus peel) and strain drink into glass. Garnish with pine needles or a twist.
Chocktail
Tuthilltown makes a good rum from blackstrap molasses, and we put together a drink that uses desserty flavors that play well with the sugar notes but still remains light and crisp. There's an almost chocolatey note in the result, hence the name.
2 oz. Roggen's Rum (Tuthilltown)

¼ oz. blackcurrant vinegar* (alt: cider vinegar and a few drops of cassis)

½ oz. demerara sugar syrup (or maple syrup)

2 dashes walnut bitters

mint leaves

Muddle the mint leaves in the bottom of a pitcher. ("Kind of bang on them; don't be too rough or they'll get bitter," advises Maloney). Add other ingredients, then ice. Stir thoroughly and strain into a chilled martini glass. Garnish with a mint leaf.
It is now possible to have a well-stocked bar filled with entirely regional products. Avail yourselves. Invent. Contribute to our growing culinary identity. And if you come up with a winner, be sure to stop in at the Stockade and tell Paul about it.
*I make the spruce and blackcurrant vinegars at home. For spruce, put fresh spruce tips (they come out this month) in cider vinegar to infuse. For blackcurrant, use fresh juice and add a glug of live cider vinegar "with the mother," found at health food stores. Ferment six months at room temperature out of direct sunlight in an open glass jar with cheesecloth over the top. Experiment!