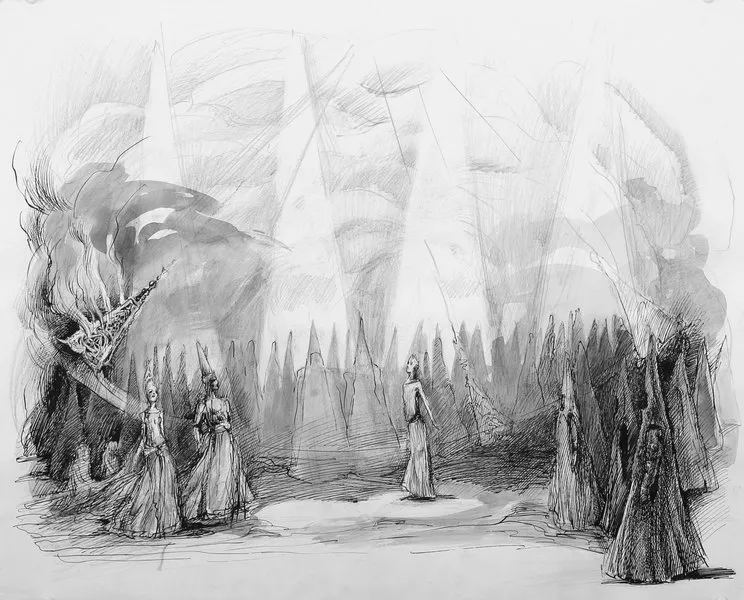 A sketch of the set design for King Roger at Bard Summerscape.

Plots revolving around a gang of mountain bandits and a philosophy of erotic abandon may sound more like the makings of an upcoming episode of "Lost" than early 20th-century opera. But, these are, in fact, thematic elements from two of the works this month at Bard SummerScape. Continuing its tradition of producing seldom performed theater and opera, SummerScape presents the opera King Roger (The Shepherd) and the ballet Harnasie by Karol Szymanowski—a friend of Sergei Prokofiev's and the composer who is widely considered the father of modern Polish music. The performances are in conjunction with the Bard Music Festival's celebration of "Prokofiev and His World."
King Roger (The Shepherd) was written in 1924 in collaboration with Jaroslaw Iwaszkiewicz after Szymanowski returned from Sicily, and is loosely based on an actual Sicilian potentate, Roger II. The opera premiered in Warsaw in 1926 to enormous critical acclaim though it is now rarely staged. The title character, played by baritone Adam Kriszewski, is a 12th-century Sicilian monarch who is being challenged by a mysterious shepherd who preaches the Dionysian thesis that the mysteries of divine love and creative work can only be apprehended through sex. When the king confronts the shepherd, he experiences a sensual revelation. (A popular reading of King Roger is that the composer, a homosexual, used the work to push for tolerance of love outside of normal constraints.)
Harnasie, a ballet-pantomime from 1931 inspired by the composer's heightened interest in Polish folk music, will precede each performance of King Roger. Harnasie tells the story of a reluctant peasant bride who falls in love with Harnas, the leader of a gang of mountain bandits. The production will include tenor Tadeusz Szlenkier and the Wroclaw Opera Chorus.
Szymanowski's two largest works for the stage will be performed by the American Symphony Orchestra, conducted by Leon Botstein, under the design and direction of Lech Majewski. The productions will be sung in Polish with English supertitles, at the Sosnoff Theater at Bard College from Friday, July 25 through Sunday, August 3. (845) 758-7900; www.fishercenter.bard.edu.