Page 6 of 6
The "official story," then, is that there is no story.
In addition to the question of how the fire started, one is left wondering why there are no records of a fire that, according to the Poughkeepsie Journal, brought nine fire departments and 150 firemen to Vanderbilt Lane on April 28, 1987.
"It was kept a mystery to us," Biff McGuire declared.
No witnesses and no report. Rumors based on hearsay and inference are all that remain—and persist. An unfortunate legacy for a place that so many remember with such fondness.
Exeunt
I spent four arduous and unforgettable summers at the Playhouse—two seasons as an apprentice and technician during the "star package" years of Peter O'Rourke, when plays featuring TV and movie stars came through every week and big bands like Count Basie's and Lionel Hampton's performed on dark nights; and two with the Abraxas Resident Theater company, in every capacity from producer and designer to actor and director. Almost anyone who has ever worked in summer stock will tell you that it was some of the hardest work they've ever done and some of the most fun they've ever had. From apprentices and staff to actors and technicians, everyone squeezes into one roller-coaster car for a dizzying and exhausting three-month ride.
Like Marjorie Gateson, the Playhouse has slipped into history, but its tradition continues in the memories of those who worked, performed, and attended plays there-—which in some ways is fitting, for that's also the nature of live theater. Once a performance is over, it's gone, and all we have is how we remember it.
Still, said Polly Masters, "I'd love to do it again!"
Some Celebrities Who Appeared
at the Hyde Park Playhouse

Walter Able
Count Basie
Sid Caeser
Kitty Carlisle
Imogene Coca
Dennis Cole
Francis F. Coppola (director)
Robert Culp
Olivia de Haviland
Sandy Duncan
Duke Ellington
Joan Fontaine
Henderson Forsythe
Marjorie Gateson
Kermit Goel
Betty Grable
George Grizzard
Uta Hagen
Noel Harrison
Glenda Jackson
George Jessel
Alan Jones
Van Johnson
Mike Kellin
Stan Kenton
Margo Kidder
Sam Levene
Ann Meara
Bill Murray
Barry Nelson
Pat O'Brien
Eleanor Parker
Estelle Parsons
Don Perkins
Nehemiah Persoff
Molly Picon
Christopher Reeve
Burt Reynolds
Buddy Rich
Jason Robards
Buddy Rogers
Hayden Rorke
Lillian Roth
William Shatner
Ann Shoemaker
Bobby Short
Ann Sothern
James Taylor
Vivian Vance
Eli Wallach
James Whitmore
Joanne Woodward
Bob Sommer's novel
Where the Wind Blew
is forthcoming this month from the Wessex Collective. He has written widely for literary, scholarly, and commercial journals, including
Hudson Valley
magazine, which published his first story in 1975. Sommer is also a regular contributor to the
Kansas City Star
. He grew up in Hyde Park, but now makes his home in Overland Park, Kansas, where he lives with this wife Heather.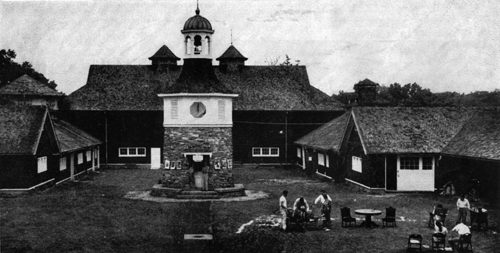 ABOVE: A SUSPICIOUS FIRE DESTROYED THE HYDE PARK PLAYHOUSE ON APRIL 28, 1987.PREVIOUS SPREAD: AN UNDATED PHOTO OF THE COURTYARD OF THE PLAYHOUSE, MOST LIKELY FROM THE LATE 1950s.