An old playbill from the Hyde Park Playhouse features the grainy and bejeweled image of Marjorie Gateson on the front cover, then appearing in "Pride and Joy," a "new play" by John O'Hare. Gateson's was a recognizable face to audiences in 1954, the playbill's date. Her career began in 1931 and included over 100 films. Often cast in matronly supporting roles in movies like
Andy Hardy Meets Debutante
(1940) and
The Sky's the Limit
(1943), she appeared with Mae West, Mickey Rooney, Olivia de Haviland, Fred Astaire, and many other big stars. By the early `50s, her prime film years were behind her, but she had revitalized her career in TV soap operas and was still certain to draw patrons to the Playhouse. Sprinkled throughout the black and white playbill are ads for businesses in Hyde Park—Arbuckle's Tavern ("Where Friends Meet After the Show"), the Hyde Park Diner ("Just Good Food"—and air-conditioning!), and W. Crispell & Sons, where you could buy "Reynolds Do-It-Yourself Aluminum."
Summer stock at the playhouse was a presence in the cultural life of the Hudson Valley for over three decades, until April 28, 1987, when the theater burned down in a conflagration of unknown cause that brought fire companies from across the region. Owners and producers came and went in those years, and by the late 1970s, the theater had fallen into disuse until actor Biff McGuire bought and revived it as The Hyde Park Festival Theater. The property's current owner, Patricia Graf, had just purchased the Playhouse when fire destroyed it. She only saw one play there, Berthold Brecht's "A Man's a Man," in 1986, with Bill Murray and Stockard Channing, but she lives on the grounds now. At the center of the courtyard, the stone base of the once-familiar clock tower now resembles a massive, ivy-covered tree stump, while behind it the lawn gives way to woods where the theater once stood.
Like Marjorie Gateson, the Playhouse has faded into history.
The Place is the Thing
Unlike many of the classic barn theaters on the straw-hat circuit, a network of summer stock theaters that flourished in the Northeast from the 1940s through the 1960s, the Hyde Park Playhouse was more than a single building. It was an entire complex, an environment, a stunning piece of architecture. Once known as the Vanderbilt Farm, it had been the barn and stables for the Frederick Vanderbilt estate, maintaining upwards of 100 cows, 50,000 chickens, and as many as 20 Belgian workhorses when it was in full operation. A 1954
Life
magazine article wrongly attributes the building design to Stanford White. According to Tara McGill of the National Park Service, it was designed by architect Alfred Hopkins (1870-1941) and constructed in about five months in 1901 by the firm of Creegan & Collins of Morristown, New Jersey. An undated ground plan from that period places the cow barn in what later became the theater lobby, a machinery shed where a bookstore later opened, wagon and horse stables in the scenery storage rooms, and a bull pen in the green room and dressing rooms. The theater itself was simply listed as a hay barn.
A set of large double doors opened onto the cow and wagon yards, then separated by fencing. Four panels of windows above the doors and three more sets on each side brightened the barn's interior. The light must have been welcome in the era of the Vanderbilt Farm—an unusual luxury for a barn—but it was a problem for theater producers, who had to control the lighting inside. The windows were blackened and covered, but even this would not entirely darken the theater during a matinee. By the time I came to work at the theater, almost 20 years after Marjorie Gateson performed there, the roof was in such poor condition that pinholes of sunlight glimmered over the audience like the constellations at a planetarium show. On rainy days, intrepid patrons would arrange themselves around splattering buckets in the aisles and tarp-covered rows of seats—and they'd have to listen hard to hear the actors through the thunderous noise when heavy rain fell.
Despite the challenges of the building, anyone who visited the Playhouse can attest to its grandness. Two massive cupolas at the apex of the roof drew your eyes upward and then along the easy sweep of the rooflines to the adjacent structures on each side, yet the roof didn't crowd the sky. Hopkins was well known in his time for barn design, and for countouring his buildings into the land that surrounded them.
The stone tower at the center of the courtyard was added later and became a distinctive landmark. It featured a Seth Thomas clock, so the Vanderbilts' cows and horses had the luxury of knowing that their feeding and pasturing times were accurately kept by a clock designed and built by America's oldest clockmaking company. Nearly every theater company that produced plays there adopted the tower or its weather vane as a logo. The native gray stone walls formed an octagon that swept upward and inward to the white louvered woodwork beneath a shake roof that was topped by a bell (later stolen by looters in the aftermath of the fire), a copper cap, and a weather vane. A slate ledge around the base of the tower almost insisted that visitors sit there to take in the surroundings.
Eleanor Roosevelt, a regular visitor to the Playhouse, called it "a delightful place to spend an evening. I cannot think of a more delightful setting than these old Vanderbilt barns, with the clock tower in the middle of the square, where you buy your tickets, and the buildings all around."
From Barn to Brecht
In 1940, President Franklin D. Roosevelt heard a rumor that the county was considering building a jail on the property, so he wrote directly to Elmer Van Wagner Sr., who lived next to the farm, and asked him to buy it. He did, from Frederick Vanderbilt's niece, and continued operating the farm until the end of the decade, when he sold it to a group led by Richard Harrity, a one-hit-wonder playwright from New York, and Elizabeth Campbell Crane, a wealthy investor from Texas whose main role seemed to be underwriting the good life in New York for Harrity and his associates. Conversion of the barn into a performance space began under Harrity, with the stage going up in 1952 or `53, but little else was done and no shows ever took place. Crane finally grew tired of paying Harrity's tab at Sardi's, and in 1953 decided to sell the theater.
One of Crane's associates was the well-respected Broadway stage manager George Quick, who spread word that the unfinished barn was up for sale. Among Quick's friends was actress and singer Susan Johnson, who had toured in the road show of "Brigadoon." Johnson's understudy on the tour was Polly Jo McCulloch, an aspiring actress with an uncertain future on the stage but with an independent income. Both McCulloch's and Quick's names appear as producers in the 1954 playbill.
Few West Virginians in the 1940s would have recognized the name Polly Jo McCulloch, but many enjoyed listening to the popular radio personality "Side Saddle Sue" and her bluegrass band, Rattlesnake Hogan and His Ridge Runners. McCulloch, who came from a prominent banking family in Beckley, West Virginia, wanted to become an actress, and by the early 1950s had gone to New York and landed a role in the touring company of "Brigadoon." Now 83, she told me in a telephone interview from her home in Ancramdale, "I knew I was never going to be more than an understudy." So, when George Quick proposed opening a summer stock theater, she bought the place for $30,000 and threw herself into the work. "I happened to have the money," she said, almost dismissive of the cost, which turned out to be a bargain. In today's dollars, McCulloch would have spent about $240,000, less than the current median home price in Hyde Park.
She and Quick were determined to make a success of the theater. They finished raising the stage and laid a concrete floor in the milking parlor, converting it into a lobby. They turned the clock tower into a box office and set up a business office in the carriage barn. Installing the 500 theater seats required over 6,000 screws in an age long before power screwdrivers.
With many recollections of the Playhouse still vivid, Polly took special pleasure in describing a visitor who showed up one hot afternoon in a dusty car—"a knock-kneed, pigeon-toed woman."
"I said, 'My God, that's Eleanor Roosevelt!'" She added, almost confidentially, as if Mrs. Roosevelt might overhear us, "I came from a Republican family, where she was never mentioned."
"How do!" said Mrs. Roosevelt.
She was there to buy tickets. While Polly was delighted to have the former First Lady's patronage, she began a practice that confounded the theater's owner, and is best described by Polly's ex-husband, Hilary Masters.
"Mrs. R (as we called her) would buy a season's subscription, at the reduced rate, and then use them all in one night—guests and her different grandchildren. Strictly against the policy. But who would say no to her? She wasn't using her 'position' so much doing so, but acting within the Hudson Valley nobility's attitude about such matters."
"But what could we do?" Polly asked rhetorically.
No Room at the Inn
The son of Chicago poet Edgar Lee Masters and a successful novelist in his own right, Hilary Masters, now 80, is a professor of writing at Carnegie Mellon University. In 1953, he was a struggling New York press agent and had worked that winter at a theater in York, Pennsylvania, where he met George Quick, who mentioned that he'd met the woman who bought the old Vanderbilt stables and he was going in as coproducer. Quick later recommended Masters to Polly McCulloch to handle publicity for the new summer stock theater in Hyde Park.
Masters was already married when he came to work at the Playhouse, but he and Polly fell "madly in love," he said, and after he drove to Nevada for a divorce in 1955, they got married.
One of Masters's publicity coups was arranging for Life magazine to include the Playhouse as part of a spread on straw-hat theaters around the circuit. His surprise when a car appeared at the front gate while he was working in the business office echoed Polly's experience with the former First Lady, but with a difference. A white female reporter got out of the car with an African-American photographer named Gordon Parks. Masters panicked. "Where am I going to put them up?!" he recalls thinking. Before they had passed through the gates of the property, he was on the phone to motels in Hyde Park, all of which declined to have Parks stay with them. Masters saw through the excuse offered by owners and managers that guests would complain, but he had no time to argue. Finally, he called the minister at St. James Church, just a short walk from the theater. The minister wasn't home, but his wife also refused to have Parks stay in her home. Embarrassed and flustered, Masters said he "lied like crazy" to Parks and the reporter, saying all the motels were booked. Parks knew better, but he "was really cool," Masters added. They ended up staying in a Poughkeepsie hotel.
Still, Hilary Masters remembers those years as "very pleasant." Hyde Park was small; he and Polly made friends easily, and "politics didn't seem to matter much." They generally got along with their neighbor, Elmer Van Wagner Sr., though they occasionally tussled over the use of the narrow private road that accessed the Playhouse from Route 9. Masters laughed as he recalled that once Van Wagner had "a couple of drinks...he'd be better."
They produced eight or nine plays each season for the first three years, inaugurating the new theater with "Gigi" on June 14, 1954. Among the plays were "Pygmalion," "The Caine Mutiny," "The Importance of Being Earnest," and "The Contrast." Masters and Quick assembled a resident company of professional actors, designers, and technicians and brought in stars like Marjorie Gateson and silent-film star Buddy Rogers for the leading roles. Hilary Masters recalls that coming out of silent films, Rogers had trouble remembering his lines. He was a handsome man—"beautiful," Masters called him—and was married to Mary Pickford, who was exceptionally jealous and called often to make sure that the early groupies who surrounded Rogers were kept at bay. "How's my boy doing?" she'd ask Masters. Another "Buddy," an apprentice named Buddy Reynolds, had his professional acting debut on the Hyde Park stage the following year playing a convict in a French penal colony in the recent Broadway hit comedy "My Three Angels." Joanne Woodward thought well enough of the apprentice to introduce him to her agent, and he later gained fame as Burt Reynolds. The company's "resident ingénue," according to Masters, was Joselyn Brando, Marlon's sister, who had been blacklisted and quietly found work at the playhouse.
Plays ran Tuesday through Saturday, from mid-June through late August, and Polly remembers doing good weekend business—though neither she nor Hilary recall doing exceptionally well. Hilary said they had a lot of trouble getting attention, and even all these years later, there was a hint of bitterness in his voice as he called the Poughkeepsie Journal "awful," devoting much more attention to the established theaters in Fishkill, Woodstock, and Danbury.
Fade to Black
Polly and Hilary Masters actively ran the Playhouse from 1954 through 1956, but by then they had children, and Polly's enthusiasm for the theater faded, Hilary said, as she turned her attention to her family. They had decided not to raise their children in New York City, but Hilary chuckled as he said that no one wanted to hire a press agent in Hyde Park, so he turned to journalism and in 1956 founded the Hyde Park Record, which later became the Hyde Park Townsman. They built a house near the theater, and George Quick took over day-to-day management of the theater. Later, they leased the theater to several successors, eventually selling it in the late 1960s to Albert Ward, an advertising executive who had been tied to the quiz show scandals of the 1950s. Subsequent owners included actor Eddie Bracken in the early 1970s, with Peter O'Rourke as the theater's producer. Dottie LaClair and Jean Morsbach, both New Yorkers in the ad business, purchased the theater in 1973 and sold it to Biff McGuire in the late 1970s. McGuire donated the theater to the Hyde Park Festival Theater Corporation about two years before its destruction.
Over the 33 years of the theater's operation, many hundreds of performers, technicians, designers, and apprentices worked there. The list of celebrities who performed is extensive (see box), but that list leaves uncounted and uncredited all those who were part of the story both offstage and onstage during those three decades. I recall, for instance, eating dinner from a Styrofoam container on the Playhouse lawn between the matinee and evening performances of "Fiddler on the Roof" in 1971. Probably 50 people surrounded me, also eating and wandering about, many in costume, some, like me, dirty from backstage work, but only two names from that show made the Playhouse celebrity list—Mike Kellin, a talented and well-known actor who now shares Marjorie Gateson's fate; and the show's director, "Frank" Coppola. The life that so many others brought to the theater remains an untold story. One such story is that of Abraxas Resident Theater (of which I was a part for the `74 and `75 seasons), a nonprofit company assembled from professional off-Broadway talent (some of whom used pseudonyms because of their Actors' Equity memberships) and regional amateurs. None of their names would make the list.
The demands of the building itself were exhaustive. A plant of that size requires large reserves of cash for everything from landscaping to roof repairs (and it always needed repair). Gate revenue and sponsorships never came close to covering the costs for most who operated there.
None Dare Call it Arson
My first question to Patricia Graf, when I spoke with her by telephone in Hyde Park, was "How did the fire start?" I expected a simple answer, but she responded with a question of her own: "Do you want the official story or the rumor?"
Anyone who ever set foot inside the Playhouse knew that from the hemp fly system over the stage to the shake siding, it would go up faster than dry kindling. (It astounds me today to think that we used to smoke inside when we were working—or partying.)
The fire started late on the afternoon of Tuesday, April 28, 1987. Brad Lynch, who lives in the Masters old house behind the Playhouse, recalled that the place "went very fast." He could feel the heat from his house and remembers the transformers on the utility poles exploding. His ex-wife, Nina Lynch, was driving home from work in Poughkeepsie at the time and was stuck in traffic. Firemen had run a half mile of hose across Route 9 and down to the Hudson River, which caused a major traffic tie-up. When she saw smoke up ahead, she knew what it was. "Only one thing could smoke like that," she said. "The Playhouse."
Charles Belcher has lived across from the Playhouse for 50 years and used to run the theater bookstore. He saw smoke when he arrived home from teaching at Poughkeepsie High School and called the fire department.
"I was among the first that called it in," he said.
According to Belcher, "The fire came down both sides [of the Playhouse complex]. On the east side, they didn't save anything….On the other side they had a lot better luck."
It wasn't entirely luck.
Biff McGuire was then the artistic consultant to the theater, and he's still grateful to a plumber named Joseph Dudeck, who told firemen to direct the blaze away from his residence. McGuire and his wife, actress Jeannie Carson, lived in the southwest wing, but they were in Seattle at the time of the fire.
A group of students from the Board of Cooperative Educational Services (BOCES) had been repairing the roof on the southeast wing of the building. Bob Kampf, then principal of BOCES, said the students had worked through the morning but were gone by noon. He went straight to the Playhouse when he got word that it was on fire. "It went up like a tinderbox," he said. He later agonized over the question of whether his students might have inadvertently started the fire, perhaps by leaving an electrical tool in the sawdust (one possibility suggested by Graf), but after a thorough review he concluded that they hadn't.
"No way," he said, "that they could have been responsible for the fire."
"Kid mischief," Belcher declared, was the cause.
Asked to explain, Belcher referred me to his former neighbor, Howard Warren, who I reached in Pinehurst, North Carolina, where he and his wife Maryellen now live.
Warren recalled neighbors heading for the theater when they realized it was burning. "When my wife and I were later going toward the Playhouse, everyone was going that way except one elementary-type youngster who was riding a bicycle away from the Playhouse. It seemed suspicious to us."
I asked what was suspicious, and Warren pointed out that the boy was going away from the theater and not toward it, and that he was "riding rapidly." Neither Warren nor his wife saw the boy do anything at the theater, though the inference that he had still persists among the Playhouse's neighbors.
I asked Biff McGuire, now 82, what he knew about the fire's cause when I spoke to him at his home in Los Angeles.
When he arrived in Hyde Park, he said, "I also was told many different things. One was of a young man coming home from school. He stopped to smoke in the breezeway, then was either playing in the sawdust and threw a match in or put the cigarette out in the sawdust and couldn't stamp out the flame, and then ran away. That was one of them. Several others were off-the-wall. That one piece kept coming up."
McGuire said that no one seemed to think it was arson but rather that the blaze just got away from the boy—if that's what happened.
Did McGuire ever see an official report on the fire's cause?
"Never!" he responded firmly. "I could never get any information at all."
He added, "I had asked many times and eventually gave up because there were so many conflicting stories."
Patricia Graf never saw a report either.
No doubt contributing to rumors that the fire was suspicious were these comments by Dutchess County Undersheriff David Cundy in the Poughkeepsie Journal, May 15, 1987: "We haven't ruled out that it may have been accidental, but we believe it looks more like arson."
So, what is the "official story"?
I directed a Freedom of Information Law (FOIL) request to the Town of Hyde Park in November of last year and learned that Detective George Brazzale of the Sheriff's Department and Walter Horton of the Arson Team were in charge of the investigation in 1987. I was referred to the Dutchess County Arson Team and the Dutchess County Sheriff's Department for more information, specifically, to John Murphy of the Department of Emergency Response and Sheriff Adrian Anderson. I filed FOIL requests with both to obtain a copy of the arson report. As of this writing, Sheriff Anderson has not responded to my FOIL request or to my e-mails.
Murphy followed up promptly, and we exchanged several e-mails, but his last one, on January 3 of this year, sums up the conclusion. He simply stated, "We have no records in our possession to provide to you." The bold print was his, no doubt partly to correct an earlier e-mail in which the "no" was omitted, but I also gathered from this and other e-mails that he was becoming impatient with my continuing inquiries. Still, I was astounded that the county had no public records of a fire of this magnitude and the destruction of what many considered a landmark.
The "official story," then, is that there is no story.
In addition to the question of how the fire started, one is left wondering why there are no records of a fire that, according to the Poughkeepsie Journal, brought nine fire departments and 150 firemen to Vanderbilt Lane on April 28, 1987.
"It was kept a mystery to us," Biff McGuire declared.
No witnesses and no report. Rumors based on hearsay and inference are all that remain—and persist. An unfortunate legacy for a place that so many remember with such fondness.
Exeunt
I spent four arduous and unforgettable summers at the Playhouse—two seasons as an apprentice and technician during the "star package" years of Peter O'Rourke, when plays featuring TV and movie stars came through every week and big bands like Count Basie's and Lionel Hampton's performed on dark nights; and two with the Abraxas Resident Theater company, in every capacity from producer and designer to actor and director. Almost anyone who has ever worked in summer stock will tell you that it was some of the hardest work they've ever done and some of the most fun they've ever had. From apprentices and staff to actors and technicians, everyone squeezes into one roller-coaster car for a dizzying and exhausting three-month ride.
Like Marjorie Gateson, the Playhouse has slipped into history, but its tradition continues in the memories of those who worked, performed, and attended plays there-—which in some ways is fitting, for that's also the nature of live theater. Once a performance is over, it's gone, and all we have is how we remember it.
Still, said Polly Masters, "I'd love to do it again!"
Some Celebrities Who Appeared
at the Hyde Park Playhouse

Walter Able
Count Basie
Sid Caeser
Kitty Carlisle
Imogene Coca
Dennis Cole
Francis F. Coppola (director)
Robert Culp
Olivia de Haviland
Sandy Duncan
Duke Ellington
Joan Fontaine
Henderson Forsythe
Marjorie Gateson
Kermit Goel
Betty Grable
George Grizzard
Uta Hagen
Noel Harrison
Glenda Jackson
George Jessel
Alan Jones
Van Johnson
Mike Kellin
Stan Kenton
Margo Kidder
Sam Levene
Ann Meara
Bill Murray
Barry Nelson
Pat O'Brien
Eleanor Parker
Estelle Parsons
Don Perkins
Nehemiah Persoff
Molly Picon
Christopher Reeve
Burt Reynolds
Buddy Rich
Jason Robards
Buddy Rogers
Hayden Rorke
Lillian Roth
William Shatner
Ann Shoemaker
Bobby Short
Ann Sothern
James Taylor
Vivian Vance
Eli Wallach
James Whitmore
Joanne Woodward
Bob Sommer's novel
Where the Wind Blew
is forthcoming this month from the Wessex Collective. He has written widely for literary, scholarly, and commercial journals, including
Hudson Valley
magazine, which published his first story in 1975. Sommer is also a regular contributor to the
Kansas City Star
. He grew up in Hyde Park, but now makes his home in Overland Park, Kansas, where he lives with this wife Heather.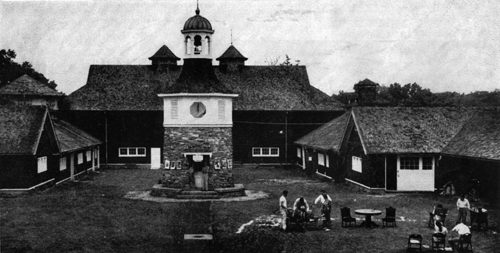 ABOVE: A SUSPICIOUS FIRE DESTROYED THE HYDE PARK PLAYHOUSE ON APRIL 28, 1987.PREVIOUS SPREAD: AN UNDATED PHOTO OF THE COURTYARD OF THE PLAYHOUSE, MOST LIKELY FROM THE LATE 1950s.