Page 4 of 4
BKM: Why did you open a bakery?
MK: When we started the bistro, I had no intention of making bread at all, zero. But I couldn't get any bread. I just kept trying to find a nice dinner roll, just anything simple. I said, "To hell with this. I'm just going to pull out an old recipe and roll with it." It's been a giant pain because we don't really have the oven space for it, but it's a really good product, and people were really loving it.
So, then this space opened up down the block. It's a union hall that was built in the `20s. It had been sitting empty for a couple of years, and then for about a decade before that it was a church. We asked ourselves, "Should we do a bakery?" I feel like there aren't really any bakeries around here, certainly not higher-end artisan bakeries. If I want to go get a macaroon today, where am I going? The answer was nowhere. Or, do I want to get a really good croissant? I don't really know, if I'm not going to drive an hour away. So, there is certainly room. Somebody described this area to me as a bread desert. I think they're absolutely right.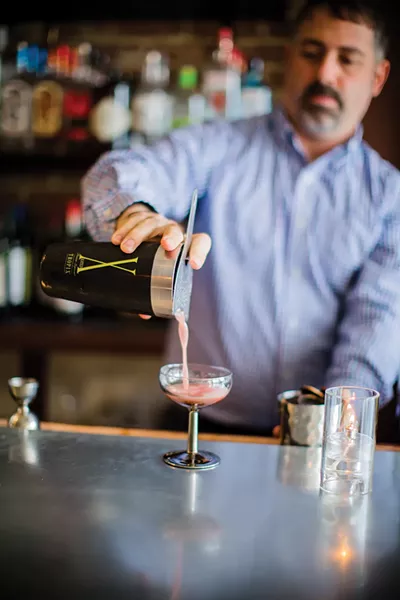 Photos by Mary Kelly
Head bartender David Garrett preparing a cocktail
BKM: Why dollar oysters?
MK: We don't have it easy being in downtown Newburgh. If you're from the Hudson Valley, probably every older person in your life has told you not to come here. Convincing people to get here is probably our biggest challenge, but once they're here, they come back. The dollar oyster thing was like, "Come to the bar. Have some oysters and a cocktail," and maybe that's our first date. And maybe I'll ask you for a kiss on the way home. We'll see what happens.
Liberty Street Bistro, 97 Liberty Street, Newburgh. Open for dinner Wednesday through Sunday; brunch on Saturday and Sunday. Libertystreetbistro.com.