Start with the oysters. On Sunday, they're a dollar all day. Same during happy hour Wednesday through Friday. On a recent visit to Liberty Street Bistro, I was served half a dozen Mystics, already dressed with a light mignonette—Chef Kelly does not like cocktail sauce, I was told—and those briny beauties were an inexpensive kick-off to the best meal I've eaten so far this year.
There are about a dozen or so restaurants in the region that are operating at the highest level, and Liberty Street Bistro, unexpectedly located in downtown Newburgh, is one of them. Opened by 20-something culinary wunderkind Michael Kelly in 2016, the restaurant draws on Kelly's experience working in some of Manhattan's finest kitchens under the likes of Thomas Keller, Gordon Ramsay, and Markus Glocker. French-influenced but not a French restaurant, Kelly and his staff execute technically masterful, memorable food.
Brunch is served a la carte, but dinner is structured as a series of courses with choices within each course. Your choice: two courses ($39, plus $16 for wine pairing), three courses ($53, plus $20 for wine pairing), or four courses ($61, plus $24 for wine pairing). For the first course, you might try the frisée au liptauer, a winter salad with a fried six-minute egg on top. The man sitting next to me at the bar ordered it and exclaimed, "This is the best six-minute egg I've seen in my life," as the gooey yolk ran over the lettuce. The second course is pasta: I suggest the pork sugo orecchiette—a spicy twist on an Italian classic. The third course is protein, and the adventurous should order The Importance of Offal, a plate of braised beef tongue, served with fried sweetbreads and tripe that elevates the offcuts above their usual lowly status. For dessert, while I'm a fan of cheese plates, fans of decadence should try the chocolate pavlova, served with a smores-y toasted marshmallow ice cream.
Attention should also be paid to the drinks. I ordered Life with Lucy ($12), an homage to red-haired Lucille Ball, who made her stage debut in Newburgh in 1941. The cocktail takes its orange hue from carrot juice, an ingredient I'd never had in an alcoholic beverage before and a welcome addition to this well-balanced gin drink. This was made by head bartender Dave Garrett, who also oversees the well-curated wine list. (The dinner pairings are thoughtful and well worth the surcharge.) Garrett recommended a glass of the Gregory Perez Brezo Godello ($11), an unoaked Spanish white as fresh and clean as a summer morning.
Liberty Street Bistro's next-door neighbor, Caffe Machiatto, which helped to anchor the neighborhood as a culinary destination when it opened 15 years ago, closed in January. Kelly has taken over the space and is in the process of expanding the bistro from 44 to 70 seats. Lucky for us. Liberty Street Bistro is the kind of neighborhood spot every place wishes it had. It makes you want to move nearby so you can become a regular.
I spoke to Michael Kelly at his restaurant in February about his time in New York City's best kitchens, culinary style, and expansion plans.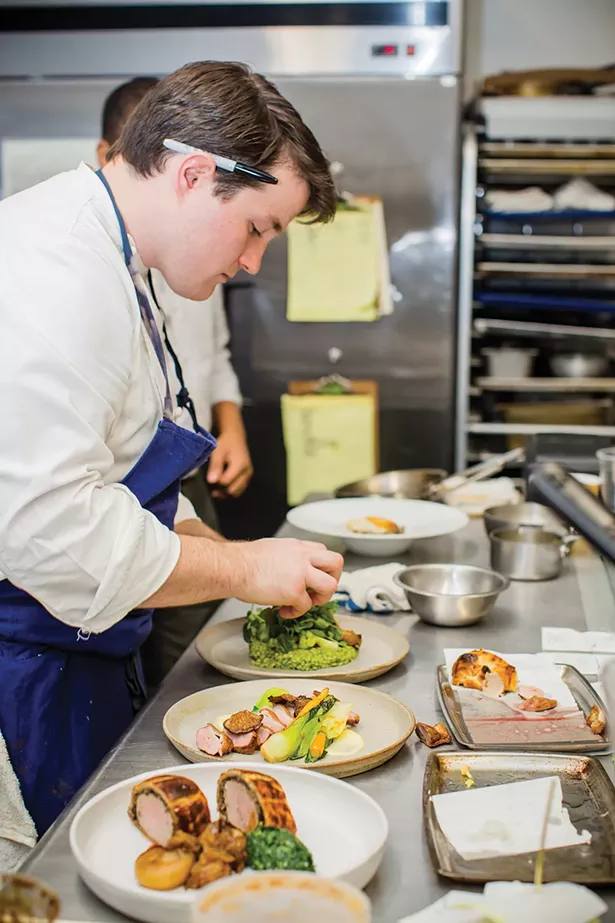 Photos by Mary Kelly
Michael Kelly in the kitchen at Liberty Street Bistro preparing plates of (front to back) pork wellington, roasted duck breast, and barley risotto
Brian K. Mahoney: Where did you eat out growing up?
Michael Kelly: If it was a really nice night out, we'd go to the Ship Lantern Inn in Milton. It's really cool. It's like a time capsule. We also used to eat at this Italian place on Broadway here in Newburgh, Chianti's. At the end of your meal, you always got sorbet. That was my introduction to what I assumed was a nicer dining experience.
BKM: You started out working in restaurants in high school.
MK: Yeah, I started working at Canterbury Brook Inn. Bus boy, dish washer, prep work. Then I worked for Painter's Tavern for a while. They're both still there in Cornwall, going strong.
BKM: These were positive experiences?
MK: Yeah, definitely. Hans Baumann is the owner of the Canterbury Brook Inn. He's just like your quintessential European chef character. He just pushes, pushes, pushes. Doesn't matter that it's old town Cornwall, and that it's just a bedroom community. He just wants to put out a consistent, quality product all the time. You either love that idea, or you hate that idea, and I love it.
BKM: I would hope that all chefs aspire to that standard.