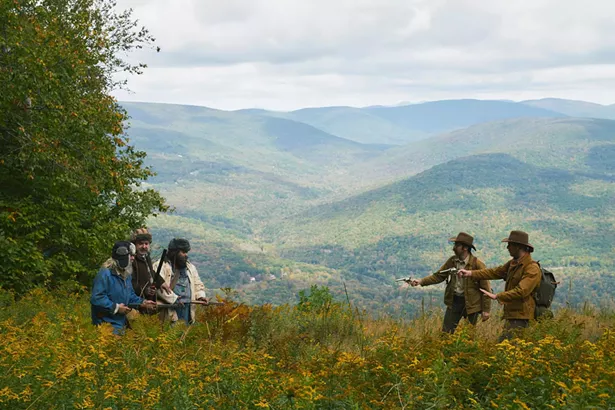 Photo by Jesse Korman
On the heels of the box office smash, A Quiet Place, which filmed in the Hudson Valley during the fall of 2017 comes Zach Golden's The Escape of Prisoner 614, starring Ron Perlman, Martin Starr, Jake McDorman, and George Sample III.

With a long career in acting, directing, and film editing, and a Rolodex of industry contacts, Laurent Rejto left the New York City in 1988 and moved to the Hudson Valley, quickly befriending the then-small upstate film community. In the 30 years since he's relocated, the New York State film landscape has undergone seismic shifts, triggered in no small part by Rejto's own efforts.
In 2000, along with filmmaker Meira Blaustein, Rejto founded the Woodstock Film Festival. In the same year, he also launched the Hudson Valley Film Commission. Since HVFC began its work, some 500 films have been made at over 1,500 locations throughout the Mid-Hudson Valley. In 2016, after much lobbying from HVFC, Governor Cuomo increased the post-production film tax credit for upstate New York from 10 percent to 35 percent, further incentivizing the regional film industry.
We sat down with Rejto to discuss the work of the Hudson Valley Film Commission and the region's evolving production industry.
What services does HVFC offer?
We do whatever we can to make it as easy as possible for production companies to film in the region, such as finding locations, local crew, and local vendors. For the most part, we work with producers or location scouts and line producers, casting directors.
Do you help production companies get their film tax credit?
We explain the process, but then they have to do the application. The tax credit is very important for post-production, which is one of the things that's taken off. Even if you produce outside of region, you can get up to 25 percent in film tax credits if you do any of your eligible post-production in the Mid-Hudson Valley.
Here is an example: All of the sound effects for the movie Roma were done in Glenford, right outside Woodstock. The sound director has done work for Martin Scorsese and the Coen brothers. He does them right in his house. He can play an effect from any movie.
Did HVFC lobby for the Film Tax Credit increase?
Very, very much. Every year in our end-of-year report, we complained about how the Mid-Hudson Valley was being screwed by the existing program. Eventually Ulster County Executive Mike Hein took up the battle and really got the Assembly together with help of other politicians. We also gathered letters from industry people, who explained how they were having to go to Georgia or Louisiana to get work because the Mid-Hudson Valley was being left out of the additional film tax credits it needed to have a level playing field with other regions.
How did the additional tax credit affect the region's film industry?
We've seen quite a shift since then, a lot more big-budget and union films are considering the region. Right now, I'm working on four union films and it's only February. That is really unusual. Used to be that union projects wouldn't even consider us, but now with an additional 10 percent on below-the-line costs, they are considering us.
What does our area have to offer production companies?
The region has a huge amount of union actors and laborers who can't afford to live closer to New York City, so they live in Kingston, Woodstock, Poughkeepsie. We have hundreds of people that we can recommend. Last year, we worked with Jim Jarmusch on Dead Don't Die, which had about 40 local crewmembers. That is everything in a nutshell that we we are trying to do: get work for local crew so they don't have to commute four to five hours a day in order to make money in this industry.
What are some of the bigger projects HVFC has worked on?
We worked on Shirley with Elizabeth Moss; last year we helped with Avengers: Endgame. That was a total secret. It was known by the code name "Mary Lou" until a month and a half ago. Two years ago, the big film was A Quiet Place with Emily Blunt and John Krasinski. To date, that is the most successful film shot in the Hudson Valley, with a profit of about $350 million.
What projects are coming up in 2019?
There is a six-part series with Mark Ruffalo for HBO, "I Know This Much is True." He plays twins. We're also working with Netflix on two films right now. We've found the locations we just need to know if we can use them. And we are also focused on about seven other independent projects. It's exciting.
You cofounded the Woodstock Film Festival. Tell us what role that plays in all this.
We created the festival with the idea of bringing people from all over the world to our region to try to convince them to come back here to make a movie, then to submit that film to the festival, and come back and show it. That has happened many times, including with Cary Fukunaga, who directed "Maniac," "True Detective," and Beasts of No Nation. In 2004, he won Best Student Short at WFF. We keep in touch with these people. I'm always saying, "Shoot your next film here."
Where does the Hudson Valley film industry's still have room to grow?
There are about nine certified sound stages, some of which are very established, and they have all the bells and whistles. If we could fill all of those up with a TV show, that would be amazing. But, more realistically, if just one of them could get a successful TV show, that would really take us to the next level. That is the dream.
When I talk to the Motion Picture Association of America, it's a lot easier to mention A Quiet Place and Jim Jarmusch than a film no one has heard of. The building blocks are in place.
The five-year plan really turned out to be a 25-year plan, but that's okay. I am a patient man.