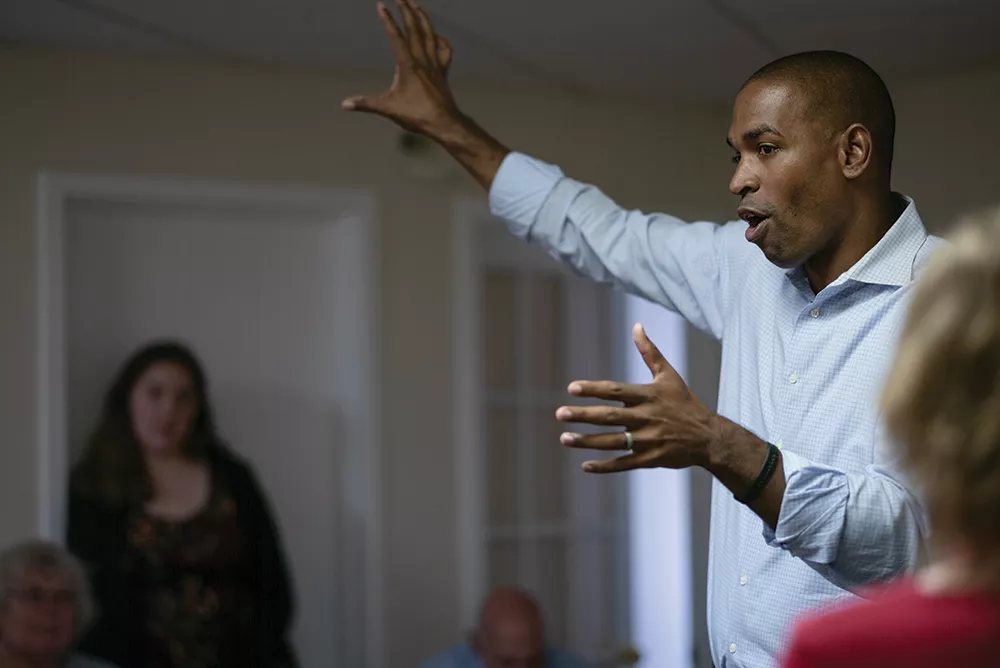 Stacey Estrella
Congressman-elect Antonio Delgado on the campaign trail in Oneonta on September 8, 2018.
On November 6, Democratic candidate Antonio Delgado made history, becoming the first African American member of Congress from upstate New York, as well as its first Hispanic representative, narrowly defeating one-term Republican John Faso in the race for the 19th Congressional district. A Schenectady native born to working-class parents, Delgado attended Colgate and Harvard Law School, was a Rhodes Scholar at Oxford, enjoyed a brief rap career that provided fodder for some race-baiting campaign commercials, and most recently worked as an attorney at the high-powered law firm Akin Gump in New York City.
Delgado sat down for a conversation in early December at his mostly vacant campaign headquarters in Kingston in the midst of frantic preparations to take his seat in Washington, DC, and set up the necessary infrastructure for constituent services back home. —Brian K. Mahoney
Brian K. Mahoney: Congratulations on your victory in the recent election. What was the secret sauce?
Antonio Delgado: Our thought going in was to make sure that everybody across this district felt they had a true representative, no matter where they live, no matter how rural or how urban. It didn't matter. I'm very pleased with the results. We closed the margins in a lot of areas that are traditionally red, and we were able to actually win Otsego County. And I think it was about the way we ran our campaign and the reach and by going everywhere.
BKM: What do you mean specifically when you say, "the way we ran our campaign?"
AD: The way was showing up. We've had trends in our political discourse that have moved the way we go about the business of democracy away from the people. It's become sort of this game that happens in DC and with donors, and there's decisions and choices made separate and apart from the ground. And the more money that's gotten into politics, the more politicians have been incentivized to engage more and more with that dynamic, rather than going to work with their constituents, holding town halls, having offices that they can be found in, or having case workers that do the work, and people can feel that, they know. I've talked about doing these things. We went to communities across the district. We engaged, we held town halls. We did the things that I intend to do as a congressman to demonstrate to people that this is what it's going to be like if you allow me the honor and the privilege of serving you.
BKM: What did you learn by talking to people on the campaign trail that you didn't expect?
AD: You know, it's interesting because I've been asked that question before, and you would think that by now I'd have an answer. But the thing that I always come back to when I'm asked that question, and I'm going to do it here, it's not that I learned something that I didn't expect, but what I discovered through the process was how deep the desire is for it. You know, you have an instinct, you have a gut that you think this is lacking. You have a sense that this doesn't feel right. But you don't know until you're actually out there and people are reacting the way to it. And you see the real hope and the desire when they are confronted with the possibility of real change. You see that and you can see it manifest itself in them. That is something that no matter how much you think it through or project it, you're not going to be able to actually know what it's going to be like until you're confronted with it.
It's like when you're an athlete and you're trying to prepare for a game—you don't know what the game's going to be like really until you're in the game. In the same way, engaging with people face-to-face, having those interactions, and seeing the depth of desire that they feel for real change—that, to me, was incredibly meaningful.
BKM: Where are we at as a country? If a Martian landed outside and walked in and said, "Describe the political climate to me," what would you say?
AD: I always try to orient myself based on what's happening here at home. We bridged a lot of gaps through my campaign. We overcame a lot of divisiveness. And we spoke to the better angels of people across this district. With the divisiveness that is ongoing right now across the country, the intense partisanship—and New York 19 is an example of this—we are going through a process of being held accountable as a country and particularly here at home to what we really stand for and what we're genuinely about—what our value set is. And I feel that until we right that value set, we are going to be stuck on how we solve complicated problems, whether it's health care, climate change, or wage stagnation. You know, there's very difficult problems that we have to solve collectively in a diverse country. But unless we can get to a place that we can civil, we can't disagree without being disagreeable, right? We can actually be respectful to each other, understand that we're in this together. And we did a lot of work, I felt like.