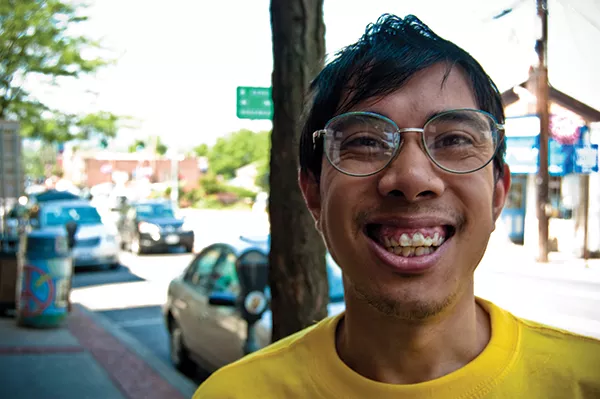 Alllyson Ferrara
Ludwig Montesa
The first time Ludwig Montesa performed at Creations Coffee House in New Paltz, he recited the entire schedule of the Metro-North Hudson line from memory. "Everyone thought it was strange and brilliant," says Carl Welden, who hosted the poetry reading at the coffee shop that's now Suruchi Indian Restaurant. Ludwig would become well known for his open mic performances in New Paltz, which often consisted of whole-hearted renditions of pop-ballads like "I Will Always Love You." "At first they took getting used to if you were not accustomed, but then later you realized even the best of us on Earth couldn't do a Ludwig performance," says Welden. "It was something unto itself."
Such enigmatic awe is the tone many take when remembering Ludwig Montesa, who died on April 7 at the age of 34, from an apparent epileptic seizure. Ludwig was a fixture in downtown New Paltz for 20 years, frequenting its stoops and streets since he was about 14-years-old, when his parents opened Kon Tiki, a funky, international gift shop on Main Street. A loyal band of New Paltz downtowners looked after Ludwig, whose unconventionality, both mentally and physically, sometimes unsettled people who didn't know him. "If people started telling him off, the townies would step in," says Welden. But mostly, Welden remembers Ludwig as an inspiration. "He gave people courage on stage," he says. "I know people who would be afraid to get up and do something, and there [Ludwig] would go—karaoke singing his guts out—and he wasn't doing it for anyone. He would just get up there and put his heart into it."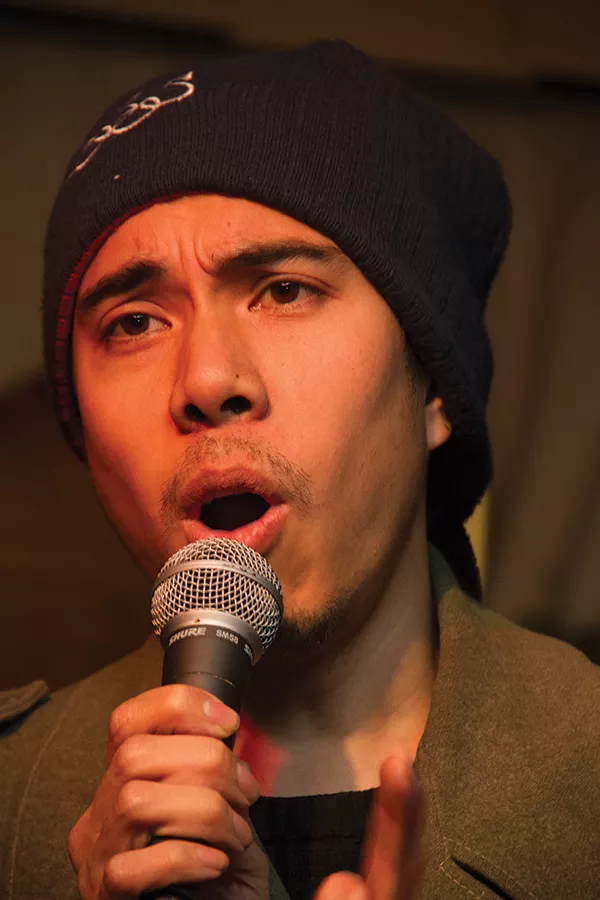 Ludwig's fearless individuality resonated profoundly in the small, tight-knit community of New Paltz. The Ludwig Montesa Fan Club Facebook page, started a few years ago after Ludwig had an on-stage seizure, now acts as a testament to his impact, with over 1,300 members and a regularly updated feed of stories, photos, and videos. Though I knew Ludwig in a manner many who live in New Paltz do—for his big smile, snappy wardrobe, and enthusiastic high fives—these stories gave me a fuller sense of the wonderfully distinctive person he really was. Ludwig defied categorization; he identified with a female alter ego named Gloria Flores, but also had a "fiancée", his life-long friend Jen. Though he seemed a ubiquitous presence on the streets of New Paltz, he also loved taking trips to New York City (riding the 7 train to Flushing was something Ludwig loved to do since he was a little kid growing up in Elmhurst), or to the Philippines, where his family is from. More than being a figure of mystery and surprise, though, the stories speak overwhelmingly to Ludwig's thoughtfulness, such as his penchant for writing quirky, imaginative letters to his friends.
Since his death, Ludwig has been lauded an icon. He's been called the ambassador, even the Dalai Lama, of New Paltz. On the fan page, people have expressed the desire to honor him in various ways: with a documentary, a music scholarship, a statue, a mural—people have even suggested renaming a road for him in the heart of New Paltz. One plan in the works is a town-wide Ludwig Day on May 25, which will consist of a memorial service at Hasbrouck Park, a parade-style march into the village, and music at nearly every venue downtown. The event already has over 750 confirmed attendees.
To many, Ludwig represents something intangible at the heart of New Paltz. Despite the transient quality of the town—with new waves of students each semester and new tourists each season—Ludwig was a constant for two decades, a fixed point through many of the town's permutations and transformations. Just as a town's landmarks often ignite nostalgic musings, Ludwig represented a comforting familiarity, connecting generations of people and giving a face to New Paltz's enduring timelessness. Pegging Ludwig as a symbol for the ephemeral town presents a danger, though. It's risky to say that Ludwig, flitting about the neighborhood Peter Pan-like, was a symbol for a downtown community that feels at home in the idea of never growing up; or to say that he embodied the sense of wonder and possibility that seems to fuel New Paltz in all of its many iterations; or to say that he was a hero of sincerity in a town of slick college kids. To say these things would be risky not because they aren't true, but because they seem to forget the most important thing that made Ludwig Ludwig—a human warmth so true it touched everyone who interacted with him.
Every town has its iconic figures. Woodstock just lost a beloved local, Rocky, and Flo, an endearing Kingston figure known for her infectious joy, also died recently. Ludwig's sister, Farah, left a comment on the fan club page that speaks to why these types of small, slightly off-beat communities are often home to such distinctive characters. "I know he was loved and protected by the entire community. As his sister, that means more than anything. Thank you, people of New Paltz, for not only allowing him to be who he is, but applauding him. Because of all of you, he had a happy, magical, and wonderful life."
The Ludwigs of the world aren't always recognized, let alone celebrated; their ability to thrive depends on the openness of the people around them. Ludwig's story presents the ideal version of such reciprocity: New Paltz allowed Ludwig to be who he was without question or judgment. In return, Ludwig left a lasting mark on his community, transforming it as it did him.